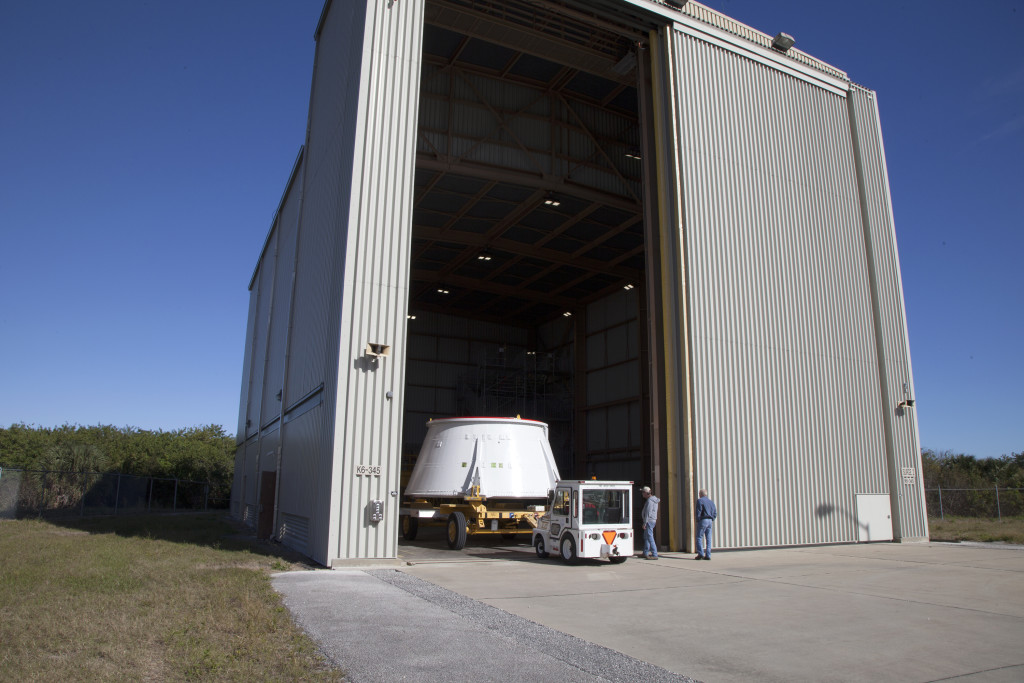 An aft skirt similar to one that will be used on a solid rocket booster (SRB) that will help launch NASA's Space Launch System (SLS) rocket into space was transported from the Booster Fabrication Facility to the Rotation, Processing and Surge Facility (RPSF) at the agency's Kennedy Space Center in Florida.
The aft skirt will remain in the RPSF and be readied for simulated stacking operations with a pathfinder, or test version, of a solid rocket booster. February 1 will mark the official start date for booster pathfinder operations after the aft skirt is inspected and undergoes limited processing.
Segments of the pathfinder SRB will arrive from Promontory, Utah, to Kennedy in mid-February and will be transported to the RPSF.
Engineers and technicians with NASA and industry partners will conduct a series of lifts, moves and stacking operations using the aft skirt and pathfinder SRB to simulate how SRB will be processed in the RPSF to prepare for an SLS/Orion mission.
The pathfinder operations will help to test recent upgrades to the RPSF facility as the center prepares for NASA's Exploration Mission-1, deep-space missions, and the journey to Mars.