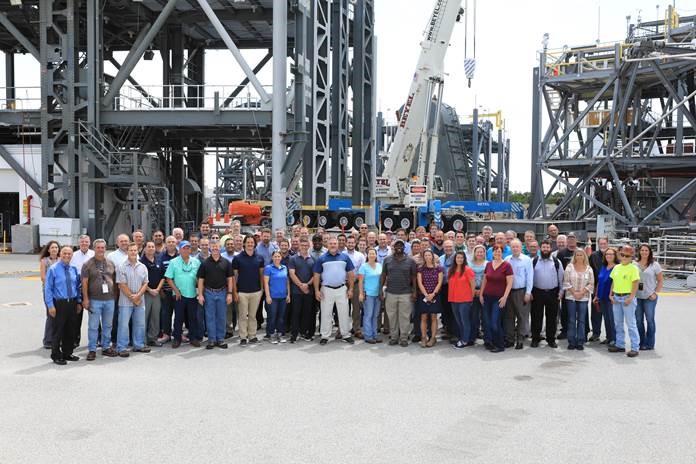 The team that tested the umbilical lines and launch accessories that will connect from the mobile launcher (ML) to NASA's Space Launch System (SLS) rocket and Orion spacecraft for Exploration Mission-1 celebrated their achievement during a banner signing at the Launch Equipment Test Facility (LETF) at the agency's Kennedy Space Center in Florida.
Engineers and technicians in the Engineering Directorate and the Exploration Ground Systems Program, along with contractor support, began the tests at the LETF about 2.5 years ago. The first to be tested was one of two aft skirt electrical umbilicals. Testing of the final umbilical, the second of two tail service mast umbilicals, was completed on June 27.
"The team of NASA test engineers and test managers, and contractor engineers and technicians, worked tirelessly six days a week, 10 hours a day, in order to meet the highly aggressive schedule and deliver the hardware to the mobile launcher for installation," said Jeff Crisafulli, Test and Design branch chief in the Engineering Directorate.
In all, 21 umbilicals and launch accessories were tested on various simulators at the LETF that mimicked conditions during launch to ensure they are functioning properly and ready for installation on the ML. Most have been delivered and installed on the ML tower. These include the Orion service module umbilical, interim cryogenic propulsion stage umbilical, core stage forward skirt umbilical and core stage inter-tank umbilical. Two aft skirt electrical umbilicals, two aft skirt purge umbilicals, a vehicle stabilizer system, eight vehicle support posts and two tail service mast umbilicals were installed on the 0-level deck of the ML.
Before launch, the umbilical lines will provide power, communications, coolant and fuel to the rocket and spacecraft. Additional accessories will provide access and stabilization. During launch, each umbilical and accessory will release from its connection point, allowing the SLS and Orion to lift off safely from the launch pad.
"Design, fabrication and testing of the new mobile launcher's umbilicals and launch accessories is a once-in-a-lifetime opportunity that I am proud to have been part of," Crisafulli said.