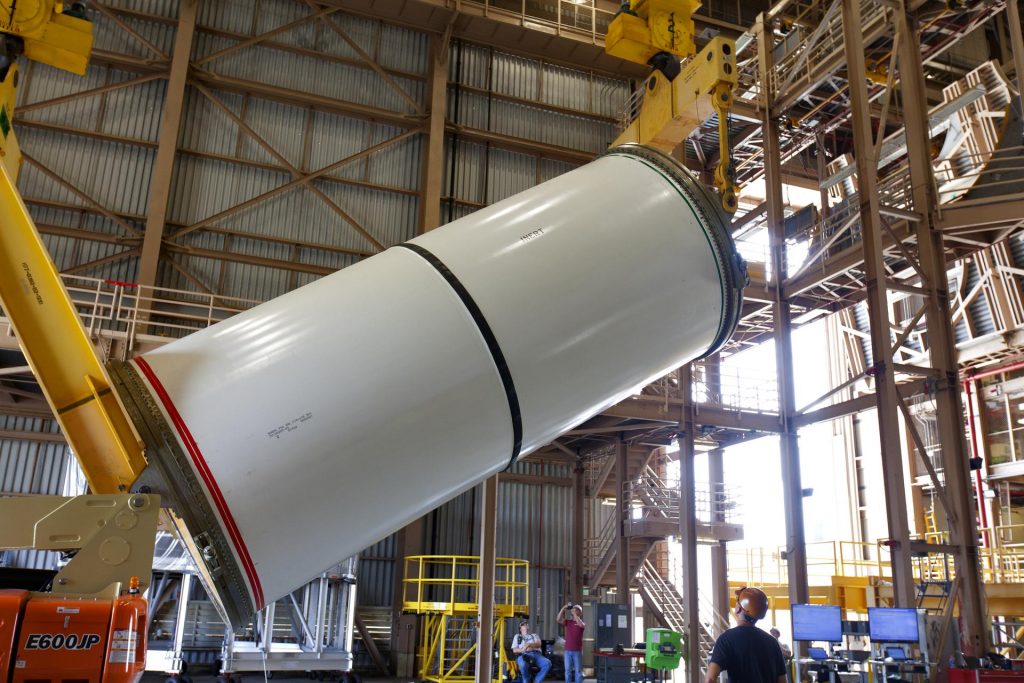 The Rotation, Processing and Surge Facility (RPSF) at NASA's Kennedy Space Center in Florida will receive the solid rocket booster segments for final assembly of NASA's Space Launch System (SLS) rocket. The agency's Exploration Ground Systems (EGS) team successfully completed the system acceptance review and operational readiness review for the facility on July 25, 2019. This review evaluated the RPSF's readiness to receive, process, integrate and launch flight hardware for Artemis 1 and beyond.
"The RPSF is the first processing facility at Kennedy to reach operational readiness status, and our team is looking forward to the arrival of the flight hardware so we can get to work preparing for the Artemis 1 launch," said Mike Chappell, EGS associate program manager with lead contractor, Jacobs.
When the booster segments arrive at Kennedy, the pieces are inspected before two 200-ton cranes are positioned to lift the segments from a horizontal position to a vertical position. The RPSF also will receive the booster aft skirt from the Booster Fabrication Facility. During processing, the aft segment is attached to the aft skirt and aft exit cone.
All of the SLS solid rocket components processed in the RPSF will be transported to the Vehicle Assembly Building for final assembly with the SLS core stage and Orion spacecraft on top of the mobile launcher for the agency's Artemis missions.
The RPSF is part of the infrastructure at Kennedy that will help NASA launch the Artemis missions and send the first woman and next man back to the Moon by 2024.