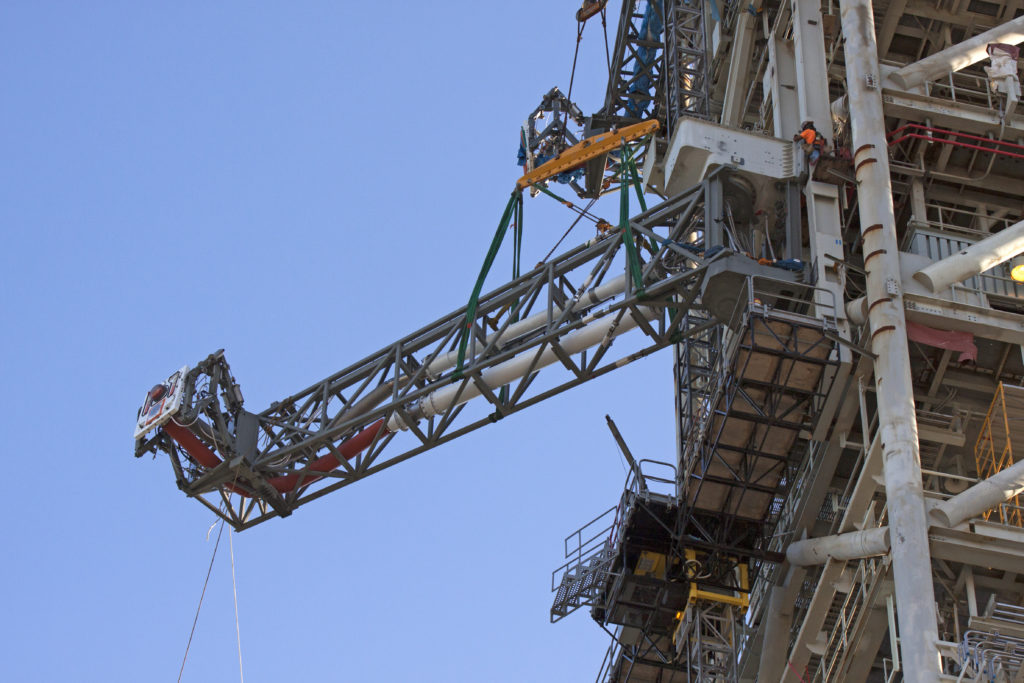 Engineers lifted and installed a third umbilical on the mobile launcher at NASA's Kennedy Space Center in Florida for a fit check. The tower on the mobile launcher will be equipped with several connections or launch umbilicals like this one. After the fit check was completed, the umbilical was lowered down and will be installed permanently at a later date.
The umbilicals will provide power, communications, coolant and fuel. They will be used to connect the mobile launcher to the agency's Space Launch System (made up of the core stage, twin solid rocket boosters, and the interim cryogenic propulsion stage) and the Orion spacecraft mounted on top of SLS.
An area on the SLS between the liquid hydrogen and liquid oxygen tanks is known as the core stage inter-tank. The core-stage inter-tank umbilical is the third in a series of five new umbilicals for the mobile launcher. Its main function is to vent excess gaseous hydrogen from the rocket's core stage. This umbilical also will provide conditioned air, pressurized gases, and power and data connection to the core stage.
The Orion service module umbilical and the core stage forward skirt umbilical were previously installed on the tower. The service module umbilical will connect from the mobile launch tower to the Orion service module. Prior to launch, the umbilical will transfer liquid coolant for the electronics and purge air/gaseous nitrogen for environmental control. The SLS core stage forward skirt is near the top of the core stage, and the forward skirt umbilical provides connections and conditioned air/gaseous nitrogen to the core stage of the rocket. All these umbilicals will swing away from the rocket and spacecraft just before launch.
Several other umbilicals were previously installed on the mobile launcher. These include two aft skirt purge umbilicals, which will connect to the SLS rocket at the bottom outer edge of each booster and provide electrical power and data connections, remove hazardous gases, and maintain the right temperature range with a nitrogen purge in the boosters until SLS lifts off from the launch pad.
The Ground Systems Development and Operations Program at Kennedy is preparing ground support equipment, including the launch umbilicals, for NASA's deep space exploration missions.