Oct. 10, 2018 – Tropical Storm Sergio's Rainfall Examined by GPM Satellite
The Global Precipitation Measurement mission or GPM core satellite provided an analysis of the rate in which rain is falling throughout the Eastern Pacific Ocean's Tropical Storm Sergio.  Sergio is close enough to Baja California now that it has triggered watches.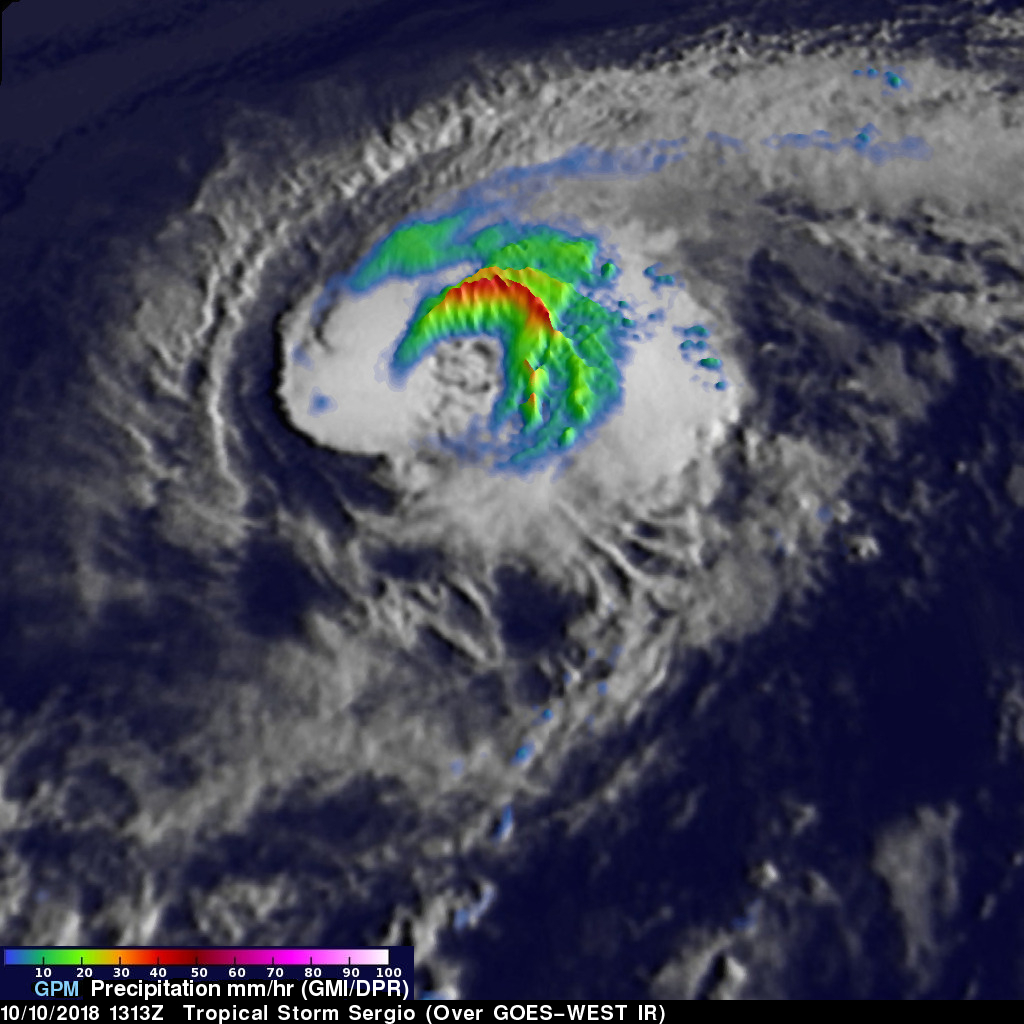 A Tropical Storm Watch is in effect for the west coast of the Baja California peninsula from Punta Eugenia to Cabo San Lazaro, Mexico. A Tropical Storm Watch is also in effect for the east coast of the Baja California peninsula from Bahia San Juan Bautista to San Evaristo, Mexico. The National Hurricane Center or NHC said, "Interests elsewhere in the northern and central Baja California peninsula and northwestern Sonora should monitor the progress of Sergio.  Additional watches or warnings may be required on later tonight or Thursday, Oct. 11."
The GPM core observatory satellite's Microwave Imager (GMI) and Dual-Frequency Precipitation Radar (DPR) instruments measured rainfall within tropical storm Sergio on October 10, 2018 at 9:13 a.m. EDT (1313 UTC). GPM's radar only viewed storms on the eastern side of Sergio while the GMI swath included storms around the center of circulation. Measurements by GMI indicated that the heaviest rainfall was north of Sergio's eye like feature. Rain was shown by GMI to be falling at a rate of over 2.2 inches (55.9 mm) per hour in that part of the tropical storm. GPM is a joint mission between NASA and the Japan Aerospace Exploration Agency, JAXA.
That heavy rainfall is in the forecast as Sergio begins and continues its landfall. Sergio is expected to produce total storm rainfall accumulations of 3 to 5 inches, with local amounts of 10 inches across the central portion of the Baja California peninsula and Sonora.
At 2 p.m. EDT (1800 UTC), the center of Tropical Storm Sergio was located near latitude 18.6 degrees north and longitude 123.0 degrees west. Sergio is moving toward the northeast near 13 mph (20 kph). A northeastward motion with an increase in forward speed is expected during the next few days. Maximum sustained winds remain near 65 mph (100 kph) with higher gusts.  Some fluctuations in intensity are likely today, but gradual weakening is forecast during the next several days.
Sergio is being steered toward the northeast by a large mid-latitude trough or elongated area of low pressure. On the forecast track, the center of Sergio will approach the Pacific coast of Baja California Sur early Friday and then reach mainland Mexico late Friday. The National Hurricane Center (NHC) predicts that rainfall from Sergio and its remnants will produce life-threatening flash flooding and mudslides during the weekend when it passes over the mountainous terrain of northwestern Mexico, the Southern Plains, and the Ozarks.
For updated forecasts, visit: www.nhc.noaa.gov
By Rob Gutro / Hal Pierce
NASA's Goddard Space Flight Center