Jan. 01 – 05, 2019 – NASA Caught Tropical Storm Pabuk in the Gulf of Thailand
Tropical Storm Pabuk formed and faded in the Northwestern Pacific Ocean. Pabuk was captured by NASA-NOAA's Suomi NPP Satellite when it was a tropical storm in the Gulf of Thailand.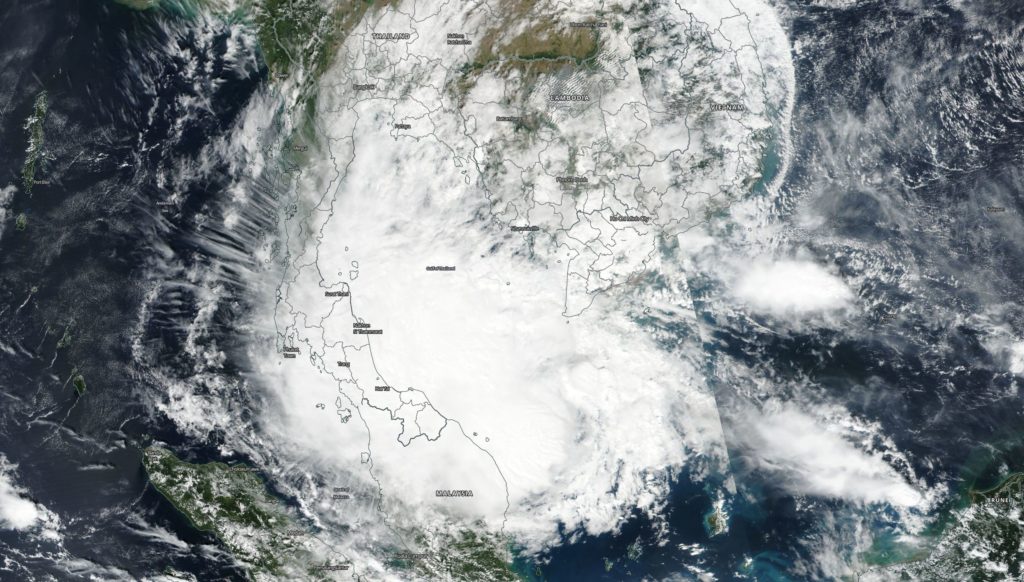 Tropical depression 36W formed 354 miles southeast Ho Chi Minh, Vietnam on Jan 1. By January 3 it strengthened into a tropical storm and was renamed "Tropical Storm Pabuk."
NASA-NOAA's Suomi NPP satellite captured a visible image of Tropical Storm Pabuk on Jan. 3, 2019 in the Gulf of Thailand. The image, taken from the VIIRS instrument showed the center of Pabuk's circulation in the central Gulf as its western quadrant extended over the Malay Peninsula, while the eastern quadrant brought clouds over southwestern Cambodia.
On Jan. 3 at 4 a.m. EST (0900 UTC) Tropical Storm Pabuk was centered near 6.0 degrees north latitude and 104.8 degrees east longitude. It was about 287 miles south of Ho Chi Minh, Vietnam and moving to the west. Maximum sustained winds were 35 knots (40 mph/65 kph). At that time, Pabuk was forecast to move west, later northwest into the Gulf of Thailand, and will peak at 50 knots (57 mph/92 kph).
On Jan. 4, Pabuk was approaching landfall on the Malay Peninsula.  The storm traversed the Malay Peninsula, and dissipated in the Bay of Bengal on Jan. 5.
By Rob Gutro
NASA's Goddard Space Flight Center