Apr. 25, 2019 – NASA's AIRS Images Cyclone Kenneth over Mozambique
Just weeks after Cyclone Idai left a path of destruction through Mozambique, Cyclone Kenneth is now battering the country in southeast Africa. It is likely the strongest storm on record to hit Mozambique, with wind speeds equivalent to a Category 4 hurricane at landfall. It is also the first time in recent history that the country has been hit by back-to-back hurricane-strength storms.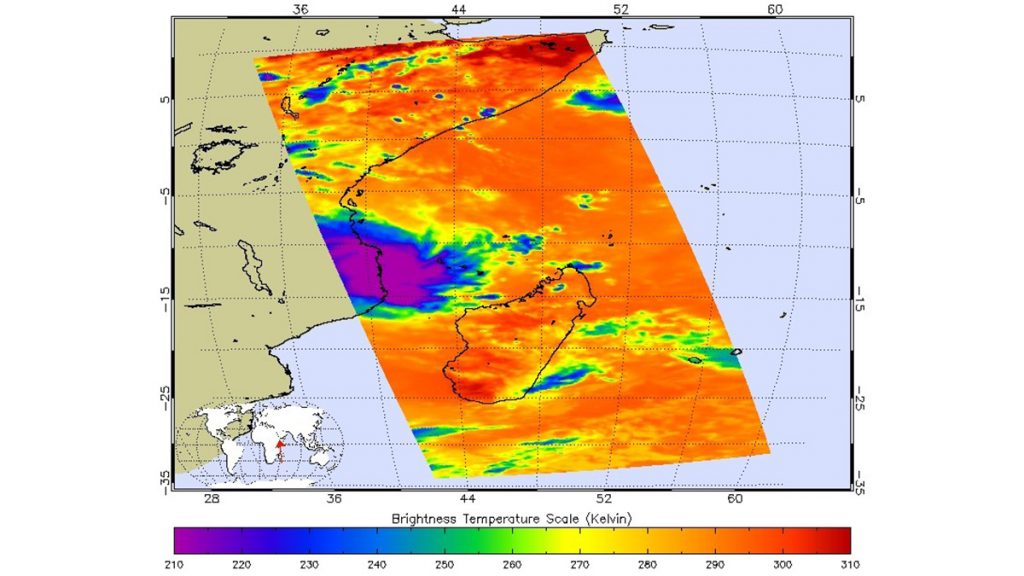 NASA's Atmospheric Infrared Sounder (AIRS) instrument captured this infrared image of Kenneth just as the storm was about to make landfall on April 25. The large purple area indicates very cold clouds carried high into the atmosphere by deep thunderstorms. The orange areas are mostly cloud-free; the clear air is caused by air moving outward from the cold clouds near the storm's center, then downward into the surrounding areas.
The image was taken at 1:30 p.m. local time, just before the cyclone made landfall in northern Mozambique's Cabo Delgado Province. With maximum sustained winds of 140 mph (225 kph), Kenneth was the first known hurricane-strength storm to make landfall in the province. Heavy rainfall and life-threatening flooding are expected over the next several days.
AIRS, in conjunction with the Advanced Microwave Sounding Unit (AMSU), senses emitted infrared and microwave radiation from Earth to provide a three-dimensional look at Earth's weather and climate. Working in tandem, the two instruments make simultaneous observations down to Earth's surface, even in the presence of heavy clouds. With more than 2,000 channels sensing different regions of the atmosphere, the system creates a global, three-dimensional map of atmospheric temperature and humidity, cloud amounts and heights, greenhouse gas concentrations and many other atmospheric phenomena. Launched into Earth orbit in 2002, the AIRS and AMSU instruments fly onboard NASA's Aqua spacecraft and are managed by NASA's Jet Propulsion Laboratory in Pasadena, California, under contract with NASA. JPL is a division of Caltech.
More information about AIRS and NASA's Disasters Program can be found here:
By Esprit Smith
Jet Propulsion Laboratory, Pasadena, Calif.
818-354-4269
esprit.smith@jpl.nasa.gov