June 26, 2019 – NASA Analyzes Alvin, the First Eastern Pacific Tropical Storm
The Eastern Pacific Ocean has spawned its first tropical storm of the 2019 hurricane season, and NASA's Aqua satellite measured the cloud top temperatures within to gauge its strength.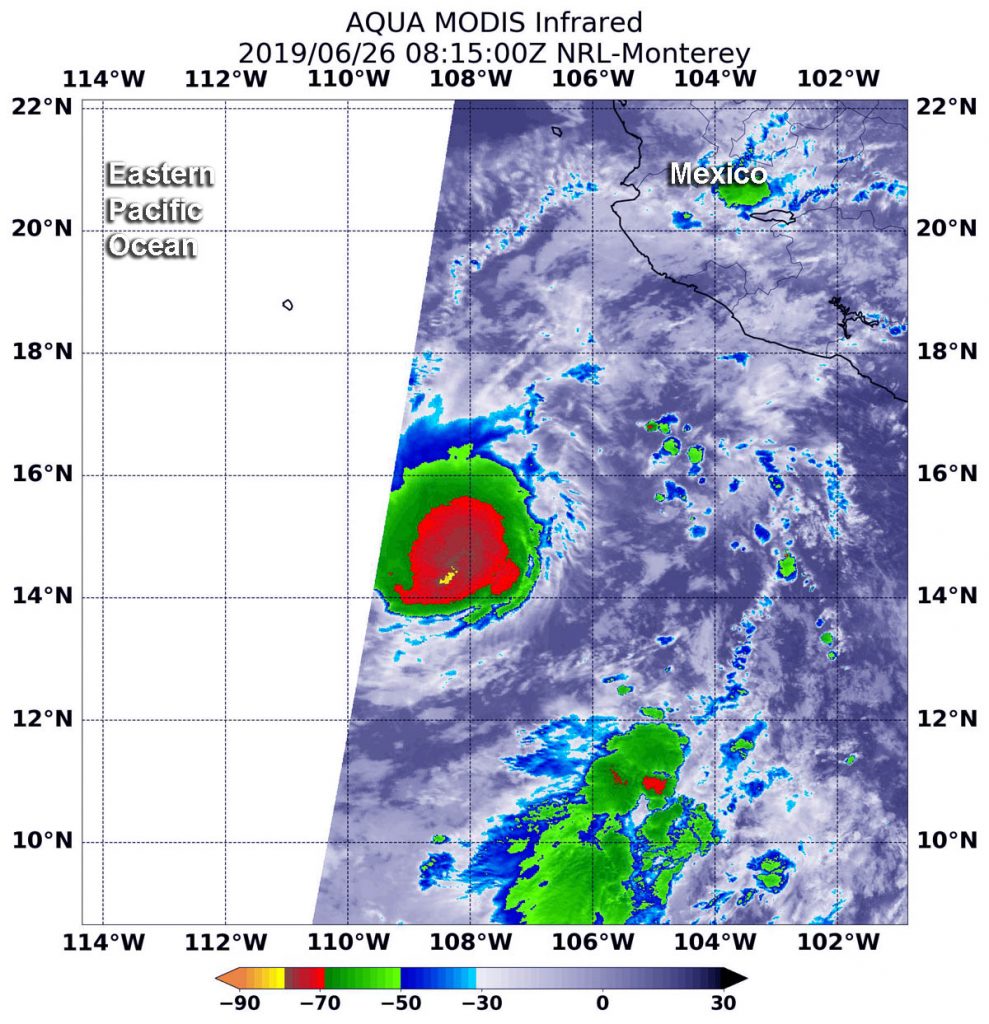 Infrared satellite imagery provides temperature data, and when NASA's Aqua satellite passed over the system it was still a depression, but showing powerful thunderstorm development. Cloud top temperatures determine strength of the thunderstorms that make up a tropical cyclone. The colder the cloud tops, the stronger the uplift in the storms that help thunderstorm development. Infrared data helps determine where the most powerful storms are within a tropical cyclone.
The Moderate Resolution Imaging Spectroradiometer or MODIS instrument aboard Aqua provided that infrared data on June 26 at 4:15 a.m. EDT (0815 UTC). The MODIS data showed the strongest thunderstorms were near the center of circulation. They were as cold as or colder than minus 70 degrees Fahrenheit (minus 56.6 degrees Celsius). NASA research indicates very cold cloud tops with the potential to generate very heavy rainfall.
Tropical Depression One-E strengthened into a tropical storm and named Alvin at 11 a.m. EDT (1500 UTC) on Wednesday, June 26, 2019. At that time, NOAA's National Hurricane Center noted that the center of Tropical Storm Alvin was located near latitude 14.7 degrees north and longitude 109.4 degrees west. That puts Alvin far from land areas and about 450 miles (725 km) southwest of Manzanillo, Mexico. Alvin is also about 565 miles (915 km) south of the southern tip of Baja California. As a result, there are no coastal watches or warnings in effect.
Alvin is moving toward the west near 14 mph (22 kph) and the NHC expects a westward to west-northwestward motion with some decrease in forward speed over the next few days. Maximum sustained winds have increased to near 40 mph (65 kph) with higher gusts.
Some additional strengthening is forecast during the next day or so. Weakening is forecast to begin on Friday, and Alvin is expected to become a remnant low on Saturday.
For updated forecasts, visit: www.nhc.noaa.gov.
By Rob Gutro
NASA's Goddard Space Flight Center, Greenbelt, Md.