Feb. 27, 2020 – NASA Finds Dry Air Affecting Tropical Cyclone Ferdinand
NASA's Terra satellite revealed the bulk of Ferdinand's strong storms were in its eastern quadrant. Dry air is moving into the storm, causing it to weaken.
On Feb. 27, the Moderate Imaging Spectroradiometer or MODIS instrument that flies aboard NASA's Terra satellite provided a visible image of Ferdinand, located in the Southern Indian Ocean, and far off the Pilbara coast of Western Australia. Satellite imagery depicts a rapidly weakening system. A satellite image revealed a well-defined low-level circulation center with limited deep convection over the eastern quadrant of the storm.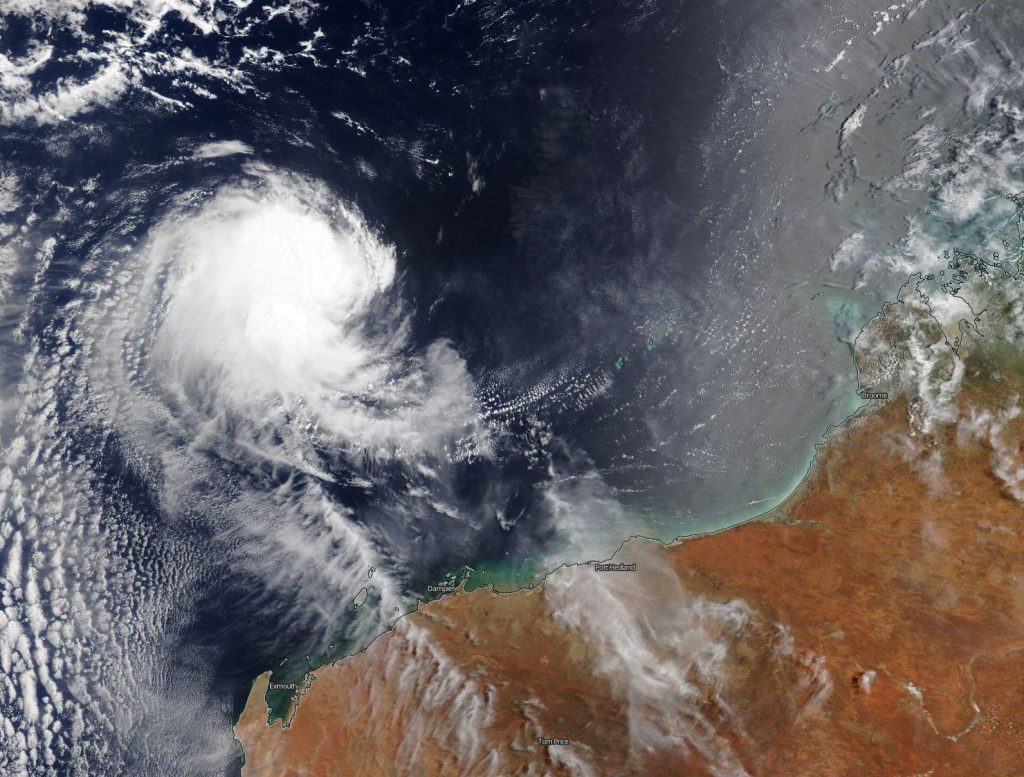 Animated total precipitable water imagery and recent visible imagery indicate a significant amount of dry air is moving into the storm, which is the main factor in the weakening trend. Dry air inhibits development of thunderstorms, which make up tropical cyclones.
At 10 a.m. EST (1500 UTC), Ferdinand had maximum sustained winds near 55 knots (63 mph/102 kph) and continued to weaken. It was centered near 16.9 degrees south latitude and 114.0 degrees east longitude, about 324 nautical miles north of Learmonth, Australia. Ferdinand was moving to the southwest.
The Joint Typhoon Warning Center forecasts Ferdinand to continue weaken and move on a westerly track, further away from land.
NASA's Terra satellite is one in a fleet of NASA satellites that provide data for hurricane research.
Tropical cyclones are the most powerful weather event on Earth. NASA's expertise in space and scientific exploration contributes to essential services provided to the American people by other federal agencies, such as hurricane weather forecasting.
Rob Gutro
NASA's Goddard Space Flight Center, Greenbelt, Md.