Aug. 22, 2019 – NASA Satellite Finds Tropical Storm Ivo's Center
Infrared imagery from NASA's Aqua satellite revealed the strongest thunderstorms within Tropical Storm Ivo were just north of the center of the storm's circulation. Tropical Depression 10E strengthened into Tropical Storm Ivo by 5 p.m. EDT on August 21.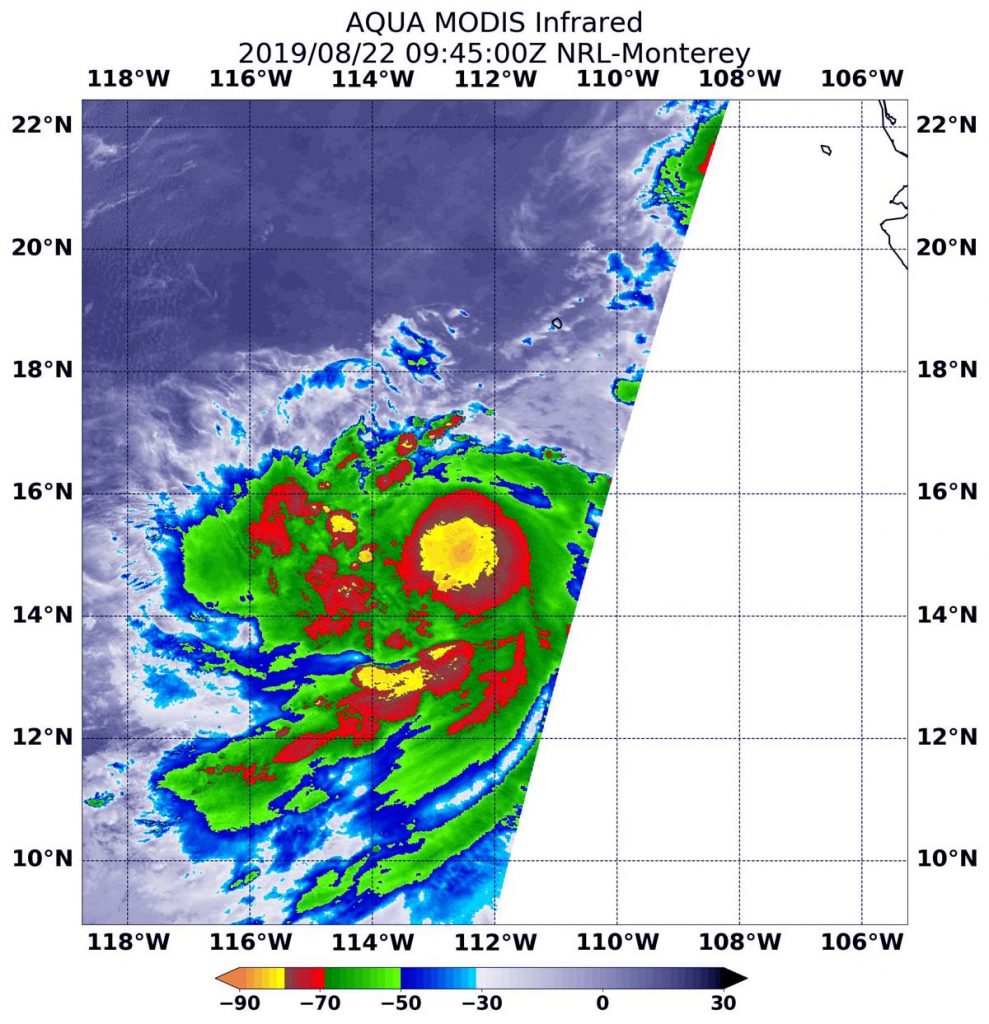 NASA's Aqua satellite used infrared light to analyze the strength of storms. Infrared data provides temperature information, and the strongest thunderstorms that reach high into the atmosphere have the coldest cloud top temperatures. On August 22 at 5:45 a.m. EDT (0945 UTC), the Moderate Imaging Spectroradiometer or MODIS instrument that flies aboard NASA's Aqua satellite found those strongest storms just north of the center of circulation and in a fragmented band, extending south of the center. Those areas had cloud top temperatures as cold as minus 80 degrees Fahrenheit (minus 62.2 Celsius). NASA research has shown storms with cloud top temperatures that cold indicate strong storms with the potential to generate heavy rainfall.
NOAA's National Hurricane Center or NHC noted, "The cyclone continues to gradually improve in organization. Microwave data show that there is a small eye trying to form beneath Ivo's small central dense overcast, and satellite intensity estimates are rising."
At 11 a.m. EDT (1500 UTC), the center of Tropical Storm Ivo was located near latitude 15.7 degrees north and longitude 113.6 degrees west. That is about 55 miles (890 km) south-southwest of the southern tip of Baja California, Mexico. Ivo is moving toward the west near 12 mph (19 kph), and a turn to the northwest is expected by tomorrow. Ivo is anticipated to move generally north-northwestward this weekend. Maximum sustained winds have increased to near 65 mph (100 kph) with higher gusts.  The estimated minimum central pressure is 996 millibars.
NHC noted, "Further strengthening is anticipated in the short term since Ivo has a developing inner core and is over very warm waters with moderate wind shear." Ivo could become a hurricane later tonight or tomorrow, but should begin to weaken on Saturday, August 24.
For updated forecasts, visit: https://www.nhc.noaa.gov