Sept. 7, 2019 – Update #3 – NASA Finds Dorian Transitioning to an Extra-Tropical Cyclone
NASA satellites provided forecasters at the National Hurricane Center with infrared data and cloud top temperature information for Hurricane Dorian. Infrared data revealed that Dorian was becoming an extra-tropical cyclone as it moved northeast along the U.S. east coast and the area of strong storms had diminished around the storm.
NASA researches tropical cyclones and infrared data is one of the ways NASA uses. Cloud top temperatures provide information to forecasters about where the strongest storms are located within a tropical cyclone. The stronger the storms, the higher they extend into the troposphere, and they have the colder cloud temperatures.
On Sept. 6, at 2:23 p.m. EDT (1823 UTC), NASA's Aqua satellite analyzed the storm using the Atmospheric Infrared Sounder or AIRS instrument. AIRS found coldest cloud top temperatures as cold as or colder than minus 80 degrees Fahrenheit (minus 62.2 degrees Celsius) circling around the center  (eye) and in a thick band of thunderstorms northeast of the center. NASA research has shown that cloud top temperatures that cold indicate strong storms that have the capability to create heavy rain.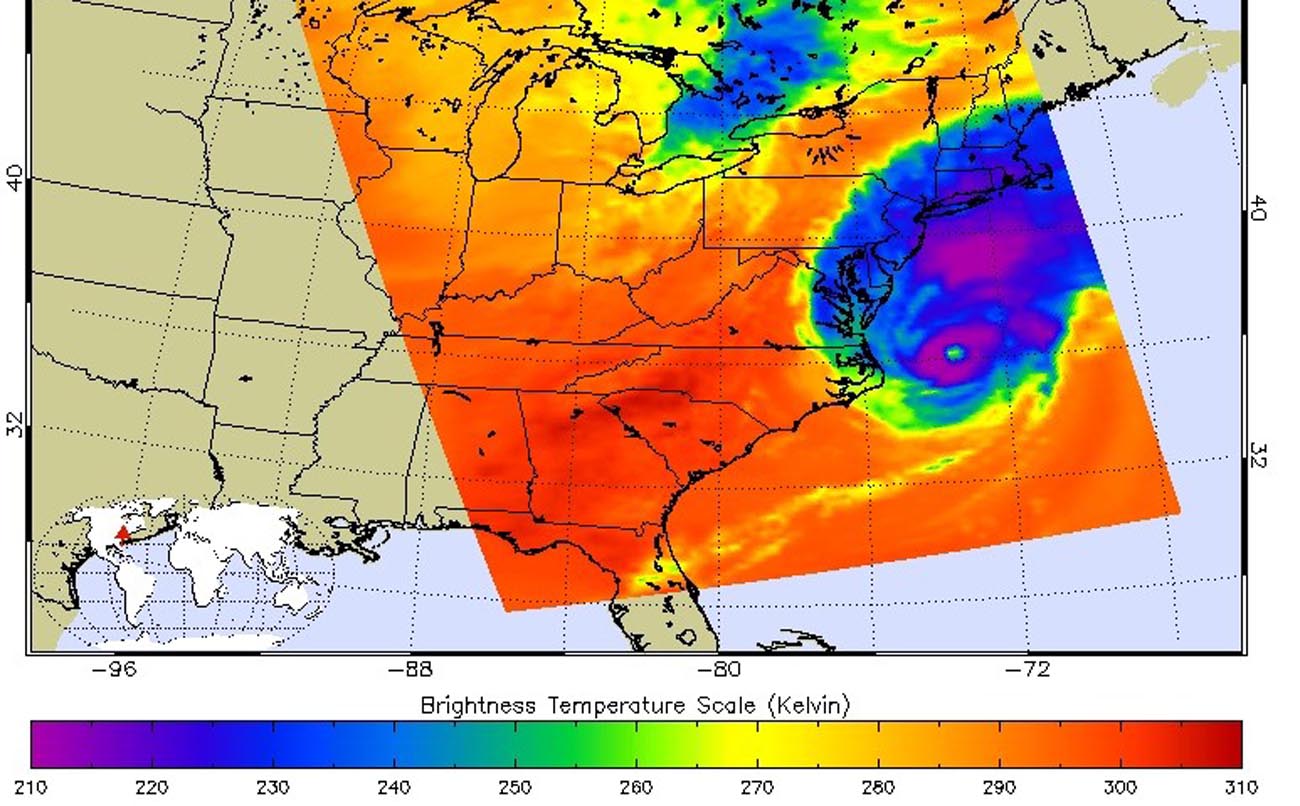 On Sept. 7 at 3 a.m. EDT (0700 UTC), it was NASA-NOAA's Suomi NPP satellite that provided an infrared view of Hurricane Dorian as it was transitioning into an extra-tropical storm. Strongest storms had cloud top temperatures as cold as or colder than minus 80 degrees Fahrenheit (minus 62.2 degrees Celsius) where the heaviest rain was falling over the open waters of the Atlantic Ocean. Those storms were now limited to the southern side of the storm, unlike the previous day, when they circled the eye.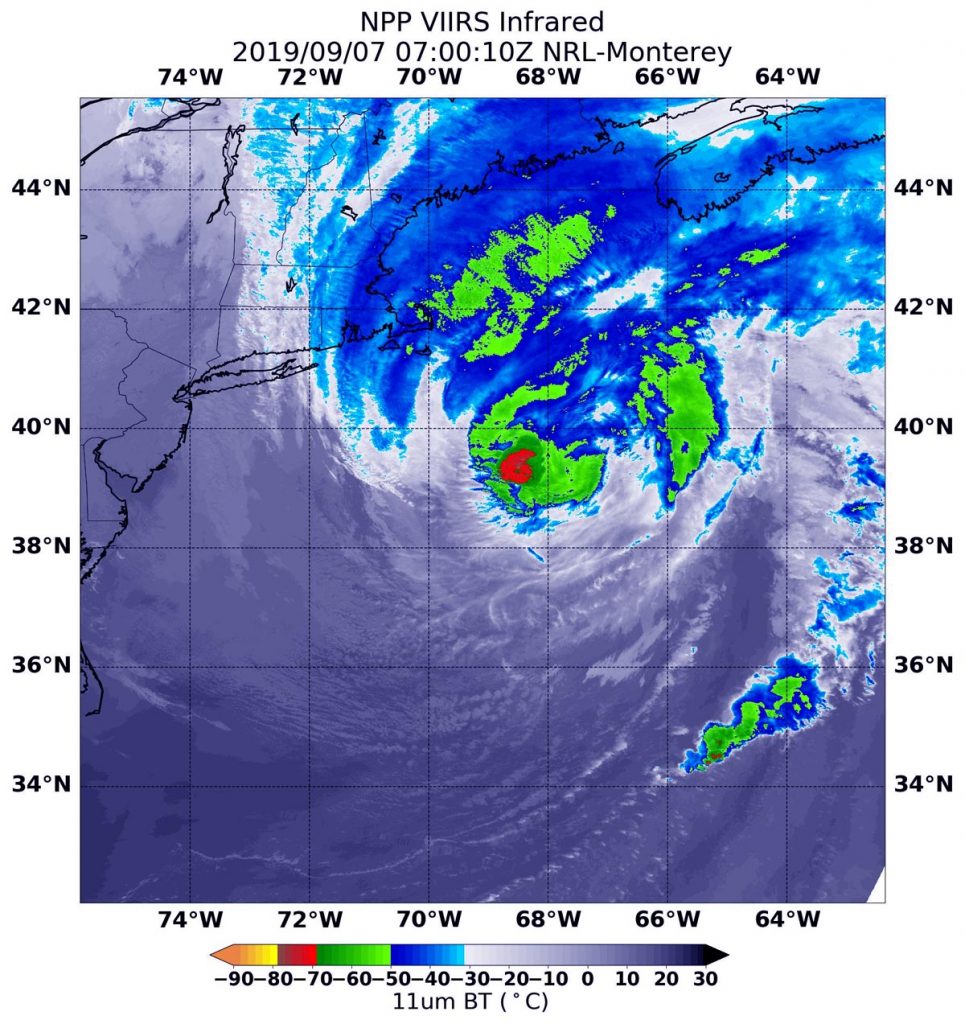 NOAA's National Hurricane Center's (NHC) discussion said "Satellite imagery this morning [Sept. 7] indicates that Dorian is starting extratropical transition, with cold air clouds entraining [moving] into the southwestern side of the cyclone and a developing warm front to the north and east."
What is an Extra-Tropical Cyclone?
When a storm transitions into an extra-tropical cyclone, it means that a tropical cyclone has lost its tropical characteristics. The National Hurricane Center defines "extra-tropical" as a transition that implies both poleward displacement (meaning it moves toward the north or south pole) and the conversion of the cyclone's primary energy source from the release of latent heat of condensation to baroclinic (the temperature contrast between warm and cold air masses) processes. It is important to note that cyclones can become extratropical and still retain winds of hurricane or tropical storm force.
Warnings and Watches in Effect on Sept. 7
NOAA's National Hurricane Center's (NHC) continued to issue warnings and watches as Dorian makes its way toward Canada today. A Hurricane Warning is in effect for eastern Nova Scotia from lower east Pubnico to Brule, and for western Newfoundland from Indian Harbour to Hawke's Bay, Canada. A Hurricane Watch is in effect for Prince Edward Island and the Magdalen Islands.
A Tropical Storm Warning is in effect from east of Bar Harbor to Eastport, ME, and for Prince Edward Island, Canada. It is also in effect for southwestern Nova Scotia from Avonport to north of Lower East Pubnico, Fundy National Park to Shediac, Stone's Cove to Indian Harbour, Hawke's Bay to Fogo Island and from Mutton Bay to Mary's Harbour, Canada.
Status of Hurricane Dorian on Saturday, September 7, 2019
On Saturday, September 7, 2019 at 11 a.m. EDT (1500 UTC), the center of Hurricane Dorian was located near latitude 42.0 degrees north and longitude 66.0 degrees west.
Dorian's center is about 205 miles (330 km) south-southeast of Eastport, Maine and about 215 miles (350 km) southwest of Halifax, Nova Scotia, Canada.
The NHC said Dorian is moving toward the northeast near 29 mph (46 kph), and a general motion toward the northeast is expected to continue through Sunday night. Maximum sustained winds are near 85 mph (140 kph) with higher gusts.  Dorian is expected to become a hurricane-force post-tropical cyclone as it moves across eastern Canada tonight or on Sunday, Sept. 8. The estimated minimum central pressure is 953 millibars.
What's Next for Dorian?
Dorian is expected to finish transition into an extratropical cyclone over the next day as it merges with a strong mid- to upper-level trough (elongated area of low pressure) and its associated surface front.
On the NHC forecast track, the center of Dorian is expected to move across central or eastern Nova Scotia this afternoon or this evening, pass near or over Prince Edward Island tonight, and then move near or over portions of Newfoundland and Labrador on Sunday.
For updated forecasts, visit: www.nhc.noaa.gov
By Rob Gutro
NASA's Goddard Space Flight Center
Sep. 07, 2019 – Update #2 – In the Wake of Hurricane Dorian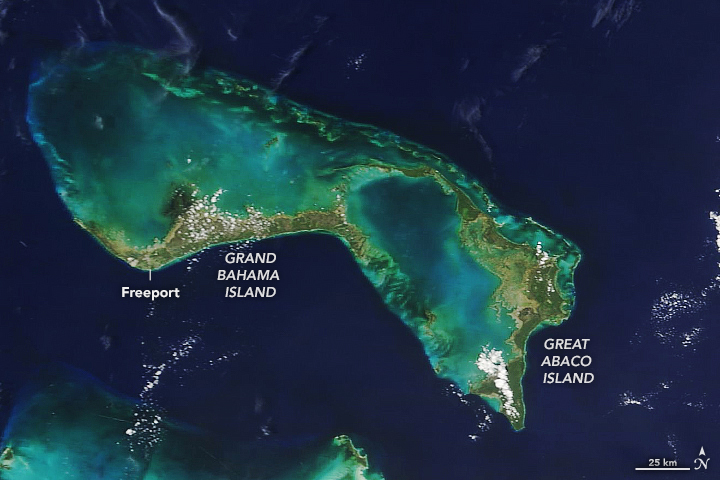 In the first week of September 2019, Hurricane Dorian left a path of destruction from the Caribbean to the Canadian Maritimes. Reaching category 5 strength for nearly two days and sustaining major hurricane status from August 30 to September 3, the storm devastated the northern Bahama Islands, strafed the southeast U.S. coast, and arrived in Nova Scotia as one of the five strongest hurricanes on record for that region.
The images above provide a broad view of the devastation in the northern Bahamas, which were lashed for nearly 40 hours by the second strongest Atlantic hurricane in modern meteorological records. The Moderate Resolution Imaging Spectroradiometer (MODIS) on NASA's Terra satellite acquired these natural-color images of Great Abaco Island and Grand Bahama on August 17 and September 7, 2019. Note the change in the color of the island landscape from green to brown, as well as the brightening of the reefs and shoals around the island due to sediments stirred up by the storm.
The widespread browning of Great Abaco and Grand Bahama could have several causes. Many trees were uprooted and destroyed by the storm, and some species of vegetation in the tropics have evolved to lose leaves and small branches in strong winds. The loss of leafy vegetation would give the satellite a view of more bare ground. Another possibility is that salt spray whipped up by the hurricane coated and desiccated some leaves while they were still on the trees.
Government officials from the Bahamas have reported at least 40 deaths, according to news accounts, though the number is expected to rise after search and rescue operations are complete. Hundreds of people are missing and an estimated 70,000 are homeless. Few areas have electric power or running water. National and international relief supplies are just beginning to arrive in the area, though transportation is difficult.
At the other end of the storm track, Dorian brought destructive winds and waves 1500 miles (2400 kilometers) to the north. After transitioning to an extra-tropical cyclone, the storm made landfall in Nova Scotia on the evening of September 7 at category 2 strength. Maximum wind speeds approached 100 miles (160 kilometers) per hour at the coast. According to Weather Underground, hurricane-force winds extended 115 miles (185 kilometers) from the center of the storm, and tropical storm-force winds extended 300 miles (500 kilometers).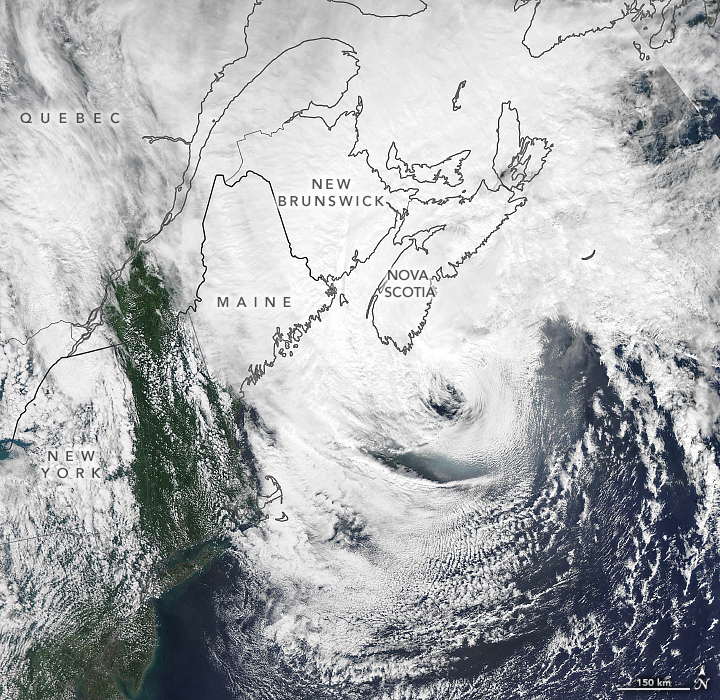 The Moderate Resolution Imaging Spectroradiometer (MODIS) on NASA's Aqua satellite captured this natural-color image of the vast storm just after midday on September 7, 2019.
According to news reports, Dorian knocked out power to more than 500,000 customers in the Canadian Maritime Provinces, including Nova Scotia. A near-record storm surge was observed in the harbor at Halifax and along the coast of New Brunswick. And according to preliminary weather data, an offshore weather buoy measured a peak wave height of 30.7 meters (100.7 feet) in the open ocean.
NASA Earth Observatory images by Lauren Dauphin, using MODIS data from NASA EOSDIS/LANCE and GIBS/Worldview. Story by Michael Carlowicz. For additional information on this story visit: https://earthobservatory.nasa.gov/images/145584/in-the-wake-of-hurricane-dorian?src=eoa-iotd
Sep. 07, 2019 – Update #1 – NASA Images Temperature of Hurricane Dorian from Space Station
 NASA's ECOsystem Spaceborne Thermal Radiometer Experiment on Space Station (ECOSTRESS) has imaged the temperature of Hurricane Dorian from the International Space Station. ECOSTRESS provides NASA's highest resolution temperature measurement from space, and is able to map fine detail in temperature patterns from the hurricane. The patterns reveal the small cloud structures that contribute to the formation of the larger hurricane.
The image shows Hurricane Dorian on September 6, 2019 at 5:43 a.m. EDT, as it made landfall in North Carolina. Red colors are hotter temperatures, and purple/blue colors are cooler temperatures. The width of the color image is based on what ECOSTRESS sees as the Space Station flies over any given spot on Earth.
Launched to the International Space Station in June 2018, ECOSTRESS measures the surface temperature of the planet with high detail. ECOSTRESS measures variations in temperatures to within a few tenths of a degree and is able to detect temperature changes at various times of day over areas as small as a single farm. These measurements are used for a wide variety of applications, including plant stress and water use, urban heat, fires, water quality, volcanic activity, and hurricanes.
ECOSTRESS provides a wide range of image products for studying the land surface and recently made all these products publicly available through the NASA Land Processes Distributed Active Archive Center (LPDAAC).
JPL built and manages the ECOSTRESS mission for NASA's Earth Science Division in the Science Mission Directorate at NASA Headquarters in Washington. ECOSTRESS is an Earth Venture Instrument mission; the program is managed by NASA's Earth System Science Pathfinder program at NASA's Langley Research Center in Hampton, Virginia.
By Esprit Smith
NASA's Jet Propulsion Laboratory