Feb. 26, 2020 – NASA Tracking Ex-Tropical Cyclone Esther's March
Ex-Tropical Cyclone Esther continues to march west through Australia's Northern Territory and NASA's Aqua satellite provided forecasters with a visible image of the low-pressure system.
On Feb. 26, the Moderate Imaging Spectroradiometer or MODIS instrument that flies aboard NASA's Aqua satellite provided a visible image of Esther's clouds. The image showed that as the system weakened it has expanded over the Northern Territory. Clouds extend from the Gulf of Carpentaria in the east, almost reaching the western border shared with Western Australia.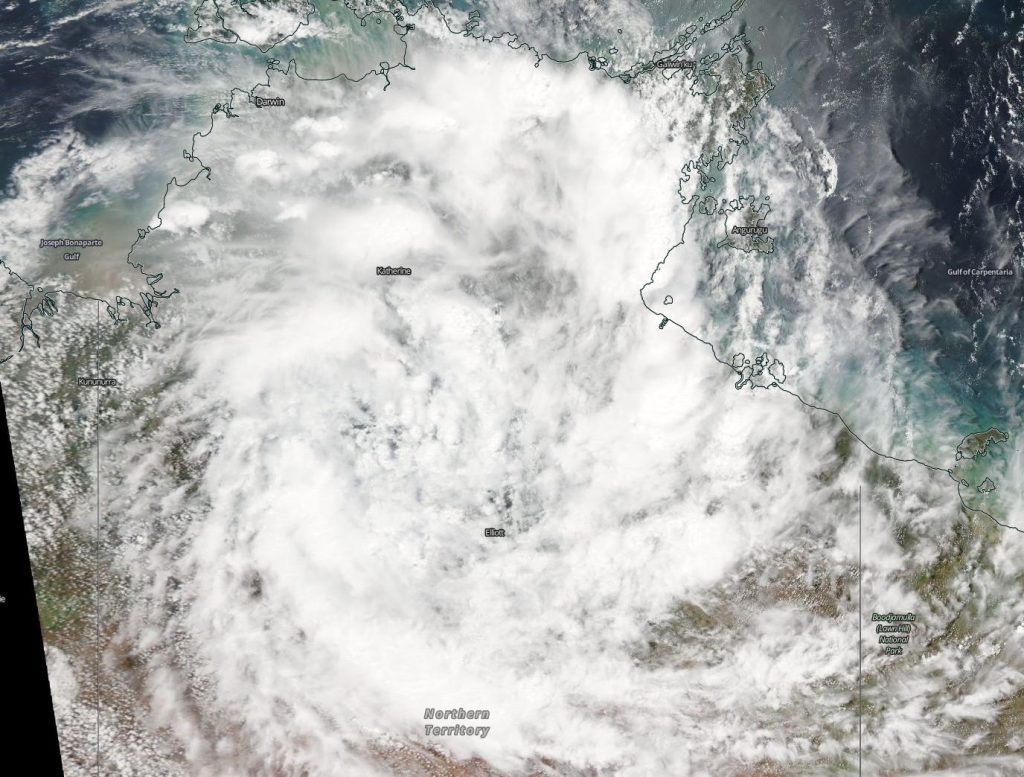 The Australian Bureau of Meteorology (ABM) noted 9:30 p.m. CST (7 a.m. EST) on Feb. 26, Ex-Tropical Cyclone Esther was located about 100 kilometers (62 miles) east northeast of Victoria River Downs, moving west northwest at about 15 kph (9 mph). The system is expected to continue moving west, moving across the Gregory District during Thursday as a deep tropical low-pressure area.
ABM forecasts heavy rainfall, which may lead to flash flooding to develop over the Gregory and southwest Daly Districts during Thursday. "The risk of widespread heavy rainfall has eased in the Carpentaria and Barkly Districts but isolated thunderstorms are expected to continue." In addition, ABM noted "Damaging winds are possible with thunderstorms in the western Gregory and southwest Daly District. Locations which may be affected include Wadeye, Kalkarindji, Timber Creek, Daguragu, Palumpa and Peppimenarti."
The low-pressure area is expected to strengthen further from Thursday afternoon as it draws in moisture from the Timor Sea.
NASA's Aqua satellite is one in a fleet of NASA satellites that provide data for hurricane research.
Tropical cyclones are the most powerful weather event on Earth. NASA's expertise in space and scientific exploration contributes to essential services provided to the American people by other federal agencies, such as hurricane weather forecasting.
For updated forecasts from ABM, visit:  http://www.bom.gov.au/nt/warnings/
Rob Gutro
NASA's Goddard Space Flight Center, Greenbelt, Md.