Mar. 17, 2020 – NASA Finds Ex-Tropical Cyclone Gretel's Center North of New Zealand
NASA's Terra Satellite passed over the Southern Pacific Ocean and provided forecasters with a visible image of ex-Tropical Cyclone Gretel although north of New Zealand, it was still large enough to continue causing warnings.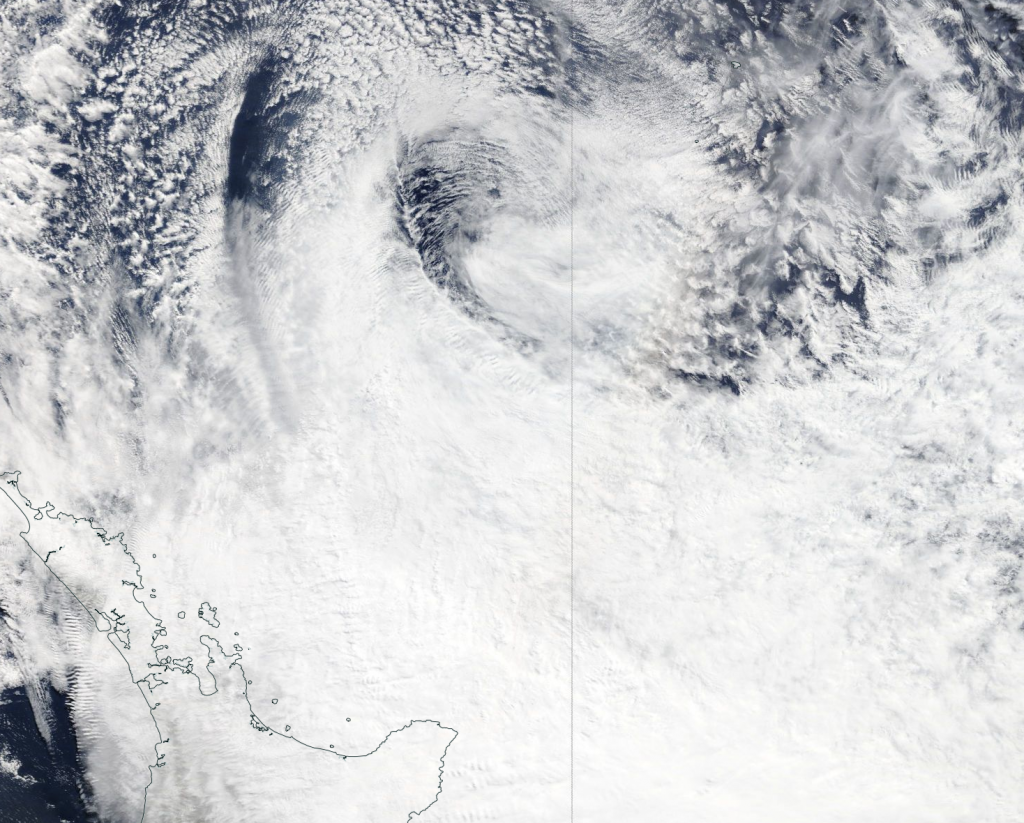 On March 17 at 6:51 a.m. New Zealand local time (March 16 at 6:51 p.m. EDT/2251 UTC), the Meteorological Service of New Zealand (MSNZ) reported that the convection associated with ex-Tropical Cyclone Gretel dissipated early this morning (local time), over the relatively cool seas to the northeast of New Zealand. As a result, Gretel is no longer a tropical cyclone and has been reclassified as an extra-tropical low-pressure system.
Ex-Tropical Cyclone Gretel's center was located near latitude 31.2 degrees south and longitude 178.4 east, about 550 kilometers (342 miles) northeast of Northland, moving southeast. The Northland region of New Zealand extends from Auckland to the very top of New Zealand.
MSNZ noted that "Severe gales possible for eastern Bay of Plenty and parts of Gisborne. A deep low (ex-Tropical Cyclone Gretel) lying to the northeast of the North Island Tuesday afternoon is forecast to continue moving east-southeast Tuesday night. This system continues to bring southerly gales to parts of eastern Bay of Plenty and Gisborne, possibly approaching severe gale strength at times until early Wednesday morning."
Early on March 17, the Moderate Resolution Imaging Spectroradiometer or MODIS instrument aboard Terra provided a visible image of ex-Tropical Cyclone Gretel that showed the center devoid of thunderstorms and precipitation. In the MODIS image, the layers of clouds around the low-level center appear like a wall of threaded clouds. The largest area of clouds associated with the system were in the southern quadrant and extended over northern New Zealand.
Gretel is expected to move southeast over waters to the north and east of New Zealand over the next few days, while remaining a deep extra-tropical low-pressure area.
Tropical cyclones/hurricanes are the most powerful weather events on Earth. NASA's expertise in space and scientific exploration contributes to essential services provided to the American people by other federal agencies, such as hurricane weather forecasting.
For updated forecasts from NZMS, visit: www.metservice.com/