May 17, 2020 – NASA Finds Heavy Rain in New Northern Indian Ocean Tropical Cyclone Amphan
When the Global Precipitation Measurement mission or GPM core satellite passed over the Northern Indian Ocean early on May 17, it gathered data of rainfall rates occurring on the western side of the newly formed and very large tropical cyclone Amphan.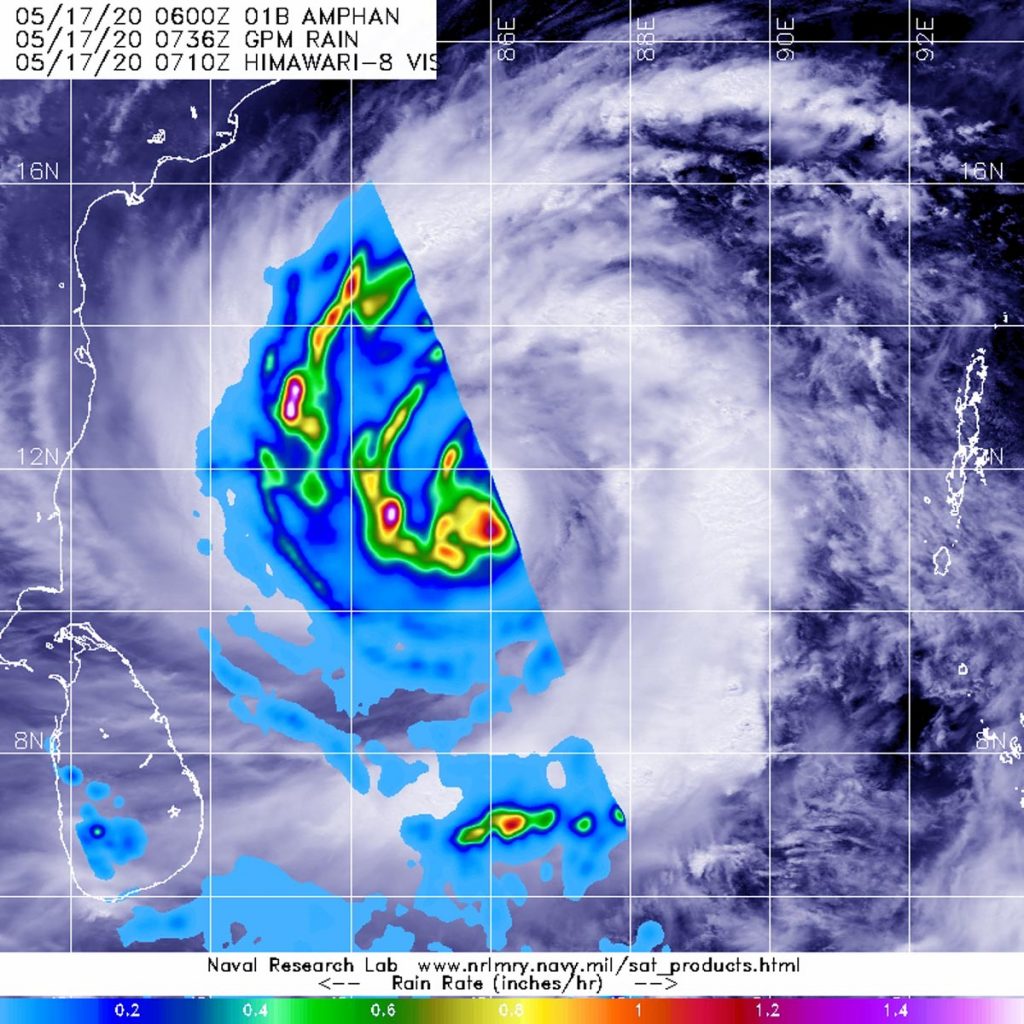 Amphan formed on Saturday, May 16 and was designated Tropical Cyclone 01B. Overnight, it quickly strengthened to hurricane force.
The Global Precipitation Measurement Mission or GPM's core satellite passed over Tropical Cyclone Amphan in the Northern Indian Ocean on May 17 at 3:36 a.m. EDT (0736 UTC). GPM found the heaviest rainfall in in two small areas in large thunderstorm bands west of the center, where it was falling at a rate of over 36 mm (about 1.4 inch) per hour. Most of the rainfall throughout the rest of the storm was falling at a rate of 1 inch (25 mm) per hour.
The Joint Typhoon Warning Center or JTWC said that enhanced infrared satellite imagery showed a very large system (over 600 nautical miles)/690 miles/1,111 km) across with a ragged 10 nautical mile (~12 mile/~19 kilometer) wide cloud filled eye and expansive rain bands wrapping tighter toward the center.
At 11 a.m. EDT (1500 UTC) on May 17, Amphan's maximum sustained winds had increased to near 75 knots (85 mph/139 kph) making it equivalent to a Category 1 hurricane on the Saffir-Simpson Hurricane Wind Scale. Amphan was located near latitude 12.3 degrees north and longitude 86.4 degrees east. Amphan was located approximately 380 nautical miles south-southeast of Visakhapatnam, India. It is forecast to continue moving in a northerly direction.
JTWC meteorologists forecast Amphan to track north and make landfall on May 20 near the eastern India/western Bangladesh border. The current forecast takes Amphan's landfall between Kolkata, India and Chittagong, Bangladesh, as a Cyclone.
Tropical cyclones/hurricanes are the most powerful weather events on Earth. NASA's expertise in space and scientific exploration contributes to essential services provided to the American people by other federal agencies, such as hurricane weather forecasting.
GPM is a joint mission between NASA and the Japan Aerospace Exploration Agency, JAXA.