May 17, 2020 – NASA Sees Development of Atlantic's First Tropical Storm
Tropical Storm Arthur formed off the east coast of Florida from a low-pressure system (90L) that developed days before in the Straits of Florida. NASA-NOAA's Suomi NPP satellite provided forecasters with an image of the new storm.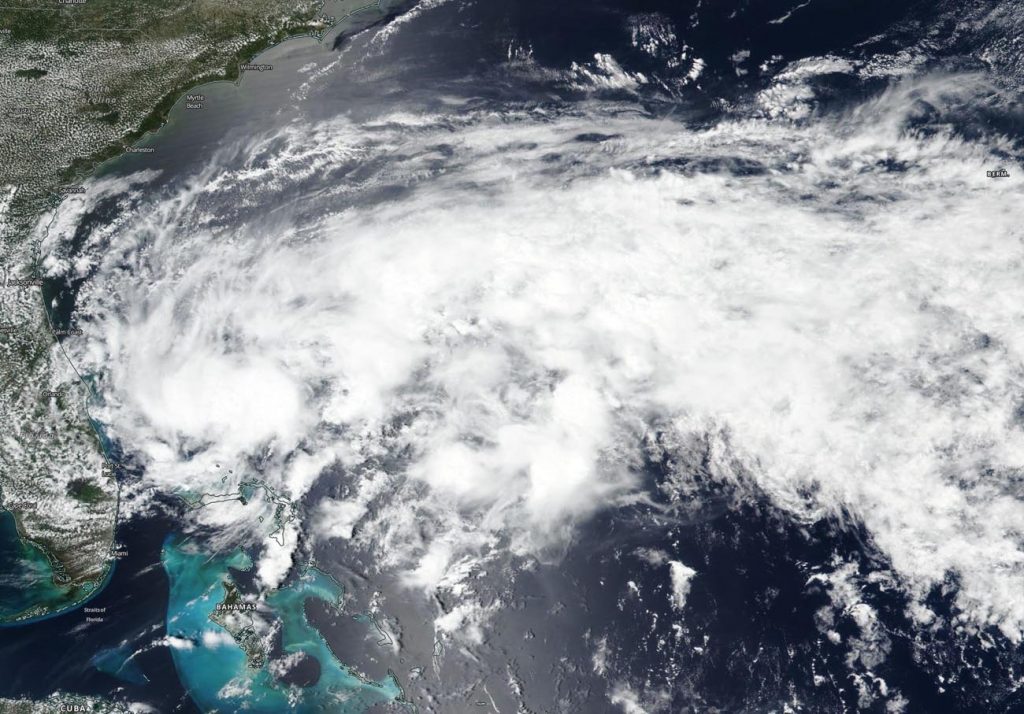 On Saturday, forecasters at the National Hurricane Center were closely watching System 90L, an area of low pressure that was located just offshore of the southeast coast of Florida. It continued to produce shower activity and gusty winds from portions of southeast and east-central Florida eastward across the northwestern Bahamas and the adjacent Atlantic waters.
Overnight and early on May 17, that low-pressure system became better defined and organized and it became a tropical storm over the Atlantic waters east of Florida.
Visible imagery from NASA satellites help forecasters understand if a storm is organizing or weakening. The Visible Infrared Imaging Radiometer Suite (VIIRS) instrument aboard Suomi NPP provided a visible image of Arthur late on May 16 when it had been classified as Tropical Depression 1. The shape of a tropical cyclone provides forecasters with an idea of its organization and strength, and NASA-NOAA's Suomi NPP satellite provided a visible image of Arthur and it appeared more circular in nature.
At 5 p.m. EDT (2100 UTC) on May 16, the center of Tropical Depression 1 was located near latitude 28.4 north, longitude 78.6 west, about 505 miles or 810 kilometers south-southwest of Cape Hatteras, North Carolina. By 11 p.m. EDT, Tropical Depression 1 strengthened into a tropical storm and was renamed Arthur.
On May 17, a Tropical Storm Warning was in effect from Surf City to Duck, NC and for the Pamlico and Albemarle Sounds.
NOAA's National Hurricane Center said, at 8 a.m. EDT (1200 UTC) on May 17), the center of Tropical Storm Arthur was located near latitude 30.3 north, longitude 77.4 west. Arthur is moving toward the north-northeast near 9 mph (15 kph).  Maximum sustained winds are near 40 mph (65 kph) with higher gusts. Tropical-storm-force winds extend outward up to 80 miles (130 km) from the center. The estimated minimum central pressure is 1002 millibars.
Some strengthening is forecast during the next 48 hours. Arthur is likely to lose its tropical characteristics on Tuesday.
A turn toward the northeast with an increase in forward speed is expected during the next 24 to 48 hours. On the forecast track, Arthur will remain well offshore the east coast of Florida, Georgia, and South Carolina today, and then move near or just east of the coast of North Carolina on Monday.
Tropical cyclones/hurricanes are the most powerful weather events on Earth. NASA's expertise in space and scientific exploration contributes to essential services provided to the American people by other federal agencies, such as hurricane weather forecasting.
For updated forecasts, visit: www.nhc.noaa.gov