June 06, 2020 – NASA Sees Cristobal Marching Through the Gulf of Mexico
NASA's Aqua satellite provided visible and infrared imagery of the re-strengthened Tropical Storm Cristobal as it continued on a northward track through the Gulf of Mexico.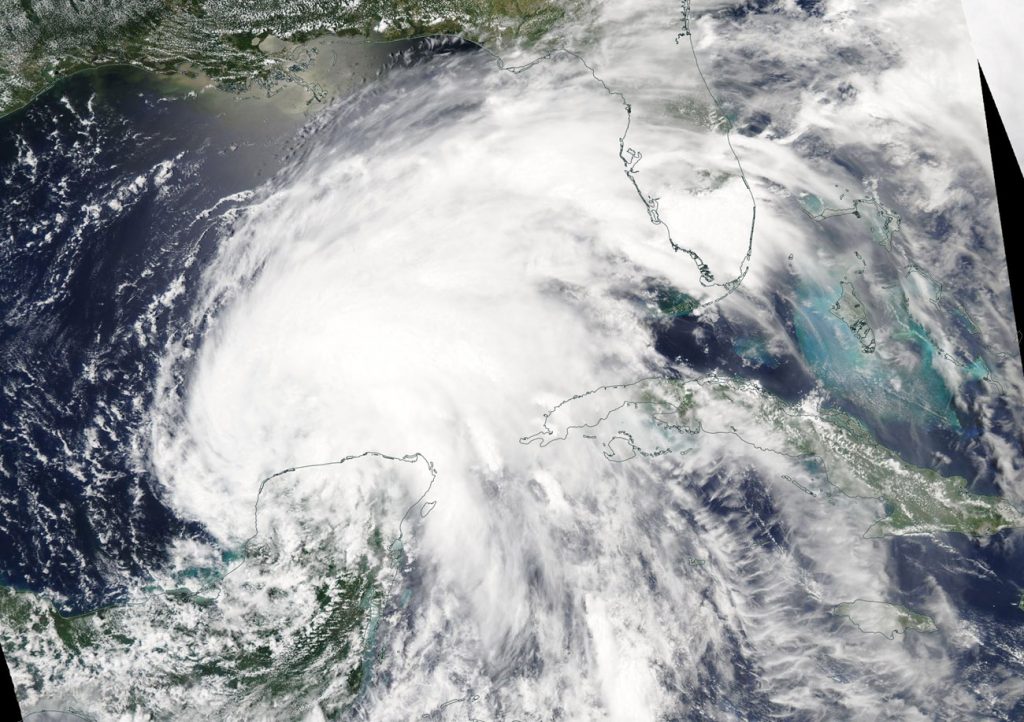 The National Hurricane Center (NHC) forecasts Cristobal to track northward through the Gulf of Mexico and toward Louisiana's coast. Watches and warnings have gone into effect.
Watches and Warnings 
On June 6, the NHC continued a Storm Surge Watch for the northern Gulf of Mexico coast from Indian Pass to Arepika, Florida and it also covers the area from East of Morgan City, Louisiana to the mouth of the Mississippi River.
Now, a Tropical Storm Warning is in effect from east of Morgan City, Louisiana to the Okaloosa/Walton County, Florida line and for Lake Pontchartrain and Lake Maurepas. In addition, a Tropical Storm Watch is in effect from Intracoastal City, Louisiana to Morgan City.
 What the NASA Satellite Views Show
On June 6 at 3:10 a.m. EDT (0710 UTC), the Moderate Resolution Imaging Spectroradiometer or MODIS instrument aboard NASA's Aqua satellite provided a visible (above) and infrared (below) image of Cristobal after it moved through the Gulf of Mexico.
The visible image showed the clouds in Cristobal's eastern quadrant stretched over parts of Florida, while the center was still just north of Mexico's Yucatan Peninsula. NHC forecaster Jack Beven said in the 5 a.m. EDT discussion, "Satellite imagery this morning shows that Cristobal does not have a classic tropical cyclone structure, probably due to interaction with a mid- to upper-level trough (elongated area of low pressure) and the associated entrainment of dry air (dry air moving into the storm).  The circulation is elongated north-south near the center, and multiple low-cloud swirls are preset.  In addition, the strongest convection is well removed from the center of Cristobal to the north and east." The strongest convection and thunderstorms east of center was apparent on infrared imagery.
Infrared MODIS imagery showed several areas of powerful thunderstorms where temperatures were as cold as or colder than minus 70 degrees Fahrenheit (minus 56.6 Celsius). All of the strongest storms were east of Cristobal's center and over the Gulf of Mexico, with the exception of an area over the northeastern Yucatan Peninsula. Cloud top temperatures that cold indicate strong storms with the potential to generate heavy rainfall.
Cristobal's Status on June 6, 2020
At 8 a.m. EDT (1200 UTC) on June 6, NOAA's National Hurricane Center noted that the center of Tropical Storm Cristobal was located near latitude 23.9 degrees north and longitude 90.2 degrees west. That puts the center of Cristobal about 365 miles (590 km) south of the mouth of the Mississippi River.
Cristobal is moving toward the north near 12 mph (19 kph), and this general motion is expected to continue for the next couple of days. Maximum sustained winds are near 50 mph (85 kph) with higher gusts. Some additional slow strengthening is forecast until landfall occurs on the northern Gulf coast. The minimum central pressure estimated from Air Force Hurricane Hunter aircraft observations is 992 millibars.
Cristobal's Forecast Path
On the NHC forecast track, the center of Cristobal will move northward over the central Gulf of Mexico today, and will be near the northern Gulf of Mexico coast on Sunday, June 7. Cristobal's center is then forecast to move inland across Louisiana late Sunday and Monday morning, and across Arkansas Monday afternoon and Monday night (June 8).
Typhoons/hurricanes are the most powerful weather events on Earth. NASA's expertise in space and scientific exploration contributes to essential services provided to the American people by other federal agencies, such as hurricane weather forecasting.
For updated forecasts, visit: www.nhc.noaa.gov