July 13, 2020 – NASA Finds Cristina Devoid of Rainfall, Now a Remnant Low
NASA's Terra Satellite found there were no areas of heavy rainfall in former tropical storm Cristina. The storm is now a remnant low-pressure area.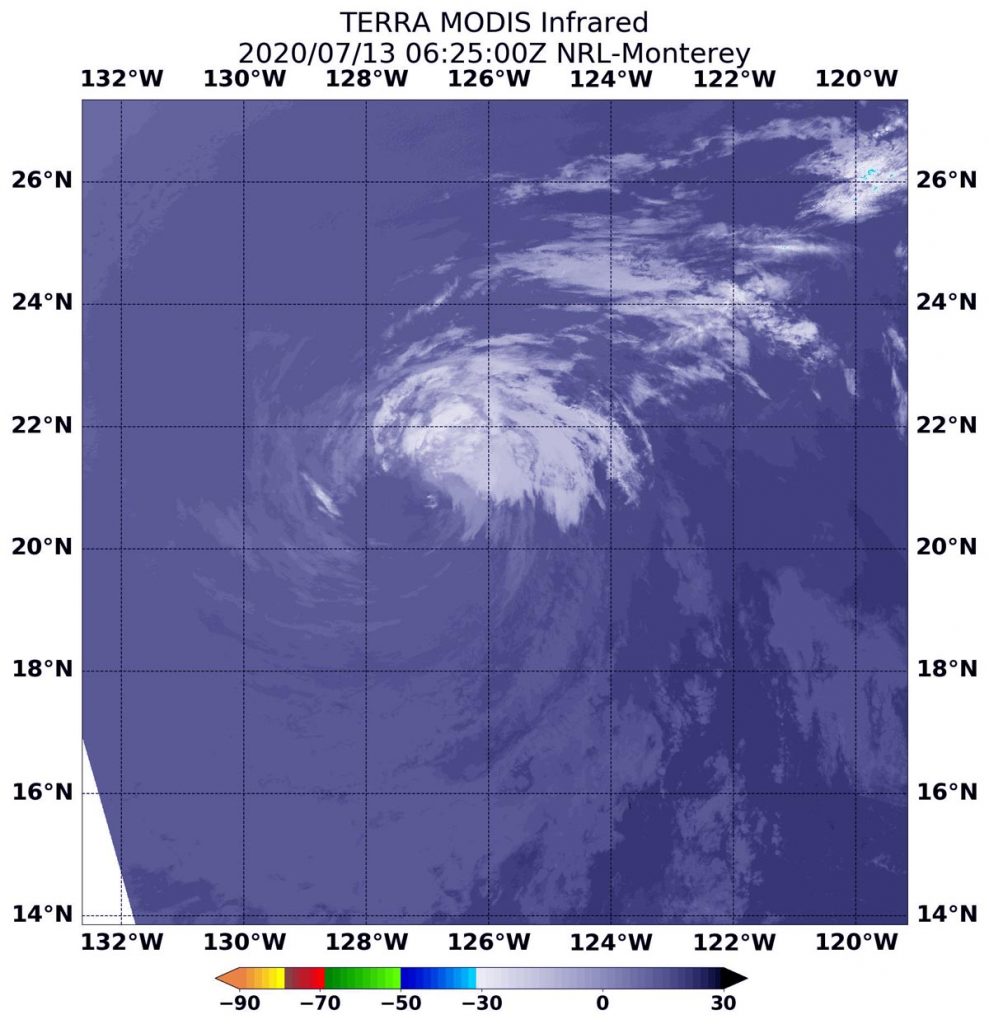 The National Hurricane Center (NHC) reported at 11 p.m. EDT on July 12 (0300 UTC, July 13), the center of Post-Tropical Cyclone Cristina was located near latitude 20.7 degrees north and longitude 126.5 degrees west. Cristina is centered about 1075 miles (1,730 km) west of the southern tip of Baja California Mexico. Cristina is moving toward the west near 12 mph (19 kph) and this motion is expected to continue for the next two or three days. Maximum sustained winds are near 35 mph (55 kph) with higher gusts.  The estimated minimum central pressure is 1007 millibars.
On July 13 at 02:25 a.m. EDT (0625 UTC), the Moderate Resolution Imaging Spectroradiometer or MODIS instrument that flies aboard NASA's Terra satellite provided an infrared image of Cristina. The image revealed Cristina was devoid of rainfall and was just a swirl of low to mid-level clouds. The highest clouds were located in the northeastern quadrant, but were also devoid of rainfall.
Cristina had degenerated to a remnant low-pressure area because the circulation was devoid of deep convection and strong thunderstorms. Gradual weakening is anticipated and the remnant low will likely dissipate in a few days.
Hurricanes/tropical cyclones are the most powerful weather events on Earth. NASA's expertise in space and scientific exploration contributes to essential services provided to the American people by other federal agencies, such as hurricane weather forecasting.
For updated forecasts, visit: www.nhc.noaa.gov