Aug. 02, 2020 – NASA Satellites Show a Weaker Tropical Storm Isaias
NASA's Aqua satellite provided visible and infrared views of Isaias and found the storm a little more disorganized–an indication that it had weakened from a hurricane to a tropical storm. Isaias ran into wind shear and forecasters expect those winds to continue battering the storm for another day.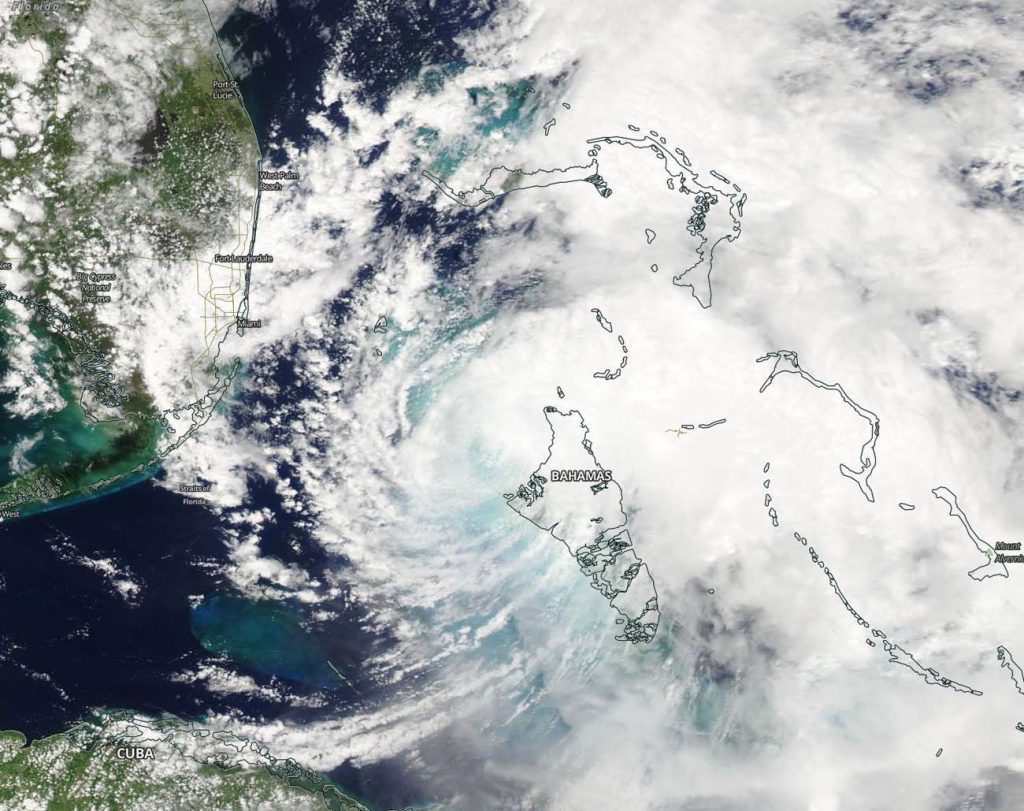 On Aug. 1, the MODIS instrument, known as the Moderate Resolution Imaging Spectroradiometer that flies aboard NASA's Aqua satellite provided a visible image to forecasters of Tropical Storm Isaias over the northern Bahamas where it weakened slightly from a hurricane to a tropical storm. Isaias had weakened to a tropical storm due to a combination of shear, dry air and interaction with Andros Island earlier in the day.
NASA Finds Isaias' Strongest Storms Over Northern Bahamas
NASA's Aqua satellite's MODIS instrument also used infrared light to analyze the strength of storms in Tropical Storm Isaias. Infrared data provides temperature information, and the strongest thunderstorms that reach high into the atmosphere have the coldest cloud top temperatures.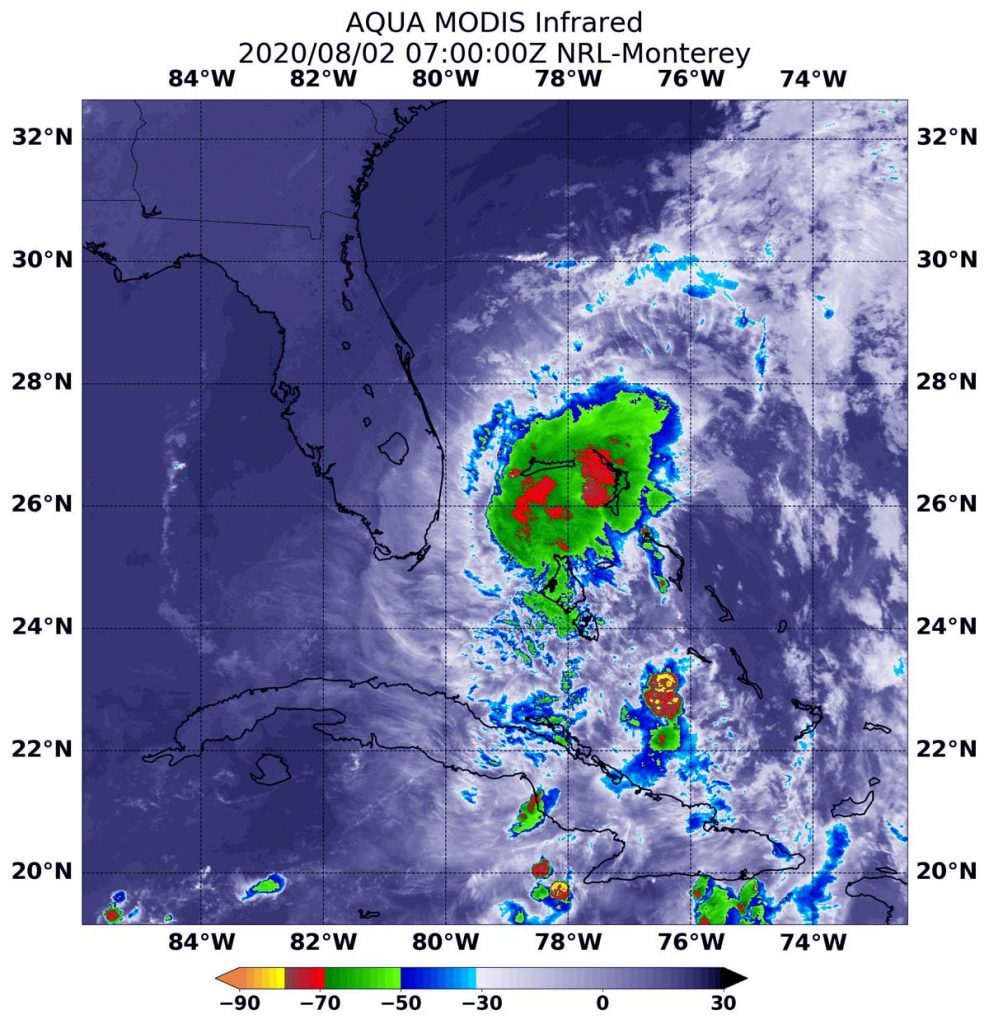 On Aug. 2 at 3 a.m. EDT (0700 UTC) the Moderate Resolution Imaging Spectroradiometer or MODIS instrument that flies aboard NASA's Aqua satellite found strongest thunderstorms had cloud top temperatures as cold as or colder than minus 70 degrees Fahrenheit (minus 56.6 Celsius). Cloud top temperatures that cold indicate strong storms with the potential to generate heavy rainfall.
Forecasters at the National Hurricane Center (NHC) noted, "The burst of deep convection that developed to the northeast of the center last evening has not resulted in any significant improvement in the structure of Isaias according to recent reconnaissance aircraft data and radar imagery."
At 8 a.m. EDT (1200 UTC) on Aug. 2, the NHC reported, "Heavy rainfall and gusty winds continue over the northwestern Bahamas and tropical storm conditions close to the east coast of Florida."
Weakened by Wind Shear 
NHC noted at 5 a.m. EDT (0900 UTC) on Sunday, August 2, 2020, "The tropical cyclone is still being adversely affected by about 25 knots (29 mph/46 kph) of 850-200 millibar vertical wind shear. That is about 5,000 feet about sea level to about 39,000 feet above sea level (near the top of the troposphere).
An air pressure of 200 millibars is said to occur near 39,000 feet (12,000 meters) in elevation. However, the height ranges from near 35,000 to 41,000 feet (10,800 to 12,300 meters). This pressure level is near an elevation of 5,000 feet though it ranges from 3,800 feet (1,170 meters) to 5,200 feet (1,590 meters).
In general, wind shear is a measure of how the speed and direction of winds change with altitude. Tropical cyclones are like rotating cylinders of winds. Each level needs to be stacked on top each other vertically in order for the storm to maintain strength or intensify. Wind shear occurs when winds at different levels of the atmosphere push against the rotating cylinder of winds, weakening the rotation by pushing it apart at different levels.
Hurricane Isaias on Sunday, August 2, 2020
At 8 a.m. EDT (1200 UTC) on Aug. 2 the center of Tropical Storm Isaias was located by an Air Force Reserve reconnaissance aircraft and NOAA Doppler weather radars near latitude 26.5 degrees north and longitude 79.5 degrees west. Isaias is moving toward the northwest near 8 mph (13 kph). A general northwestward motion is expected today, followed by a north-northwestward motion tonight.
Reports from an Air Force Reserve Hurricane Hunter aircraft indicated that the maximum sustained winds remain near 65 mph (100 kph) with higher gusts. Little change in strength is expected during the next couple of days. The latest minimum central pressure reported by reconnaissance aircraft is 996 millibars.
Watches and Warnings in Effect
NHC has posted many warnings and watches for Isaias.  A Storm Surge Watch is in effect for Jupiter Inlet to Ponte Vedra Beach, Florida. Edisto Beach, South Carolina to Cape Fear, North Carolina. A Tropical Storm Warning is in from Hallandale Beach, Florida to South Santee River, South Carolina and for Lake Okeechobee, Florida. A Tropical Storm Watch is in effect from north of South Santee River, South Carolina to Surf City, North Carolina.
Isaias' Forecast Path
NHC forecasters noted, "A turn toward the north and north-northeast is anticipated on Monday and Tuesday with an increase in forward speed.  On the forecast track, the center of Isaias will move near or over the east coast of Florida today through late tonight.  On Monday and Tuesday, the center of Isaias will move from offshore of the coast of Georgia into the southern mid-Atlantic states."
NHC Hurricane Forecaster Daniel Brown noted, "Since Isaias has not shown any signs of re-organizing overnight, it appears that the window of opportunity for it to re-strengthen is closing."
NASA Researches Tropical Cyclones
Hurricanes/tropical cyclones are the most powerful weather events on Earth. NASA's expertise in space and scientific exploration contributes to essential services provided to the American people by other federal agencies, such as hurricane weather forecasting.
For more than five decades, NASA has used the vantage point of space to understand and explore our home planet, improve lives and safeguard our future. NASA brings together technology, science, and unique global Earth observations to provide societal benefits and strengthen our nation. Advancing knowledge of our home planet contributes directly to America's leadership in space and scientific exploration.
For updated forecasts, visit: www.nhc.noaa.gov