Sep. 13, 2020 – NASA Satellite Confirms Tropical Storm Sally Strengthening, Threatens Gulf States
NASA's Terra satellite passed over the Gulf of Mexico on Saturday, Sept. 12 and visible imagery helped confirm that the nineteenth tropical cyclone of the Atlantic Ocean hurricane season strengthened into a tropical storm.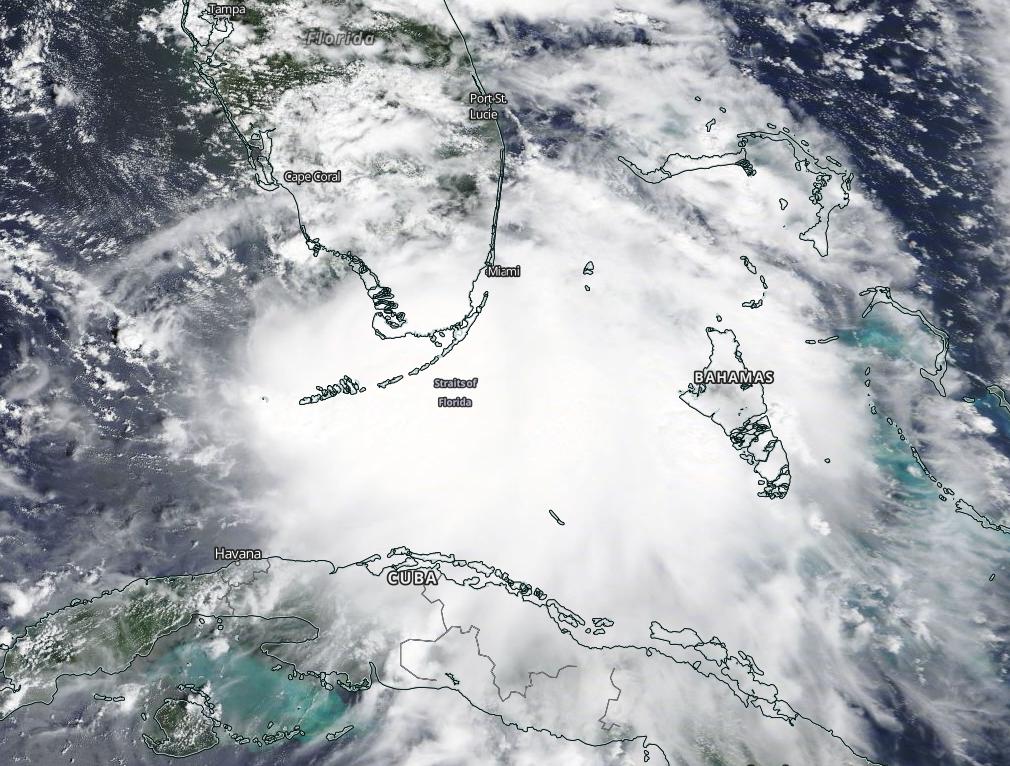 Tropical Depression 19 formed late on Friday, Sept. 11, and by 2 p.m. EDT on Saturday, Sept. 12, it had strengthened into a tropical storm and was renamed Sally. Visible imagery from NASA's Terra satellite helped confirm the organization of the storm.
On Sept. 12, the Moderate Resolution Imaging Spectroradiometer or MODIS instrument aboard Terra provided a visible image newly developed tropical cyclone. The imagery showed better-defined banding features over the southern portion of the circulation than earlier in the day. Sally appeared more organized on satellite imagery, enough to be classified as a tropical storm.
As Sally strengthened and moved away from the Florida Peninsula during the morning hours of Sept. 13, the National Hurricane Center (NHC) posted many warnings and watches along the northern Gulf coast.
Warnings and Watches on Sept. 13
A Storm Surge Warning is in effect for Port Fourchon, Louisiana to the Mississippi/Alabama Border and for Lake Pontchartrain, Lake Maurepas, and Lake Borgne. A Hurricane Warning is in effect for Morgan City, Louisiana to Ocean Springs, Mississippi and for Lake Pontchartrain and Lake Maurepas including metropolitan New Orleans. A Tropical Storm Warning is in effect for east of Ocean Springs to Indian Pass and from Intracoastal City, Louisiana to west of Morgan City.
A Storm Surge Watch is in effect for the Mississippi/Alabama Border to the Alabama/Florida Border. A Hurricane Watch is in effect for east of Ocean Springs to the Alabama/Florida Border. A Tropical Storm Watch is in effect for Indian Pass to Ochlockonee River, Florida.
 Sally's Status on Sept. 13, 2020
At 11 a.m. EDT (1500 UTC), NHC reported the center of Tropical Storm Sally was located near latitude 27.5 degrees north and longitude 84.9 degrees west. That is about 135 miles (225 km) west of St. Petersburg, Florida.
Sally is moving toward the west-northwest near 12 mph (19 km/h), and a west-northwestward or northwestward motion is expected through Monday. Data from an Air Force Reserve Hurricane Hunter aircraft indicate that the maximum sustained winds have increased to near 60 mph (95 kph) with higher gusts. Strengthening is expected over the next day or so, and Sally is forecast to become a hurricane on Monday with some additional strengthening possible before landfall Monday night.
Sally's Forecast Track
A decrease in forward speed and a turn toward the north-northwest is forecast on Monday night, and slow north-northwestward motion is expected Tuesday. On the forecast track, the center of Sally will move over the eastern Gulf of Mexico today, move over the north-central Gulf of Mexico tonight and Monday, and approach the north-central Gulf Coast within the hurricane warning area late Monday and Monday night. Sally is expected to move farther inland over southeastern Louisiana on Tuesday and Tuesday night.
Hurricanes/tropical cyclones are the most powerful weather events on Earth. NASA's expertise in space and scientific exploration contributes to essential services provided to the American people by other federal agencies, such as hurricane weather forecasting.
For updated forecasts. Visit: www.nhc.noaa.gov