Sep. 14, 2020 – NASA Satellite Imagery Catches Sally's Development into a Hurricane
Tropical Storm Sally was deemed a hurricane on Sept. 14 just after NASA's Aqua satellite provided data on the storm.
Infrared Imagery on Sally
On Sunday, Sept. 13, NASA analyzed Sally's cloud top temperatures to gauge if the storm was strengthening. Cloud top temperatures provide information to forecasters about where the strongest storms are located within a tropical cyclone. The stronger the storms, the higher they extend into the troposphere, and the colder the cloud temperatures.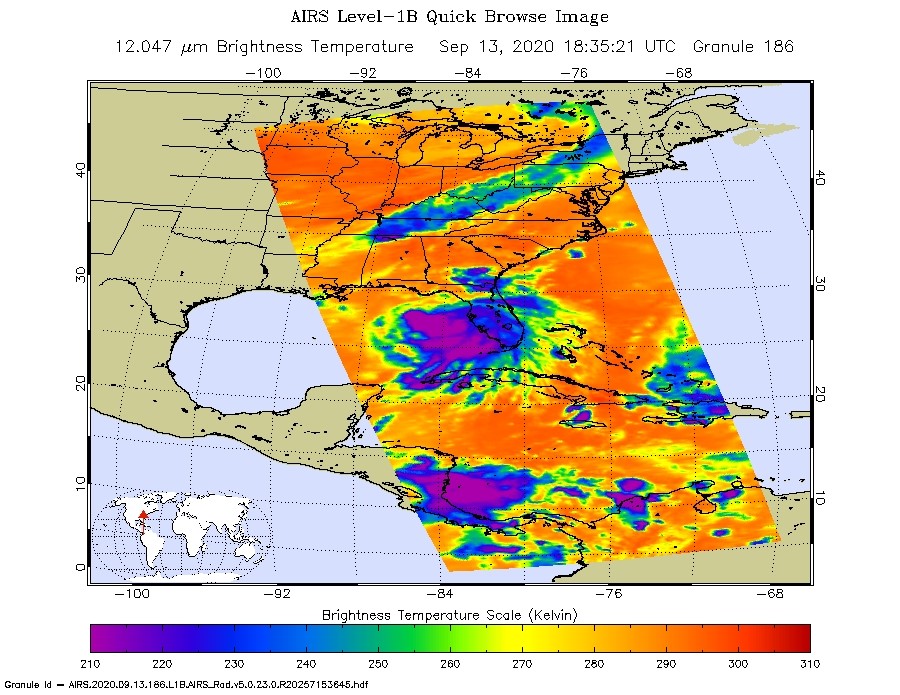 On Sept. 13 at 2:35 p.m. EDT (1835 UTC) NASA's Aqua satellite analyzed Tropical Storm Sally using the Atmospheric Infrared Sounder or AIRS instrument. AIRS found coldest cloud top temperatures as cold as or colder than minus 63 degrees Fahrenheit (minus 53 degrees Celsius) around the center and east of the center. NASA research has shown that cloud top temperatures that cold indicate strong storms that have the capability to create heavy rain.
Visible Imagery Helps Confirm Hurricane Status
On Sept. 14 at 12:10 p.m. EDT (1610 UTC), the Moderate Resolution Imaging Spectroradiometer (MODIS) instrument aboard NASA's Terra satellite provided a visible look at Hurricane Sally just as it reached hurricane status in the northern Gulf of Mexico. In the Terra image, the strongest storms appear to be around the center of circulation and the northern and eastern quadrants of the storm, which are skirting Florida's west coast.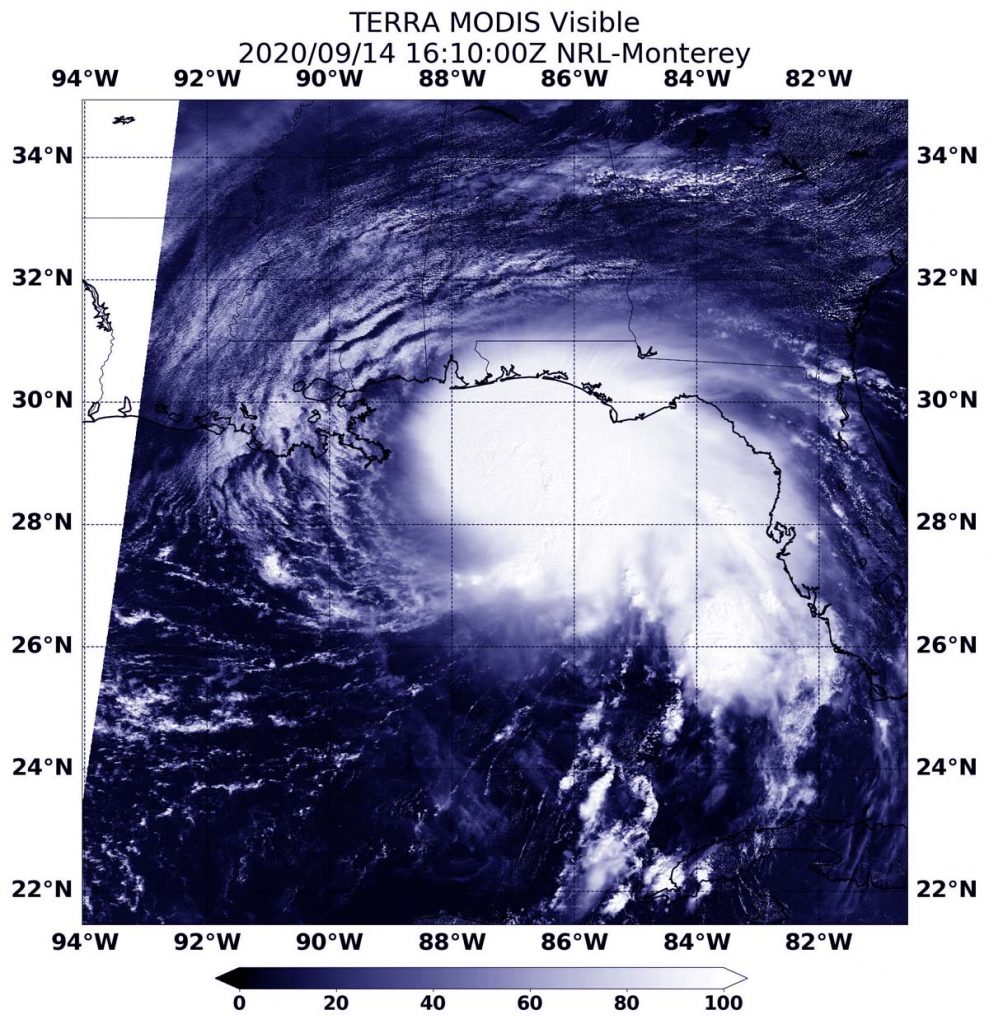 At 12:30 p.m. EDT, Daniel Brown, senior hurricane specialist and warning coordination meteorologist at NOAA's National Hurricane Center in Miami, Fla. noted, "A NOAA Hurricane Hunter aircraft investigating Sally recently measured peak flight-level winds of 88 knot at 700 millibars and SFMR [Stepped Frequency Microwave Radiometer] winds of 78 knot north of the center, and an Air Force reconnaissance aircraft just measured 79 knot flight-level winds at 700 millibars.  These data indicate that Sally has rapidly strengthened into a hurricane with an intensity of around 80 knots. In addition, data from the KEVX WSR-88D [the radar at Eglin Air Force Base, Fla.] show an eye forming at around 16,000 foot altitude. This special advisory has been issued to increase the initial and forecast intensity."
The Stepped Frequency Microwave Radiometer (SFMR) is the primary instrument used by the National Hurricane Center to determine hurricane intensity.
Watches and Warnings in Effect on Sept. 14
A Storm Surge Warning is in effect for Port Fourchon, Louisiana to the Alabama/Florida Border, Lake Pontchartrain, Lake Maurepas, and Lake Borgne and for Mobile Bay. A Hurricane Warning is in effect for Morgan City Louisiana to the Alabama/Florida Border, and for Lake Pontchartrain and Lake Maurepas including metropolitan New Orleans. A Tropical Storm Warning is in effect for the Alabama/Florida Border to Indian Pass, Florida and for Intracoastal City, Louisiana to west of Morgan City.
A Tropical Storm Watch is in effect for Indian Pass to Ochlockonee River, Florida.
Sally's Status of Sept. 14
At 12:30 p.m. EDT (1630 UTC), the center of Hurricane Sally was located near latitude 28.7 degrees north and longitude 87.0 degrees west. That is 130 miles (210 km) east-southeast of the mouth of the Mississippi River. Sally is moving toward the west-northwest near 7 mph (11 kph). This general motion is expected to continue today, followed by a decrease in forward speed and a turn toward the northwest tonight and a northward turn sometime on Tuesday.
Data from NOAA and Air Force Reserve Hurricane Hunter aircraft indicate that Sally has rapidly strengthened. The maximum sustained winds are near 90 mph (150 kph) with higher gusts.  Additional strengthening is forecast during the next day or so. The latest minimum central pressure estimated from reconnaissance aircraft data is 986 millibars.
Sally's Forecast
On the forecast track, the center of Sally will move over the north-central Gulf of Mexico today, approach southeastern Louisiana tonight, and make landfall in the hurricane warning area on Tuesday or Tuesday night. Afterward, Sally is expected to move slowly north-northeastward near the northern Gulf Coast through Wednesday.
The AIRS instrument is one of six instruments flying on board NASA's Aqua satellite, launched on May 4, 2002.
NASA Researches Tropical Cyclones
Hurricanes/tropical cyclones are the most powerful weather events on Earth. NASA's expertise in space and scientific exploration contributes to essential services provided to the American people by other federal agencies, such as hurricane weather forecasting.
For more than five decades, NASA has used the vantage point of space to understand and explore our home planet, improve lives and safeguard our future. NASA brings together technology, science, and unique global Earth observations to provide societal benefits and strengthen our nation. Advancing knowledge of our home planet contributes directly to America's leadership in space and scientific exploration.
For updated forecasts, visit: www.nhc.noaa.gov