Nov. 19, 2020 – NASA Aids Disaster Response after Eta and Iota Hit Central America
With up to 155-mph winds, Hurricane Iota smashed record books on Nov. 16 as the strongest hurricane ever recorded to make landfall in Nicaragua. Iota reached Category 5 strength before making landfall as a Category 4 storm near the town of Haulover, Nicaragua.
The onslaught of destructive winds and heavy rainfall was unfortunately familiar to a region that recently suffered another Category 4 landfalling storm – Hurricane Eta – just two weeks earlier. Eta was a Category 4 storm with 140-mph winds when it landed in Nicaragua on Nov. 3 before ripping a wide path of destruction through Honduras and Guatemala.
Heavy rainfall from these two storm systems brought widespread flooding to the region, triggered large and numerous landslides in Guatemala and Honduras, and was responsible for numerous casualties.
NASA's Earth Applied Sciences Disasters Program supports disaster response and risk reduction efforts throughout the world — before, during, and after disasters strike – and is working to aid Central America with the impacts from these storms.
In the case of Eta and Iota, the Program is using imagery and data from Earth-observing satellites to provide scientific analysis to Guatemala's National Coordinator for Disaster Reduction and is working with the Coordination Center for Disaster Prevention in Central America. The multi-agency collaboration is assisting local governments in Nicaragua, Honduras and Guatemala, El Salvador, Belize, Costa Rica, and Panama. The Program is also working with U.S. Southern Command to provide situational awareness for potential emergency humanitarian assistance.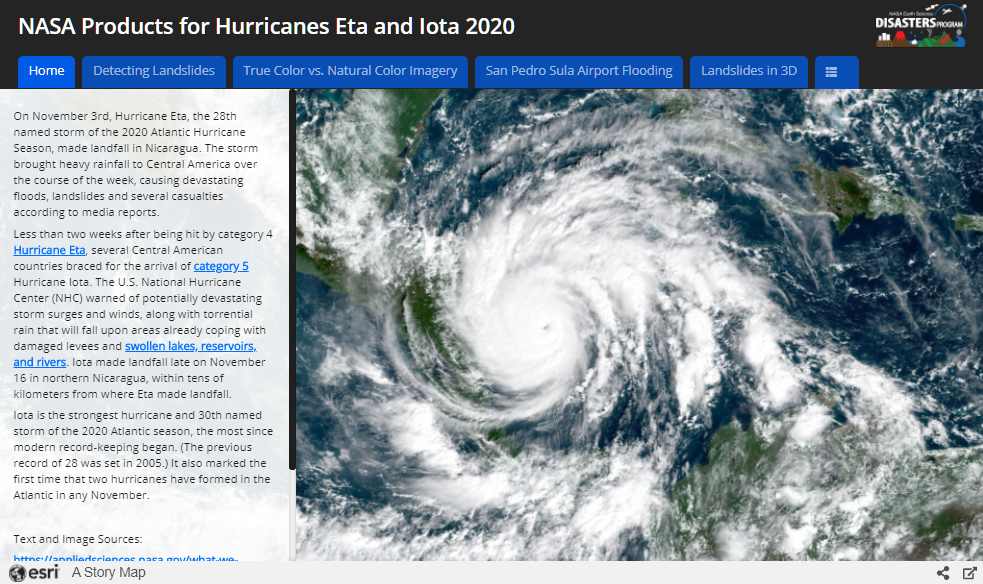 Click to visit interactive map
The interactive map above shows some highlights of key data products the Disasters Program is using. Specifically, the Program is sharing products such as those (and others in the NASA Disasters Mapping Portal) in frequent coordination meetings to help quantify flood and landslide risk in the region.
One example is the landslide detection maps from the Semi-Automatic Landslide Detection (SALaD) project, which use machine learning to analyze data from commercial Planet Labs satellites and the European Space Agency (ESA) Copernicus Sentinel-2 satellite. ESA Sentinel-2 data was also used to detect likely flooded areas at Honduras' San Pedro Sula airport.  The Program can take the landslide and flood detection data, then combine it with openly available population data and road maps, and deliver actionable guidance to local decision makers on where to best direct their response efforts.
Learn more about how NASA is aiding response efforts for Eta and Iota
By Jacob Reed
NASA Goddard Space Flight Center