Meteorologists with the U.S. Air Force 45th Space Wing predict a 70% chance of favorable weather for liftoff of a SpaceX Falcon Heavy rocket Monday, June 24, from Launch Complex 39A at NASA's Kennedy Space Center in Florida. The launch window opens at 11:30 p.m. EDT.
The Falcon Heavy will launch two dozen satellites to space for the U.S. Department of Defense Space Test Program-2 mission.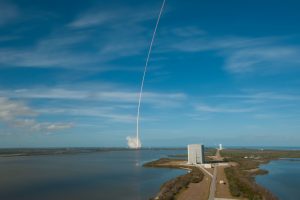 Aboard are two NASA technology demonstrations to improve how spacecraft propel and navigate, as well as two NASA science missions to help us better understand the nature of space and how it impacts technology on spacecraft and the ground.
Forecast Details
An upper-level ridge remains over the Southeast U.S., reducing the coverage of the shower and thunderstorm activity over Central Florida. The surface ridge axis will remain south of the Space Coast however, keeping the east coast sea breeze pinned close to shore with only isolated afternoon showers. This southwesterly flow will also bring high temperatures in the 90s over the Spaceport. This pattern will begin to change Sunday into Monday, as a storm system digs into the Gulf Coast States, destabilizing the atmosphere and increasing shower and thunderstorm activity across Central Florida. The primary weather concerns for a launch attempt overnight Monday into early Tuesday morning are lingering anvil and thick layer clouds from afternoon convection.
On Tuesday, the upper-level ridge will continue moving east, allowing the storm system to drop into Northern Florida. Consequently, the coverage and intensity of showers and storms are expected to increase.
Prelaunch Technology Show: June 23
A prelaunch NASA technology show is scheduled for Sunday, June 23 at noon from Kennedy. NASA will stream the briefing live at https://www.nasa.gov/live.
Launch Coverage: June 24
Live NASA Television coverage of the Falcon Heavy launch will begin 30 minutes before liftoff.
While each has a unique set of objectives, the NASA missions on this launch have a common goal: improve future spacecraft design and performance, no matter the destination. For additional information about the NASA technologies aboard the launch, visit: www.nasa.gov/spacex