In today's A Lab Aloft International Space Station Program Scientist Julie Robinson looks back at the year in review for research aboard the orbiting laboratory.
As the year comes to a close, I like to take a moment to look back at all the amazing accomplishments from the previous twelve months for the International Space Station. There are lessons to be learned and goals to be evaluated as part of planning for the new year. But this is also a time to enjoy achievements and strides made via this orbiting laboratory in research, technology and education.
Keeping a Helpful Eye on Earth
The vantage point of station offers not only an impressive view of our planet, but the chance to capture and study important aspects of the Earth's atmosphere, waters, topography and more. The 2012 arrival of the ISS SERVIR Environmental Research and Visualization System, known as ISERV, will enhance the viewing capabilities from orbit used to support disaster assessment, humanitarian assistance and environmental management.
This year an externally-mounted station instrument contributed to the Environmental Protection Agency's goal of monitoring and improving coastal health. The same Hyperspectral Imager for the Coastal Ocean, or HICO, also assists the National Oceanic and Atmospheric Administration, or NOAA, with scans to determine depth below murky waters, bottom type, water clarity and other water optical properties.
Assisting with disaster response became the secondary mission for the International Space Station Agricultural Camera, or ISSAC. This imager was originally intended for agriculture vegetation surveys to assist with crop and grazing rotation. When that primary science objective ended, the camera became part of the space station's response efforts for global disasters as part of the International Disaster Charter.
Map of chlorophyll-a for Pensacola Bay derived from HICO data. Higher values (yellow and red) indicate high chlorophyll concentrations in the water that suggest algal blooms are present. Algal blooms can reduce oxygen levels in the water, leading to fish and other animal kills. Some algal blooms also contain organisms that produce toxins harmful to other life, including humans. (EPA)
Inspiring Future Generations
This year NASA's continued support in educational areas of science, technology, engineering and math (STEM) led to some exciting student-based activities and resources. With the Student Spaceflight Experiment Program, or SSEP, for instance, 15 investigations were selected from close to 800 proposals of student inspiration and design. The results from these studies will be shared at the national conference held each year in Washington DC.
The YouTube Space Lab competition provided another opportunity that caught the attention and imagination of students around the world. Two investigations were selected as winners from more than 2,000 video submissions and many tuned in to watch as the experiments were conducted by astronauts live on orbit.
You can read about all of the education activities available to students to participate in space station science in our recently published "Inspiring the Next Generation: International Space Station Education Opportunities and Accomplishments, 2000-2012." This retrospective book details station activities involving more than 42 million students and 2.8 million teachers across 48 countries from 2000 to 2012.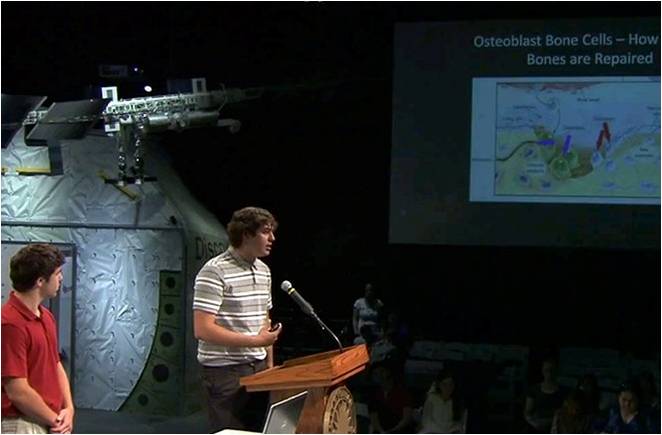 Joseph Avenoso (left), Gage Cane-Wissing (right), and Adam Elwood (not pictured), presented their findings on bone loss in microgravity as part of the 2012 SSEP National Conference. (NCESSE/Smithsonian)
Technology Testbed
The space station plays an important role as a microgravity testbed for emerging technologies. The JEM-Small Satellite Orbital Deployer, or J-SSOD, for instance, operated for the first time in 2012, launching multiple small satellites into orbit. This new capability provides a reliable, safe and economically viable deployment method for releasing small satellites, in addition to enabling the return samples to the ground for analysis.
Another exciting technology tested on station is the Robotic Refueling Mission, or RRM, which may help support future space exploration using advanced robotics to service vehicles and satellites in orbit. This capability does not currently exist, but is essential to long-duration exploration missions of tomorrow.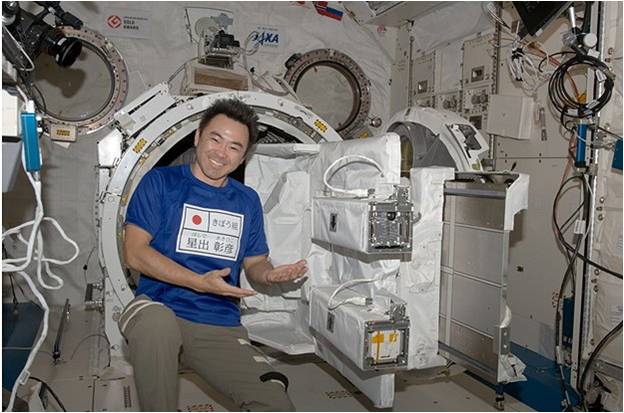 JAXA astronaut Aki Hoshide preparing the JEM Small Satellite Orbital Deployer aboard the International Space Station. (NASA)
Exciting Discoveries for Human Health and Science Disciplines
Findings from station investigations are impacting human health both here on Earth and in orbit. For instance, recently published results related to bone health showed that a combination of nutrition, Vitamin D supplements, and high-intensity resistive exercise help the crew to preserve bone mass density without the need for pharmaceuticals. These findings also apply to the development of treatments for osteoporosis patients here on Earth, an estimated 44 million in the United States alone.
Crew health was highlighted in vision studies in 2012, as well, with the publication of two results papers focused on the impact of microgravity on astronaut vision changes. Research found that significant vision loss in 20 percent of crew members may derive from a combination of the spaceflight environment and changes in metabolism, with an enzyme related to cardiovascular health potentially playing a role.
A discovery of "Cool Flames" caused excitement in the physical sciences community this year. These low-temperature flames ignite via chemical reactions from fuel vapor and air, burning invisible to the eye. This knowledge can help with improving fire safety in orbit, but also has implications for cleaner and more fuel efficient combustion in engines here on Earth.

A burning heptane droplet during the FLEX investigation on the International Space Station. (Credit: NASA)
Ringing in the New Year
Looking forward to 2013, there are still so many exciting things to learn in the various disciplines studied aboard station. Whether in biology and biotechnology, Earth and space science, human research, the physical sciences or even technology developments, there remains a huge potential for discovery. The advent of updated and new facilities planned for the station will help enable investigators in their research in these areas.
Along with the research taking place aboard station, we continue to see Earth benefits that derive either directly or as a spinoff of station science. I look forward to continuing to share these findings and stories with you in the coming year and through the lifetime of this amazing microgravity laboratory.
Julie A. Robinson, Ph.D.
International Space Station Program Scientist