In today's A Lab Aloft entry International Space Station Program Scientist Julie Robinson, Ph.D., continues her countdown of the top ten research results from the space station, recently presented at the International Astronautical Conference in Beijing, China. Be sure to check back for daily postings of the entire listing.
The next item in my top ten research results from the International Space Station countdown is related to its predecessor. The topic for number nine is understanding mechanisms of osteoporosis and new ways to treat it. In this case, however, we focus not on the humans as subjects, but on studies done with mice.
The pharmaceutical company, AMGEN, flew mice to and from the space station on three different assembly missions. These missions shed light on the impact of the space environment on bone health and related treatments. This study, called the Commercial Biomedical Testing Module (CBTM): Effects of Osteoprotegerin on Bone Maintenance in Microgravity, showed that mice treated with osteoprotegerin decreased bone resorption compared to untreated mice.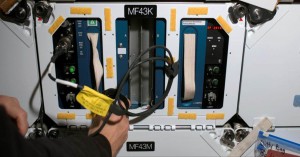 The results from these studies have started to make their way to publication and to patients on Earth. As you can see in the images below from CBTM, the X-rays of the bones of the mice are quite telling. On the left is a ground control, in the middle is a mouse treated with an osteoprotegerin candidate drug, and on the right is a mouse in flight that's not treated. You don't have to be a sophisticated scientist to see those differences in the bone mass density—you can see them right on the X-ray.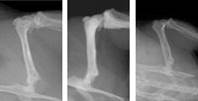 The space experiment with osteoprotegerin, which was already developed and in clinical trials on the ground, was done to run tests in orbit to better understand the drug and how it functions. Those data were included in the development of the new drug applications by AMGEN, and that drug—called Prolia—came to market several years ago.
I've been meeting more and more women who are taking this drug to treat their osteoporosis; it can, of course, have serious side effects, but provides an alternative for some people who cannot take bisphosphonate drugs for their symptoms. The CBTM-2 and CBTM-3 studies look at bone and muscle loss in mice flown in space treated with other drugs working their way through clinical trials. It is gratifying to see a drug in patient care use today that comes from one of the first spaceflights of animals, and exciting to see pharmaceutical companies using the unique environment of spaceflight to improve health here on Earth.
I'm looking forward to the results that keep coming out from this research and the new expanded rodent capability beginning on the space station next year. The National Academy of Sciences have reported that rodent research is one of the most important areas for ensuring that the space station maximizes its benefits to the nation in scientific discovery and improving human health—you can see why!
Julie A. Robinson, Ph.D.
International Space Station Program Scientist