In today's A Lab Aloft entry International Space Station Program Scientist Julie Robinson, Ph.D., concludes her countdown of the top research results from the space station.
I've shared with you my top ten research results from the International Space Station in this blog series, and this is only the middle of the mission. With the space station scheduled to continue operating until at least 2020—and likely beyond—we continue with investigations that present us with more interesting facts and findings. Even as you read this entry, hundreds of investigations are active in orbit.
Whatever missions we look to tomorrow—including travel to an asteroid and Mars—they absolutely depend on the success of the space station. That is because the station was developed to return benefits and discoveries to us here on Earth. How we use the space station, both in our success as an industry and in returning benefits back to our nations and our economies, impacts everybody. If we don't all take ownership to share this story, it makes our stakeholders look at our future ideas and say, "well yeah, that's great for you, but what's in it for the rest of the country."
I was originally challenged to pick a set of top 10 research results by the organizers of an aerospace industry meeting, the International Astronautical Congress. Now I would like to challenge not only the members of the aerospace community, but all of those reading this blog who may one day benefit from this orbiting laboratory—that means you. Please take home one of these top ten research facts to share with your family, friends and colleagues. There are many more benefits and results than just those I highlighted, but it's a good place to start.
Of the examples I gave you in this series, be ready to own the one that you choose. If you are talking with a government official, the press, your students, your family, that stranger sitting next you to on a plane, whomever you encounter, be prepared to share. The space station is our pinnacle of human spaceflight, it is our example of international cooperation and it is doing outstanding things in science yesterday, today and tomorrow. You don't have to be a scientist to share the wonder and the value of the science we are doing there with others.
To make the difficult choice of a top 10 possible, there are a lot of things I didn't include in the list. Sometimes, these were more technology spinoffs than research results. I also didn't include the specific knowledge being gained for the purposes of future exploration—that could be another top 10 by itself. The use of space station ultrasound techniques in saving lives of women and their unborn children around the world, for instance. New remote ultrasound practices are being tested in developing nations, but this was a pure spinoff—no additional research needed—which is why it did not make my list. I also did not touch on the space station technology used today for air purification in daycares or the fresh water technology from station. Again, I did not select these primarily because they are pure spinoffs.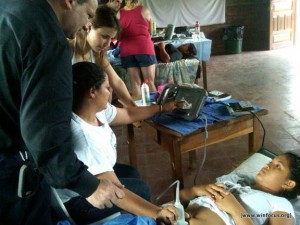 These examples are equally impactful and perhaps even more quickly connected to saving lives here on Earth. I encourage you to learn more by visiting our resources as we continue to share new developments, findings and benefits from space station research. Why limit this topic to so few as just ten; quite frankly, why limit the conversation to just the aerospace industry?
Amazingly enough, people you know have not heard about the space station, so we all need to take responsibility for sharing this message. There are some great resources we've put together as a partnership for you, so you won't have to just remember the words you read here. You can look at the space station benefits for humanity website, which has been translated into multiple languages. You also can keep up on all the great things going on by following space station research on nasa.gov, revisiting this A Lab Aloft blog and by following our Twitter account: @ISS_Research.
I'd like to close by pointing out how sharing a view of the space station over your town can have a big impact on the people in your own orbit. My husband does not work in aerospace; he's in the insurance industry. I remember one time there was going to be a great overpass of the space station in Houston, and I suggested to him that he go up on top of his building to see it. He sent an email around his office as an invitation and he ended up on the roof of the building with his colleagues and a senior executive. Together they watched this amazing space station pass. While looking up, the executive leaned over to my husband and said, "that was really neat! I had no idea we had people in space."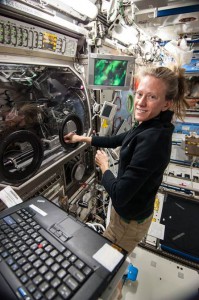 The fact is that leaders in the world of business outside of aerospace are not paying attention to what we are doing. Science policy position and analysis can have scant information about what is really going on and what we are accomplishing. In the din of public policy debates, it is sometimes hard for us to get people hear about the good news. Two things that we really need to share with everyone are that the space station is up there with humans working on orbit, and that it is bringing back concrete benefits for use here on Earth. These returns make our economies stronger, make our individual lives better and save peoples' lives. That really is the core of space exploration and why we do it.
Here, again, are my top ten space station research results in review.
10. Preventing the loss of bone mass in space through diet and exercise
9. Understanding mechanisms of osteoporosis and new ways to treat it
8. Hyperspectral imaging for water quality in coastal bays
7. Colloid self assembly using magnetic fields for development of nanomaterials
6. A new process of cool flame combustion
5. Pathway for bacterial pathogens to become virulent
4. Forty-three million students and counting
3. Dark matter is still out there
2. Robotic assist for brain surgery
1. New targeted method of chemotherapy drug delivery with breast cancer trials now in development
Thank you for sharing!
Julie A. Robinson, Ph.D.
International Space Station Program Scientist