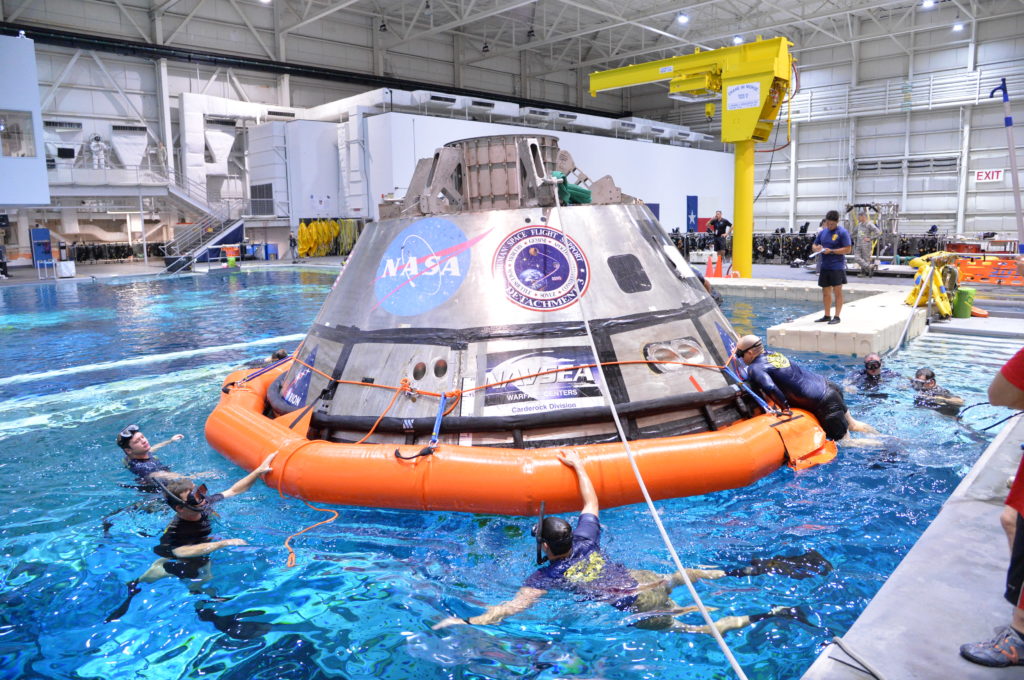 A group of U.S. Navy divers, Air Force pararescuemen and Coast Guard rescue swimmers are practicing Orion underway recovery techniques this week in the Neutral Buoyancy Laboratory (NBL) at NASA's Johnson Space Center in Houston to prepare for the first test flight of an uncrewed Orion spacecraft with the agency's Space Launch System rocket during Exploration Mission 1 (EM-1).
Training in the NBL began Sept. 20 and will wrap up by Sept. 22.
A test version of the Orion spacecraft was lowered into the water in the NBL. Divers wearing scuba gear used ground support equipment and zodiac boats to swim or steer to the test spacecraft. They placed a flotation collar around Orion and practiced using the new tow cleat modifications that will allow the tether lines to be connected to the capsule. The tether lines are being used to simulate towing Orion into the well deck of a Navy recovery ship.
Training at the NBL will help the team prepare for Underway Recovery Test 5 (URT-5), which will be the first major integrated test in a series of tests to prepare the recovery team, hardware and operations to support EM-1 recovery.
The recovery team, engineers with NASA's Ground Systems Development and Operations program and Orion manufacturer Lockheed Martin, are preparing for URT-5, which will take place in San Diego and aboard the USS San Diego in the Pacific Ocean off the coast of California in October.
During EM-1, Orion will travel about 40,000 miles beyond the moon and return to Earth after a three-week mission to test the spacecraft's systems and heat shield. Orion will travel through the radiation of the Van Allen Belts, descend through Earth's atmosphere and splashdown in the Pacific Ocean.
Photo credit: NASA/James Blair