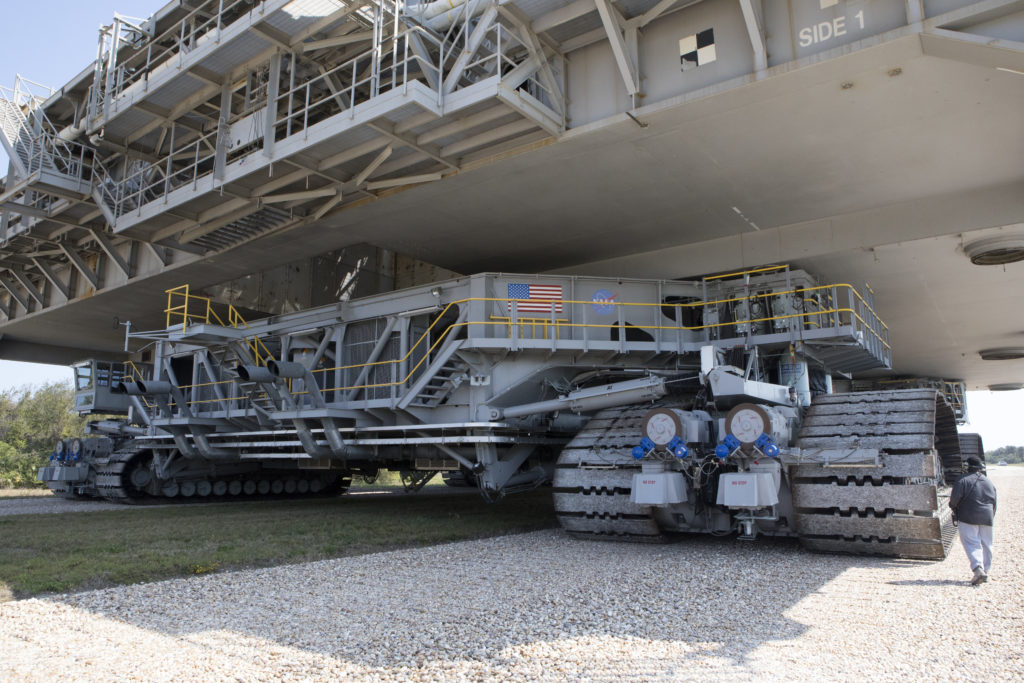 NASA's crawler-transporter 2 (CT-2) took a test drive along the crawlerway at Kennedy Space Center to determine the structural dynamics and loading environments of the crawler's recent upgrades. The test was performed to ensure that the crawler is ready to support the first integrated flight of the agency's Orion spacecraft atop the Space Launch System.
The unloaded CT-2 rolled from the crawler yard along the crawlerway to the Pad A/B split for the first leg of the trip and traveled back to the mobile launcher platform park site near the Vehicle Assembly Building. For the loaded test, the crawler picked up Mobile Launch Platform 1 at the park site and returned to the Pad A/B split. Engineers took measurements during the entire trek using accelerometers, strain gauges and pressure transducers. The data collected will be used to validate the dynamic model of the integrated SLS.
CT-2 is the vehicle that will carry the SLS rocket and Orion spacecraft on the mobile launcher to Pad B for launch. The behemoth vehicle recently was upgraded to support the heavier load of the SLS atop the mobile launcher.
Upgrades to the crawler included installation of new generators, gear assemblies, jacking, equalizing and leveling (JEL) hydraulic cylinders, roller bearings and brakes. Other systems also were upgraded.
The Ground Systems Development and Operations Program is overseeing upgrades to facilities and ground support equipment necessary to support the launch and deep space missions, including the Journey to Mars.
Photo credit: NASA/Leif Heimbold