Oct. 8, 2019 NASA-NOAA Satellite Paints a Picture of Supertyphoon Hagibis
NASA-NOAA's Suomi NPP satellite passed over the Northwestern Pacific Ocean and used infrared light to obtain temperature information about Supertyphoon Hagibis' cold cloud tops, painting a picture of a super-strong storm.
NASA-NOAA's Suomi NPP satellite used infrared light to analyze the strength of storms within the structure of Hagibis. Infrared data provides temperature information, and the strongest thunderstorms that reach high into the atmosphere have the coldest cloud top temperatures. This data is helpful to forecasters because storms are not uniform around tropical cyclones and it helps pinpoint where the strongest storms are located.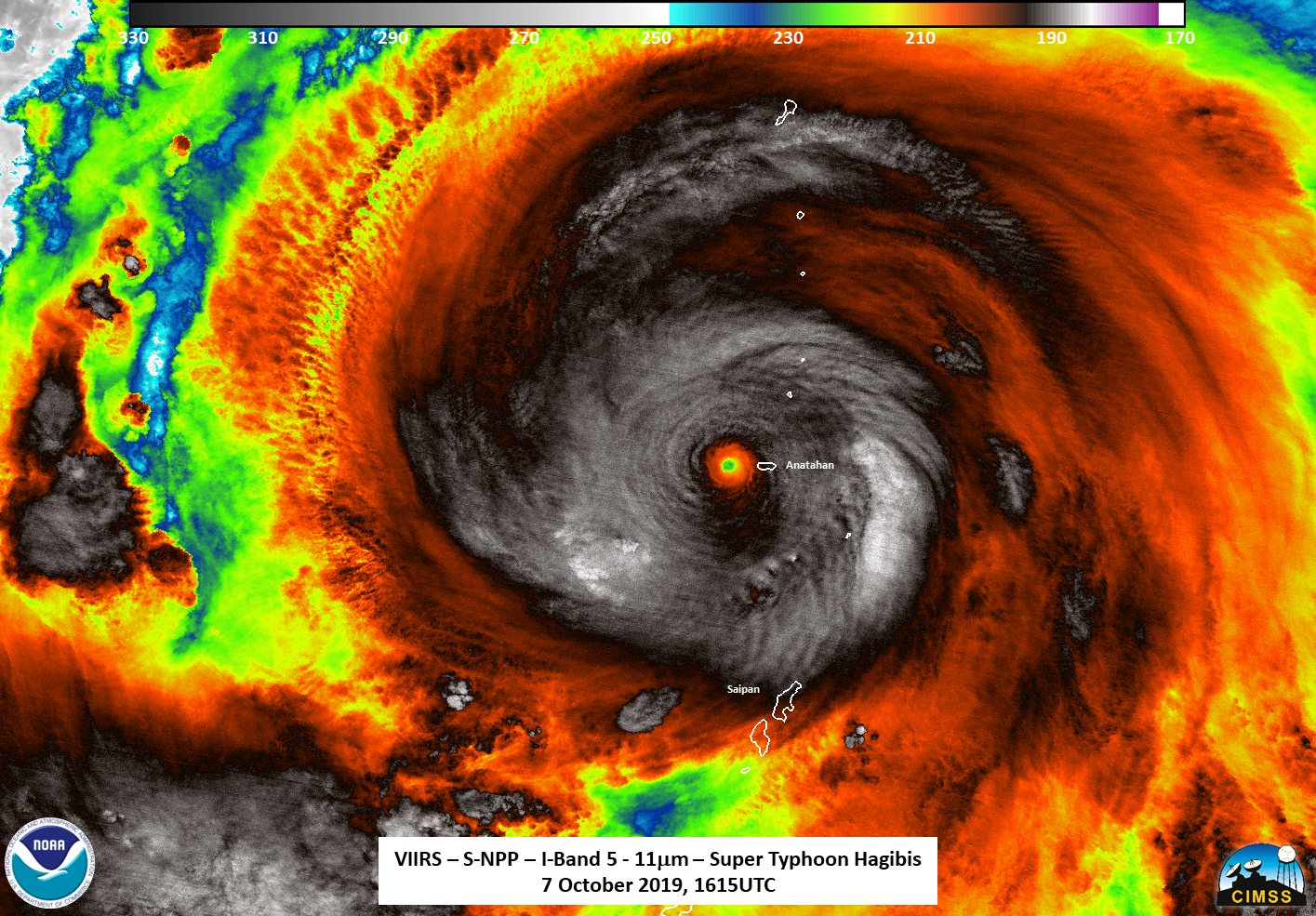 Just before Suomi NPP passed over Hagibis, at 1:09 p.m. EDT (1509 UTC) Super Typhoon Hagibis passed just to the south of the island of Anatahan. The Joint Typhoon Warning Center or JTWC noted at 11 a.m. EDT (1500 UTC), that Hagibis  had winds of around 140 knots, which would make it a Super Typhoon or the equivalent of a Category 5 storm.
Oct. 7 at 12:15 pm. EDT (1615 UTC) the Visible Infrared Imaging Radiometer Suite (VIIRS) instrument aboard Suomi NPP found strongest thunderstorms circling Hagibis' center had cloud top temperatures as cold as 190 Kelvin or minus 117 degrees Fahrenheit (minus 83.1 Celsius).  NASA research has shown that cloud top temperatures that cold indicate strong storms have the potential to generate heavy rainfall.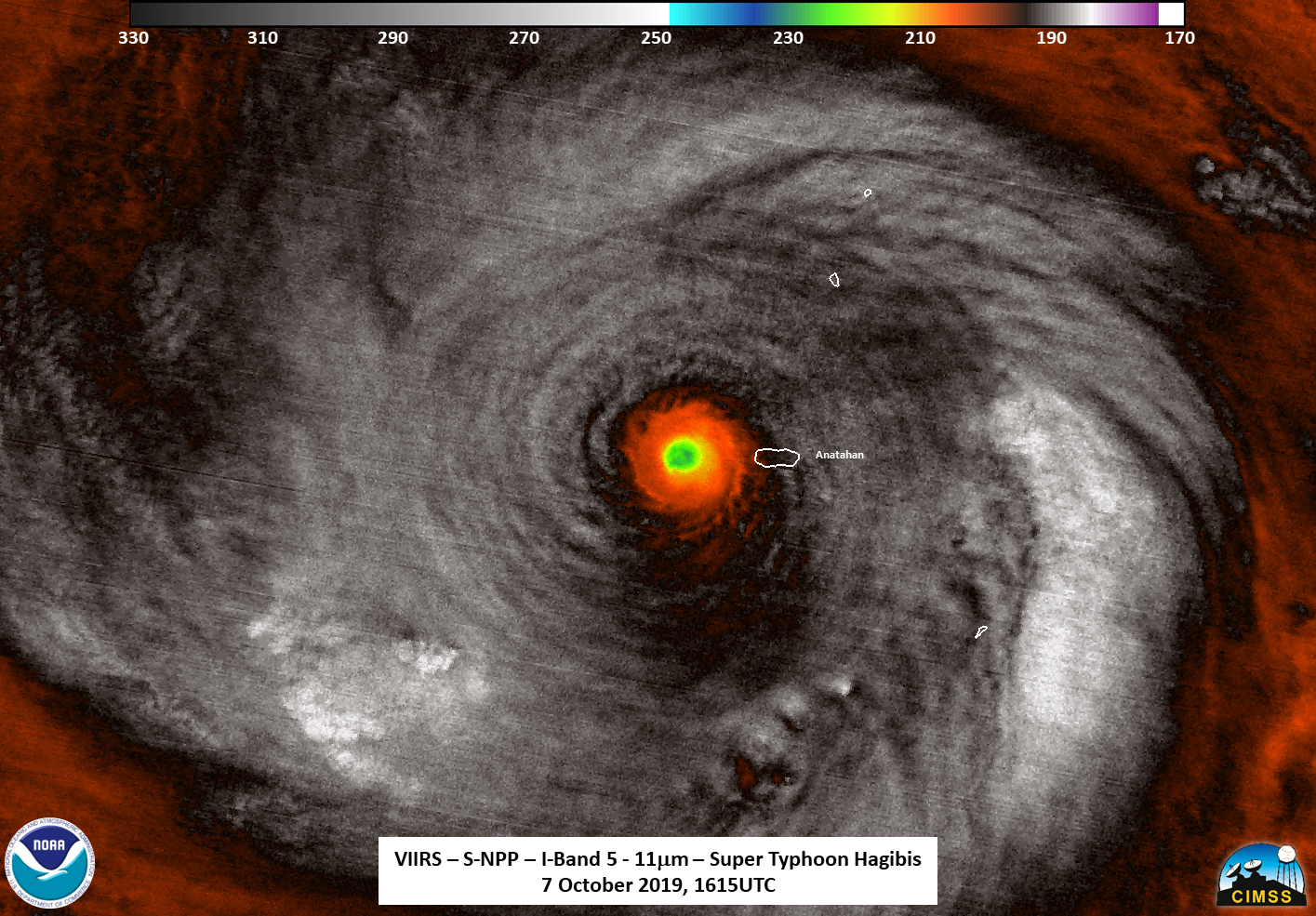 On Oct. 8 at 5 a.m. EDT (0900 UTC), a Typhoon Warning remains in effect for Alamagan and Pagan Islands in the CNMI. Damaging winds of 39 to 50 mph will continue through at least late this evening. A Tropical Storm Warning remains in effect for Agrihan Island. Tropical storm conditions, including damaging winds of 39 to 50 mph, are expected through this evening.
At 10 p.m. CHST (8 a.m. EDT or 1200 UTC) the National Weather Service office in Tiyan, Guam noted that the center of Super Typhoon Hagibis was located near Latitude 18.5 degrees North and Longitude 141.8 degrees East. Hagibis is moving northwest at 15 mph. It is expected to maintain this general course with a decrease in forward speed during the next 24 hours. Maximum sustained winds remain at 155 mph. Hagibis is forecast to maintain this intensity through Wednesday then begin a gradual weakening trend.
Typhoon force winds extend outward from the center up to 85 miles. Tropical storm force winds extend outward from the center up to 300 miles to the northeast and up to 240 miles elsewhere.
Hagibis is moving northwest. The system will turn to the north as it goes through a weakening trend on approach to Japan.
Hurricanes are the most powerful weather event on Earth. NASA's expertise in space and scientific exploration contributes to essential services provided to the American people by other federal agencies, such as hurricane weather forecasting.