Oct. 9, 2019 – NASA Covers Super Typhoon Hagibis Day and Night
NASA-NOAA's Suomi NPP satellite provided daytime and nighttime imagery of powerful Super Typhoon Hagibis, revealing a small eye surrounded by powerful thunderstorms as the storm maintained strength.
Visible imagery from NASA satellites help forecasters understand if a storm is organizing or weakening. The Visible Infrared Imaging Radiometer Suite (VIIRS) instrument aboard Suomi NPP provided an infrared image of Hagibis on Oct. 8 at 11:56 a.m. EDT (1556 UTC) and a visible image of Hagibis on Oct. 9.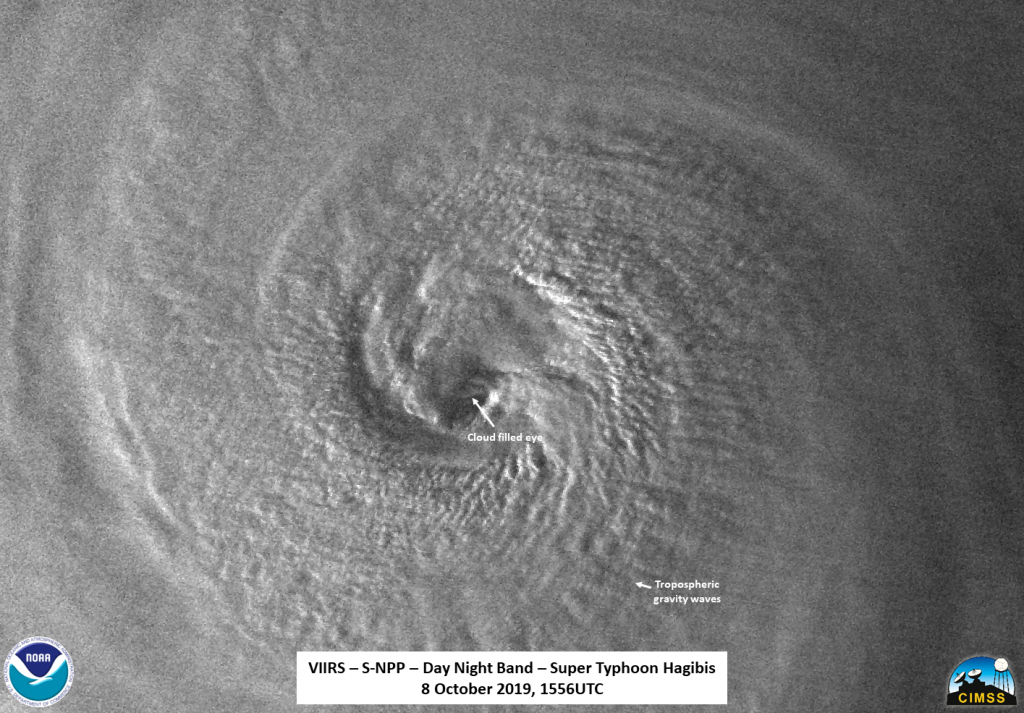 The night-time high resolution infrared imagery showed a very small eye along with copious amounts of tropospheric gravity waves as well as some overshooting cloud tops (into the stratosphere) in some of the outer bands of thunderstorms. Overshooting cloud tops indicate very strong uplift of air and powerful thunderstorms. The waxing gibbous Moon (76% illumination) was just setting and provided ample lighting to see the small cloud-filled eye along with lightning streaks and some tropospheric gravity waves.
It took two images stitched together to create a complete visible, daytime picture of Hagibis. The Suomi NPP satellite passed over Hagibis twice on October 9 to get the entire storm. That image revealed that Hagibis maintained its small eye and powerful thunderstorms circling the center. Powerful bands of thunderstorms from north and south of center were also spiraling into the low-level center. The image was created by NASA Worldview, Earth Observing System Data and Information System (EOSDIS) at NASA's Goddard Space Flight Center in Greenbelt, Md.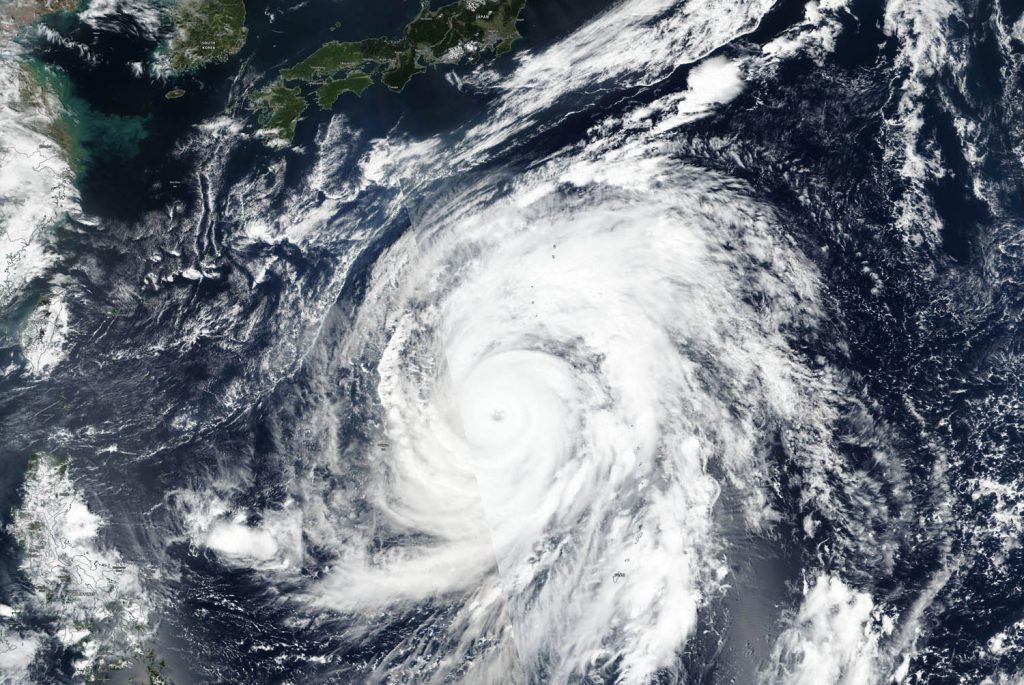 On Oct. 9 at 11 a.m. EDT (1500 UTC), Hagibis was centered near 21.2 degrees north latitude and 139.6 degrees east longitude. That is about 236 nautical miles south-southwest of Iwo To island, Japan. Hagibis was moving to the north-northwest at 6 knots and had maximum sustained winds near 140 knots (161 mph/259 kph) making it a Category 5 hurricane on the Saffir-Simpson hurricane wind scale.
Hagibis is expected to remain a strong tropical cyclone over the next day, eventually weakening as it turns to the north and likely impacting Japan by the weekend, per the Joint Typhoon Warning Center.
Hurricanes are the most powerful weather event on Earth. NASA's expertise in space and scientific exploration contributes to essential services provided to the American people by other federal agencies, such as hurricane weather forecasting.
Rob Gutro
NASA's Goddard Space Flight Center, Greenbelt, Md.