Feb. 28, 2020 – NASA Finds Ex-Esther Soaking Australia's Kimberley Coast
Infrared imagery from NASA's Terra satellite showed strong storms were soaking parts of Australia's Kimberley coast on Feb. 28.
The Australia Bureau of Meteorology (ABM) issued a Severe Weather Warning for damaging winds and heavy rainfall for people in parts of Kimberley district. Locations which may be affected include Kununurra, Wyndham, Lake Argyle, Warmun, Mitchell Plateau, Troughton Island and Mount Burnett. ABM cautioned that widespread daily rainfall totals of 50 to 150mm (~2 to 6 inches) with isolated falls 250 to 300mm (~10 to 12 inches) are possible. Ex-Tropical Cyclone Esther may cause damaging winds, averaging 35 to 45 kph (22 to 28 mph) with wind gusts potentially reaching 90 kph (56 mph).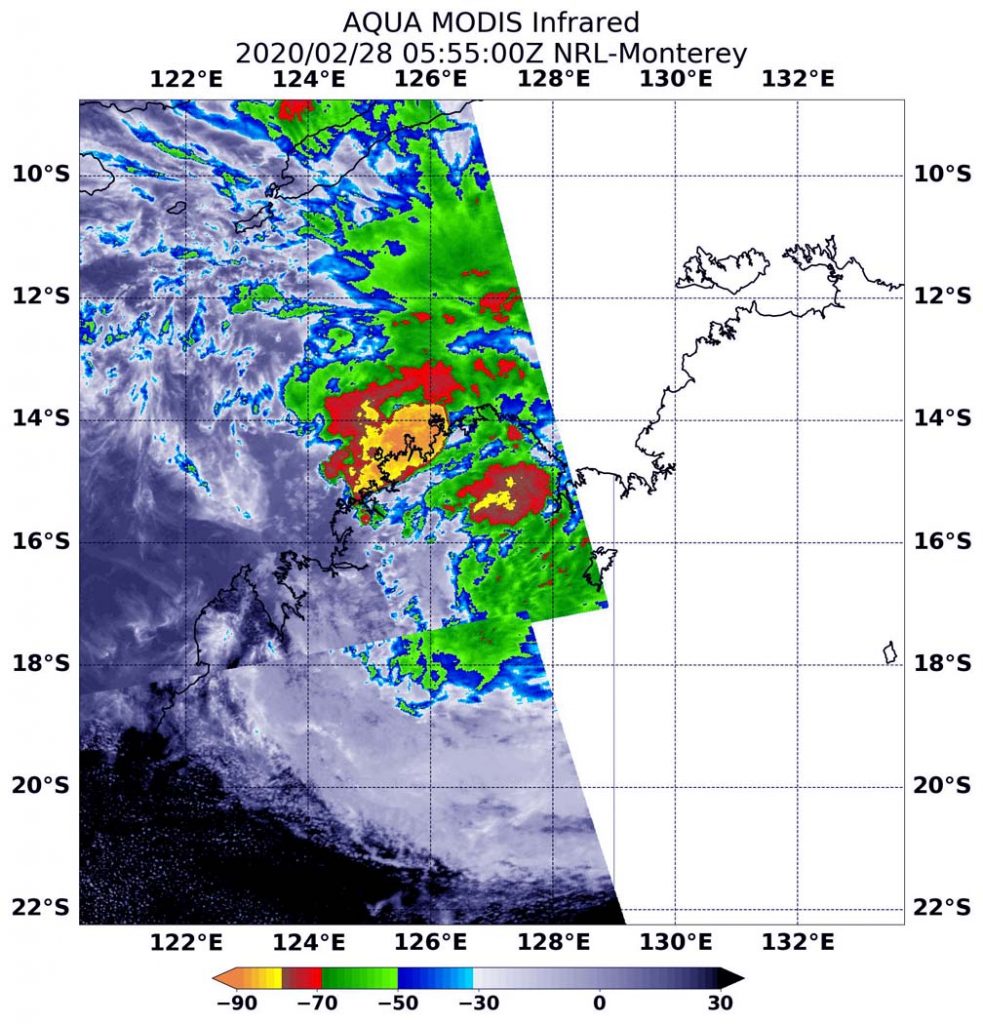 A Flood Watch has also been issued for parts of the Kimberley District. For further details please refer to http://www.bom.gov.au/wa/warnings/.
Tropical cyclones are made of up hundreds of thunderstorms, and infrared data can show where the strongest storms are located. They can do that because infrared data provides temperature information, and the strongest thunderstorms that reach highest into the atmosphere have the coldest cloud top temperatures. Convection is rising air that condenses and forms the thunderstorms that make up a tropical cyclone. When it is strong, it pushes clouds higher into the troposphere (the layer of atmosphere closest to Earth's surface). The higher you go in the troposphere, the colder the air temperature gets, so colder cloud tops indicate stronger, higher storm cloud tops.
On Feb. 28 at 12:55 a.m. EST (0555 UTC) the Moderate Imaging Spectroradiometer or MODIS instrument that flies aboard NASA's Terra satellite found coldest cloud top temperatures in two areas around Esther's center of circulation. They were as cold as or colder than minus 80 degrees Fahrenheit (minus 62.2 Celsius). NASA research has found that cloud top temperatures that cold indicate strong storms with the potential to generate heavy rainfall.
One area of strong storms were off the coast and over the Southern Indian Ocean. That area stretched from Kalumburu in the northeast, southwest to off the coast of Prince Regent National Park. The second area of strongest storms were over land, from Prince Regent National Park stretching east to Drysdale River National Park.
At 3 a.m. EST (4 p.m. AWST) on Feb. 28, the center of Ex-Tropical Cyclone Esther was located about 78 miles (125 km) west of Wyndham. Esther was moving towards the west at about 9 miles per hour (15 kph).
Ex-Tropical Cyclone Esther is expected to continue moving in a westerly direction, through the northern Kimberley during Friday, Feb. 28.
ABM noted that the Severe Weather Warning is likely to extend further to the west and south later on Saturday, Feb. 29 as the Esther moves in a general southwesterly direction through the Kimberley.
Tropical cyclones are the most powerful weather event on Earth. NASA researches these storms to determine how they rapidly intensify, develop and behave. NASA's expertise in space and scientific exploration contributes to essential services provided to the American people by other federal agencies, such as hurricane weather forecasting.
Rob Gutro
NASA's Goddard Space Flight Center, Greenbelt, Md.