Feb. 25, 2020 – NASA-NOAA Satellite Tracks Ex-Tropical Cyclone Esther in Northern Territory
The north central interior area of Australia's Northern Territory is under warnings for heavy rainfall and gusty winds as Ex-Tropical Cyclone Esther moves on a westerly path. NASA-NOAA's Suomi NPP satellite passed over Australia's Northern Territory and found the remnants of former Tropical Cyclone Esther moving through the north central part of the territory and was blanketing the Carpentaria, Gregory and Barkley regions.
The Visible Infrared Imaging Radiometer Suite (VIIRS) instrument aboard Suomi NPP provided a visible image of Esther's remnants that showed clouds extend from the Gulf of Carpentaria to the east, and stretch to the Gregory district in the central part of the Northern Territory. NPP showed that strong thunderstorms circle the low-level center of circulation and bands of thunderstorms were still feeding into the center from the north and from the east, generating heavy rainfall as the system moves over land.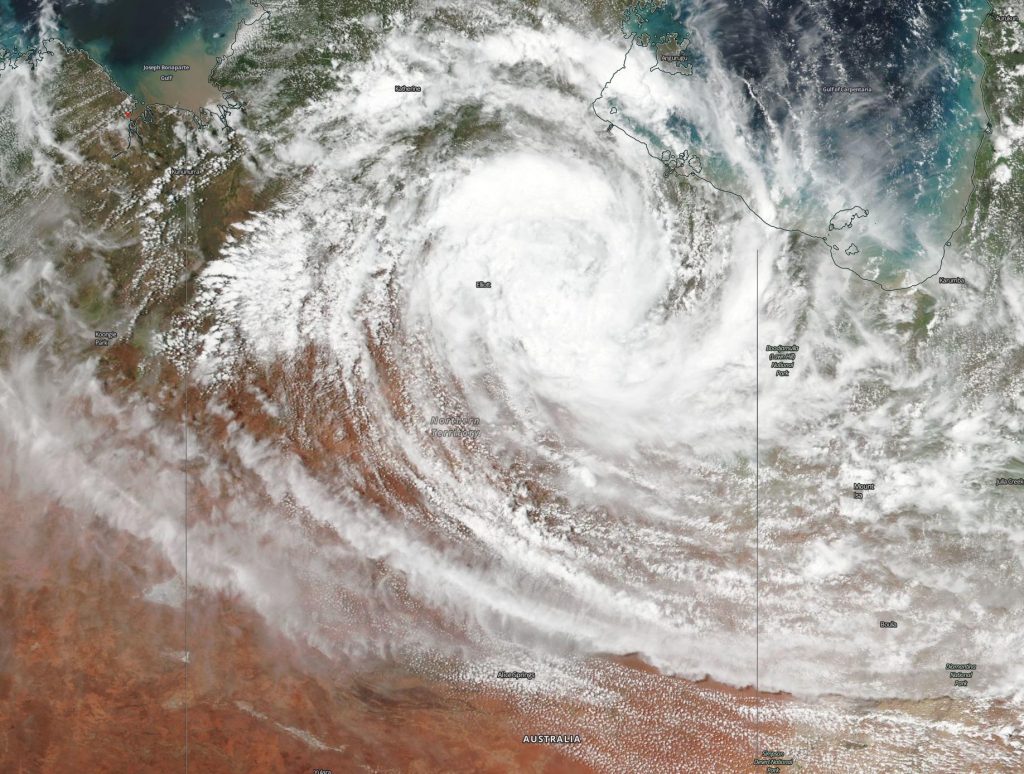 At 7 a.m. EST/U.S. (9:30 p.m. CST Australia local time) on Feb. 25, the Australian Bureau of Meteorology (ABM) noted, "Ex-Tropical Cyclone Esther was located about 90 kilometers [55 miles] northeast of Elliott, moving west northwest. The system is expected to continue moving west through the northern Barkly District or southern Carpentaria District overnight and move into the eastern parts of the Gregory District on Wednesday morning as a deep tropical low. Squally thunderstorms and heavy rainfall are likely, particularly close to the system center."
ABM said that damaging winds are expected over southern Carpentaria District and northern Barkly District tonight, extending to the eastern Gregory District on Wednesday morning. The strongest winds are likely to be associated with squally showers and thunderstorms. In addition, heavy rainfall may lead to flash flooding over the southern Carpentaria and northern Barkly Districts tonight, extending to the eastern Gregory District early on Wednesday. The heaviest rainfalls are likely to be associated with squally showers and thunderstorms. Locations which may be affected include Elliott, Kalkarindji, Larrimah, Daly Waters, Top Springs and Carpentaria District.
Tropical cyclones are the most powerful weather event on Earth. NASA's expertise in space and scientific exploration contributes to essential services provided to the American people by other federal agencies, such as hurricane weather forecasting.
For updated forecasts from the ABM, visit:  http://www.bom.gov.au
Rob Gutro
NASA's Goddard Space Flight Center, Greenbelt, Md.