July 11, 2020 – NASA Finds Cristina Still on the Cusp of Hurricane Status
Tropical Storm Cristina continues to move west through the Eastern Pacific Ocean and has been struggling to become a hurricane, but because it is tracking over cool waters.  So becoming a hurricane may not happen. Infrared satellite imagery revealed Cristina is also somewhat lopsided with the bulk of clouds and storms on its south and eastern sides.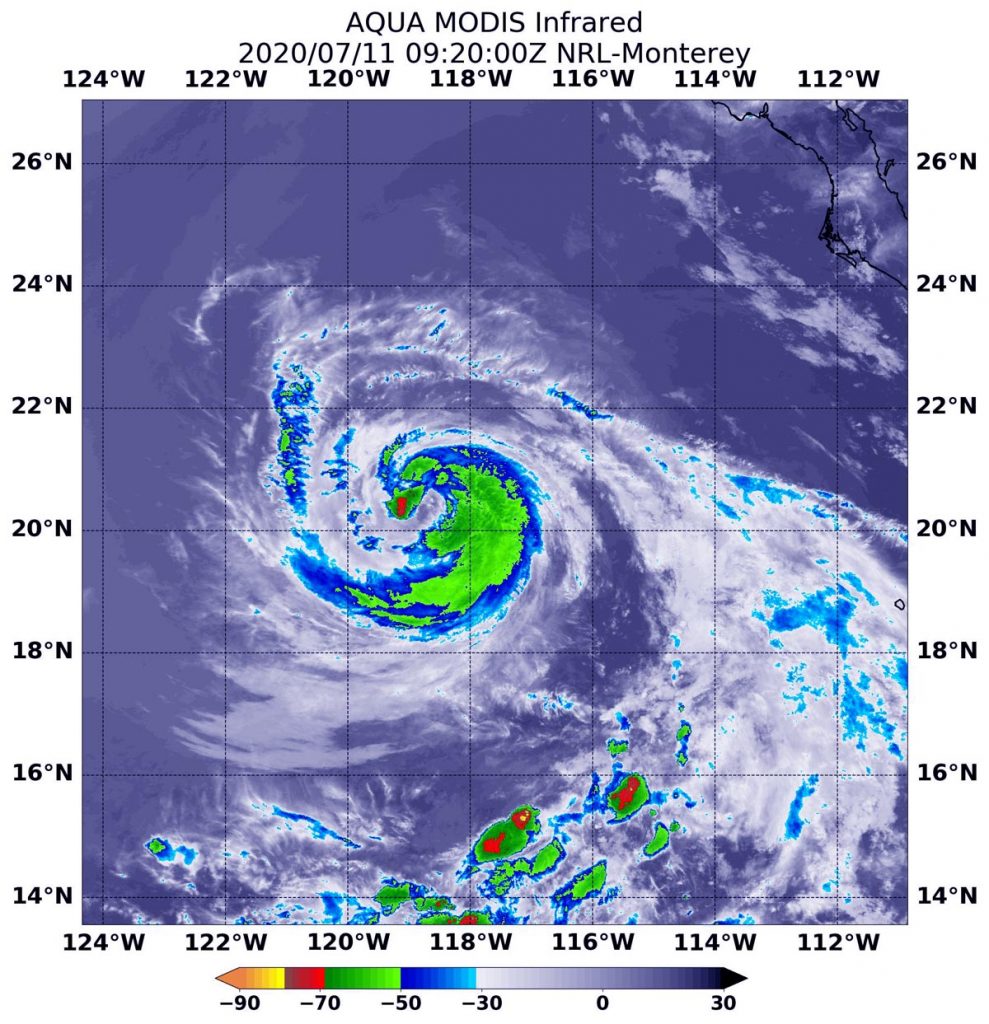 At 11 p.m. EDT on July 10, satellite data indicated an eye-like feature developing in Cristina that disappeared by the morning hours of July 11. Cristina is struggling to intensify further because it is moving over cool sea surface temperatures. NASA's Aqua satellite provided a look at the cloud top and sea surface temperatures around Cristina.
The National Hurricane Center noted that despite being over relatively cool 24 degrees Celsius (75.2 degrees Fahrenheit) waters, Cristina is maintaining its strength for now. Tropical cyclones require sea surface temperatures of at least 26.6 degrees Celsius (80 degrees Fahrenheit) to maintain strength.
Infrared data provides temperature information, and the strongest thunderstorms that reach high into the atmosphere have the coldest cloud top temperatures.
On July 11 at 5:20 a.m. EDT (0920 UTC) the Moderate Resolution Imaging Spectroradiometer or MODIS instrument that flies aboard Aqua showed a very small area of the strongest storms in Tropical Storm Cristina around the center of circulation where cloud top temperatures were as cold as minus 70 degrees Fahrenheit (minus 56.6 Celsius). Strong storms with slightly warmer temperatures surrounded the rest of the storm. Deep convection wraps most of the way around the center and is strongest on the south side of the circulation.
At 5 a.m. EDT (0900 UTC), the center of Tropical Storm Cristina was located near latitude 20.4 north and longitude 118.3 west.  That is about 565 miles (910 km) west-southwest of the southern tip of Baja California, Mexico. Cristina is moving toward the west-northwest near 16 mph (26 kph) and this motion is expected into early next week. Maximum sustained winds are near 70 mph (110 kph) with higher gusts.  Weakening of the storm is forecast to begin soon and Cristina is expected to become a post-tropical cyclone early next week.