July 11, 2020 – NASA Catches Tropical Storm Fay's Landfall and New York Trip
Two NASA satellites provided forecasters with data on Tropical Storm Fay as it made landfall and tracked into upstate New York, breaking rainfall records in New Jersey and the New York City region.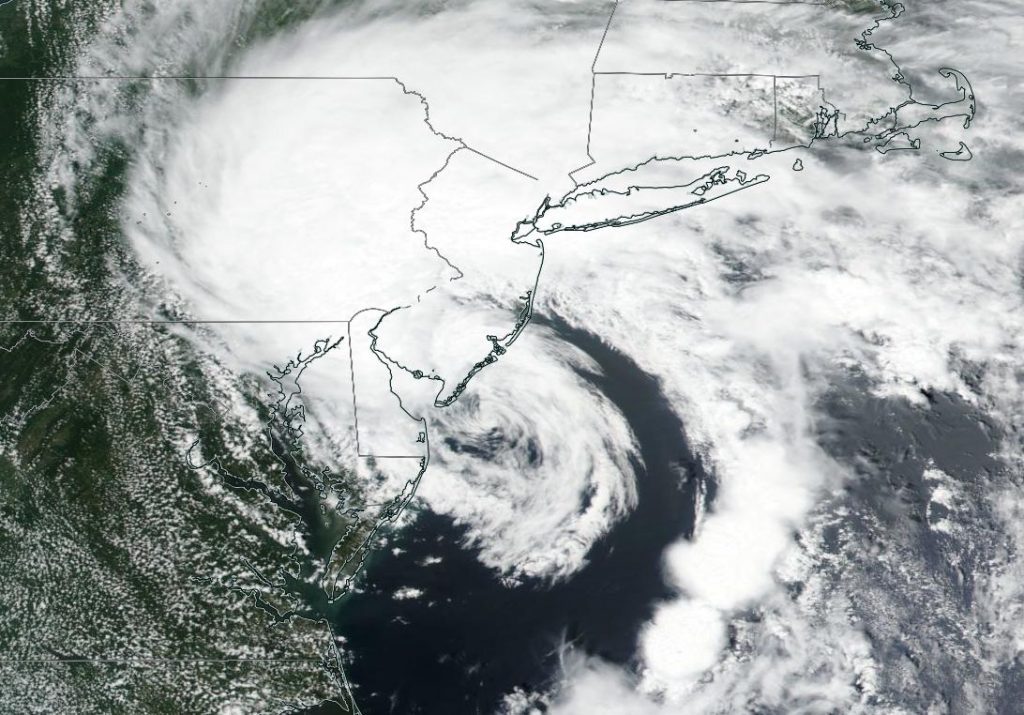 The Visible Infrared Imaging Radiometer Suite (VIIRS) instrument aboard NASA-NOAA's Suomi NPP satellite provided a visible image of Tropical Storm Fay as it was making landfall near Atlantic City, New Jersey. The visible image showed an elongated storm with the bulk of clouds north of the center and a large band of thunderstorms wrapping into the center from the east.
At around 5 p.m. EDT (2100 UTC) on July 10, satellite imagery indicated that the center of Tropical Storm Fay made landfall along the coast of New Jersey about 10 miles (15 km) north-northeast of Atlantic City, near latitude 39.5 degrees north and longitude 74.3 degrees west.
Record Rainfall Recorded in New Jersey and New York
Fay brought heavy rains that downed trees and caused street flooding from the New Jersey shore to New York City. Local authorities reported that many subway stations around New York City experienced flooding from the heavy rains. On July 10, the National Weather Service weather station in Central Park, New York received 2.54 inches of rainfall, breaking a record. JFK Airport in New York also broke a rainfall record after receiving 2.33 inches. In New Jersey, Newark broke a rainfall record for the day, after receiving 2.78 inches.
NASA's Aqua Satellite Observes a Weaker Fay
The following day, NASA's Aqua satellite provided an infrared analysis of Fay after its center had moved north into New York State. NASA's Aqua satellite uses infrared light to analyze the strength of storms by providing temperature information about the system's clouds. The strongest thunderstorms that reach high into the atmosphere have the coldest cloud top temperatures.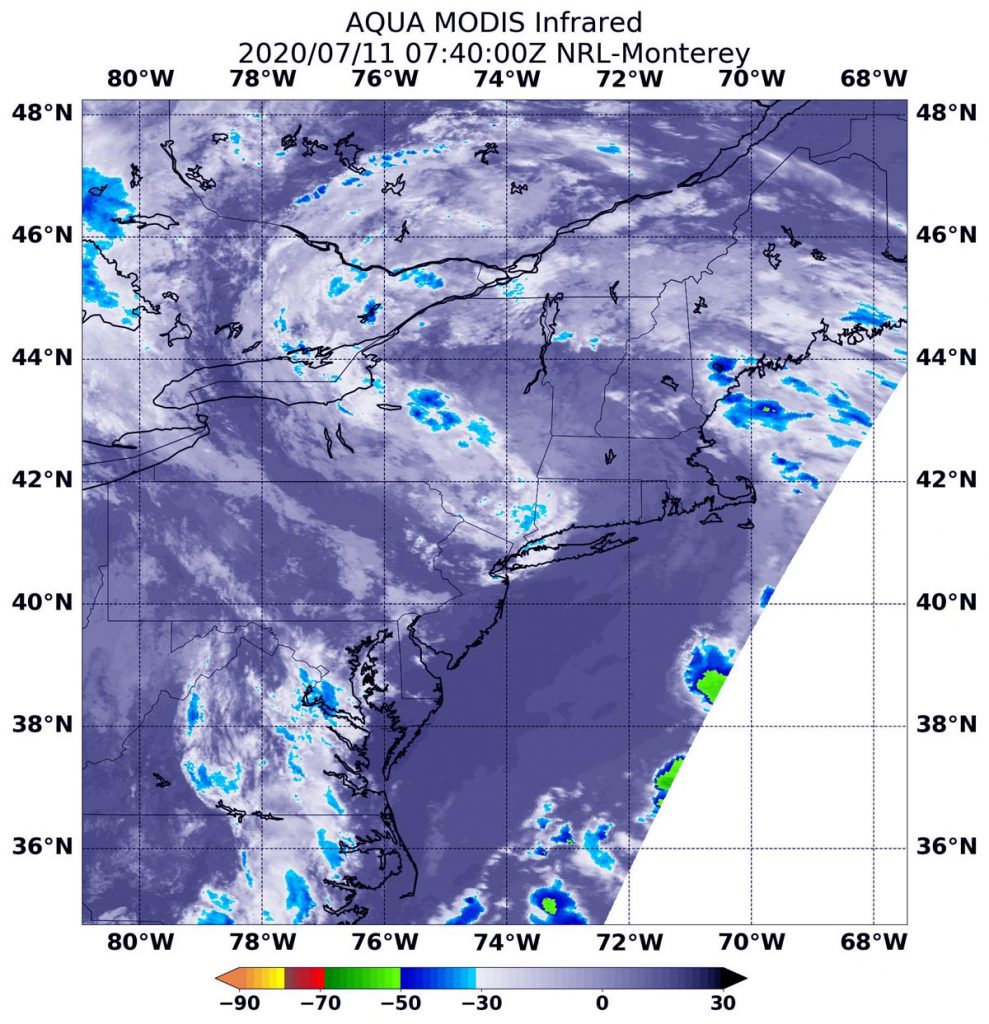 On July 11 at 3:40 a.m. EDT (0740 UTC), the Moderate Resolution Imaging Spectroradiometer or MODIS instrument that flies aboard NASA's Aqua satellite gathered infrared data on Fay. There were some small areas of moderate thunderstorms in upstate New York and stretching over Lake Ontario and into the Ontario province of Canada, where cloud top temperatures were as cold as minus 50 degrees Fahrenheit (minus 45.5 Celsius). The National Hurricane Center or NHC noted, "The system has lacked significant organized deep convection for some time now, and therefore it has degenerated into a post-tropical low pressure system."
Fay's Final Status
At 5 a.m. EDT (0900 UTC) on July 11, the National Hurricane Center (NHC) issued their final advisory on Tropical Storm Fay. At that time, the center of Post-Tropical Cyclone Fay was located near latitude 42.4 degrees north and longitude 73.9 degrees west. That is about 30 miles (45 km) south of Albany New York. The post-tropical cyclone is moving toward the north near 17 mph (28 kph).  The estimated minimum central pressure is 1001 millibars.
Maximum sustained winds were near 35 mph (55 kph) with higher gusts. Weakening is forecast during the next day so, and the post-tropical cyclone is likely to dissipate by late Sunday, July 12.
Fay's Expected Track to Dissipation
NHC forecasters expect a north-northeastward motion at a faster forward speed today, tonight and Sunday. On the forecast track, the center of the post-tropical cyclone will continue to move across portions of eastern New York this morning, then across northwestern New England later today and over southeastern Canada tonight and Sunday.
Rainfall is the biggest issue with Fay as it continues to move over land. The post-tropical cyclone is expected to produce 1 to 2 inches of rain with isolated maxima of 4 inches along and near its track from eastern New York into portions of New England.  This rain may result in flash flooding and urban flooding in areas with poor drainage where the heaviest amounts occur.
Tropical cyclones/hurricanes are the most powerful weather events on Earth. NASA's expertise in space and scientific exploration contributes to essential services provided to the American people by other federal agencies, such as hurricane weather forecasting.
For local forecasts, visit: www.weather.gov