July 12, 2020 – NASA's Aqua Satellite Finds a Small Area of Strength Left in Cristina
Tropical Storm Cristina was barely holding onto tropical storm status on Sunday, July 12, 2020, as infrared imagery from NASA's Aqua satellite revealed only one area of strong storms remaining.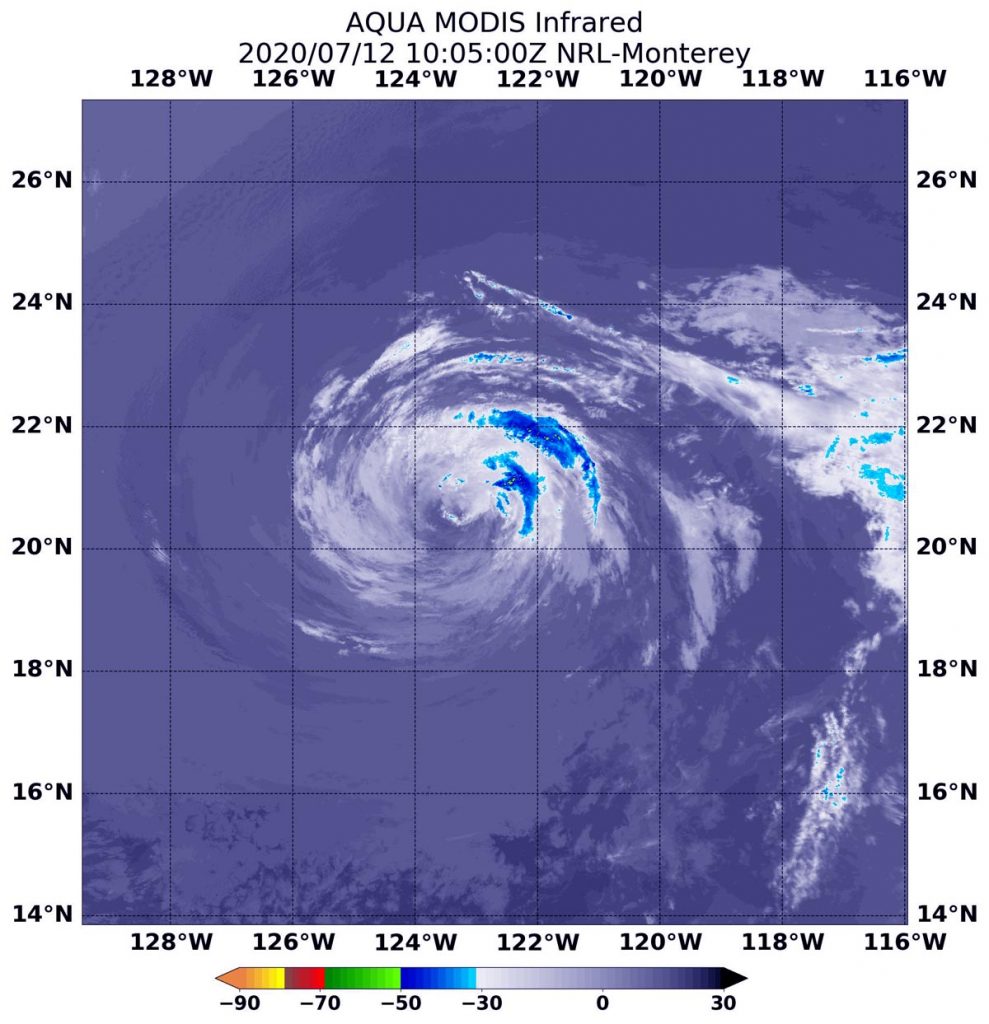 The National Hurricane Center expects Cristina to weaken to a remnant low-pressure area in the next day.
Infrared data provides temperature information, and the strongest thunderstorms that reach high into the atmosphere have the coldest cloud top temperatures. NASA uses instruments aboard various satellites to provide infrared, microwave and visible data. Those data help forecasters determine if a storm is intensifying or weakening.
On July 12 at 6:05 a.m. EDT (1005 UTC) the Moderate Resolution Imaging Spectroradiometer or MODIS instrument that flies aboard Aqua  showed a small area of strong storms in Tropical Storm Cristina east of the center of circulation where cloud top temperatures were as cold as minus 50 degrees Fahrenheit (minus 45.5 degrees Celsius).
At 4 a.m. EDT (0900 UTC) on July 12, the center of Tropical Storm Cristina was located near latitude 20.7 degrees north and longitude 123.3 degrees west. That is about 870 miles (1,405 km) west of the southern tip of Baja California, Mexico. The National Hurricane Center (NHC) said that Cristina is moving toward the west near 13 mph (20 kph), and this motion is expected to continue for the next few days. Maximum sustained winds have decreased to near 45 mph (75 kph) with higher gusts.  The estimated minimum central pressure is 1002 millibars.
NHC Hurricane Forecaster Eric Blake noted in the 4 a.m. EDT discussion, "Conventional satellite and scatterometer data indicate that Cristina has weakened during the past several hours. Deep convection [strong rising air that forms the thunderstorms that make up a tropical cyclone] has become fragmented near the center of the cyclone, with only a small amount in the eastern semicircle.
Cristina should gradually lose strength during the next few days due to a combination of very cool waters and increasing [wind] shear, along with nearby dry air. These factors will likely cause the storm to transition into a non-convective remnant low on Monday."
For more than five decades, NASA has used the vantage point of space to understand and explore our home planet, improve lives and safeguard our future. NASA brings together technology, science, and unique global Earth observations to provide societal benefits and strengthen our nation. Advancing knowledge of our home planet contributes directly to America's leadership in space and scientific exploration.
For updated forecasts, visit: www.nhc.noaa.gov