Aug. 01, 2020 – NASA Examines Hurricane Isaias' Soaking Potential
NASA analyzed the cloud top temperatures in Hurricane Isaias using infrared light to determine the strength of the storms that make up the tropical cyclone. NASA's Aqua satellite found very cold cloud temperatures indicative of storms with heavy rainmaking capabilities.
Isaias is expected to approach the southeast coast of Florida later today, Aug. 1 and into Sunday, Aug. 2.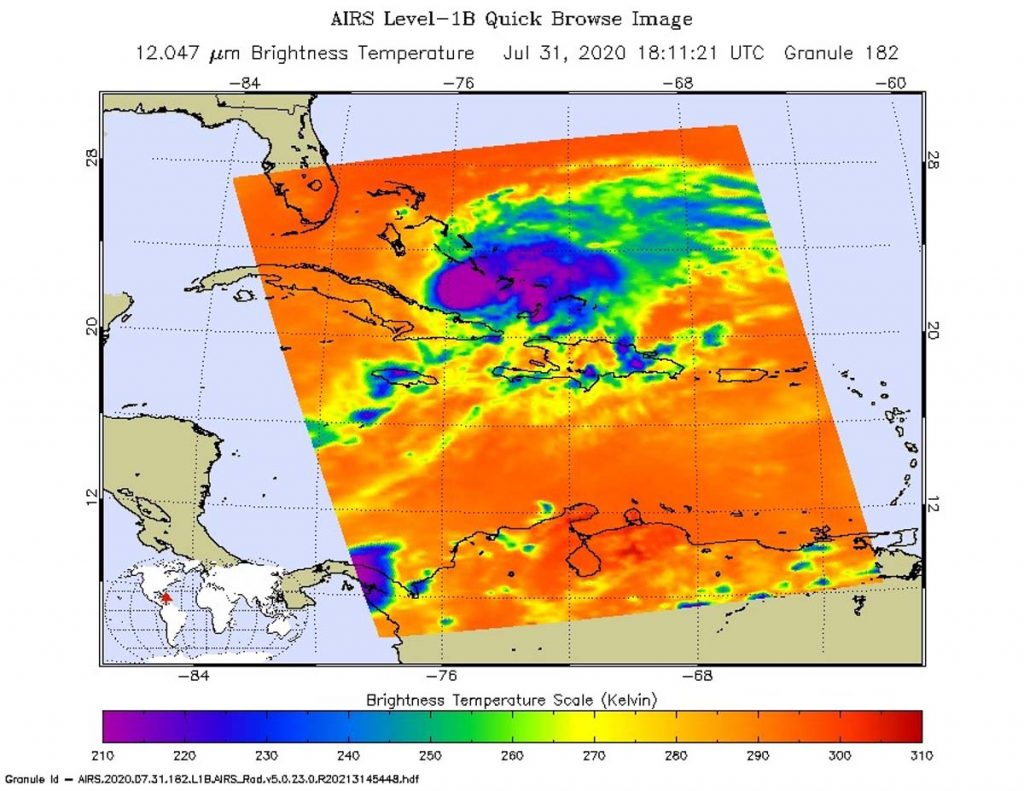 An Infrared Analysis of Isaias
One of the ways NASA researches tropical cyclones is using infrared data that provides temperature information. Cloud top temperatures identify where the strongest storms are located. The stronger the storms, the higher they extend into the troposphere, and the colder the cloud temperatures.
On July 31 at 2:11 p.m. EDT (1811 UTC) NASA's Aqua satellite analyzed the storm using the Atmospheric Infrared Sounder or AIRS instrument. Isaias was over the southern and central Bahamas at the time, and generating soaking rains.
The AIRS imagery showed the strongest storms circling the center of circulation. In those areas, AIRS found coldest cloud top temperatures as cold as or colder than minus 63 degrees Fahrenheit (minus 52.7 degrees Celsius). NASA research has shown that cloud top temperatures that cold indicate strong storms that have the capability to create heavy rain.
Tropical cyclones do not always have uniform strength, and some sides have stronger sides than others, so knowing where the strongest sides of the storms are located helps forecasters. NASA then provides data to tropical cyclone meteorologists so they can incorporate it in their forecasts.
Isaias Forecast Rainfall
The NHC rainfall forecast for Isaias calls for 4 to 8 inches in the Bahamas, 1 to 2 inches in Cuba with a maximum of 4 inches there. Rainfall forecasts from July 31 to Aug. 4 in South Florida into east-Central Florida call for between 2 to 4 inches, with isolated maximum totals of 6 inches. From northeast Florida into coastal Georgia, 1 to 2 inches are currently forecast. These totals are also subject to change based on any deviation of the track of the storm.
In addition to the heavy rainfall, hurricane-force winds, dangerous storm surge and ocean swells are expected. For an updated list of hazards, visit the NHC website.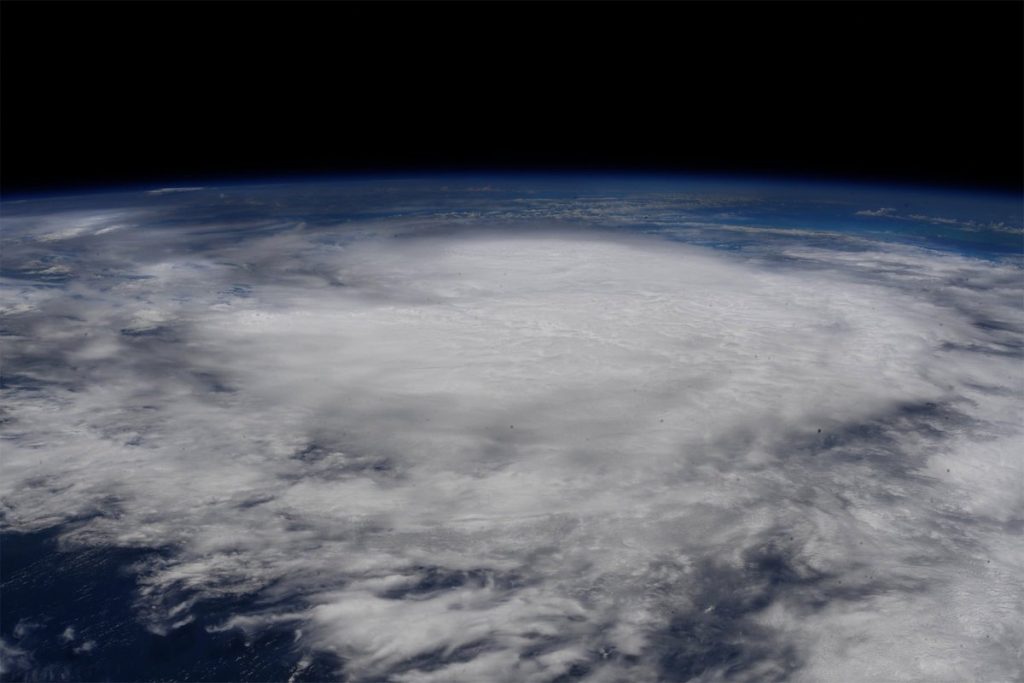 A View from the International Space Station
The International Space Station provides a window onto the world and shortly after NASA's Aqua satellite passed over Isaias, the ISS was close enough to get a view of the storm. Around 5:30 p.m. EDT on July 31, Astronaut Col. Doug Hurley photographed Isaias when it was located between Cuba and the Bahamas.
Hurricane Isaias on Saturday, August 1, 2020
At 8 a.m. EDT on Saturday, August 1, 2020, the National Hurricane Center (NHC) reported that Isaias ragged eye was near eastern Andros Island. The center was near near latitude 24.3 degrees north and longitude 77.5 degrees west. Isaias is moving toward the northwest near 12 mph (19 kph). A general northwestward motion with some decrease in forward speed is expected for the next day or so, followed by a turn toward the north-northwest by late Sunday.
NHC noted that reports from the reconnaissance aircraft indicate that maximum sustained winds remain near 85 mph (140 kph) with higher gusts.  Little change in strength is expected through Sunday, and Isaias is forecast to remain a hurricane during this time. The minimum central pressure recently measured by the aircraft was 987 millibars.
Watches and Warnings in Effect
NHC has posted many warnings and watches for Isaias. A Hurricane Warning is in effect from Boca Raton to the Volusia/Flagler County Line, Florida and for the Northwestern Bahamas. A Hurricane Watch is in effect for Hallandale Beach to south of Boca Raton, Florida.
In addition, a Storm Surge Watch is in effect for Jupiter Inlet to Ponte Vedra Beach, Florida. Dangerous storm surge is possible along the Florida east coast from Jupiter Inlet to Ponte Vedra Beach where water rises of 2 to 4 feet above ground level are possible along the immediate coastline and adjacent waterways.
A Tropical Storm Warning is in effect from north of Ocean Reef to south of Boca Raton, Florida and for Lake Okeechobee. A Tropical Storm Watch is in effect for Volusia/Flagler County Line to Ponte Vedra Beach, Florida.
Isaias' Forecast Path
NHC forecasters noted, "On the forecast track, the center of Isaias will move near or over Andros Island in the Northwestern Bahamas this morning and continue to move near or over the rest of Northwestern Bahamas later today, and move near the east coast of the Florida peninsula tonight through Sunday (Aug. 1)."
NASA Researches Tropical Cyclones
Hurricanes/tropical cyclones are the most powerful weather events on Earth. NASA's expertise in space and scientific exploration contributes to essential services provided to the American people by other federal agencies, such as hurricane weather forecasting.
For more than five decades, NASA has used the vantage point of space to understand and explore our home planet, improve lives and safeguard our future. NASA brings together technology, science, and unique global Earth observations to provide societal benefits and strengthen our nation. Advancing knowledge of our home planet contributes directly to America's leadership in space and scientific exploration.
For updated forecasts, visit: www.nhc.noaa.gov