Aug. 18, 2020 – NASA Satellite Data Helps Identify Genevieve as a Major Hurricane
 Very powerful storms with heavy rainmaking capability reach high into the atmosphere and those have very cold cloud top temperatures. Infrared imagery from NASA's Terra satellite measured those temperatures and found powerful storms in the rapidly intensifying, major Hurricane Genevieve.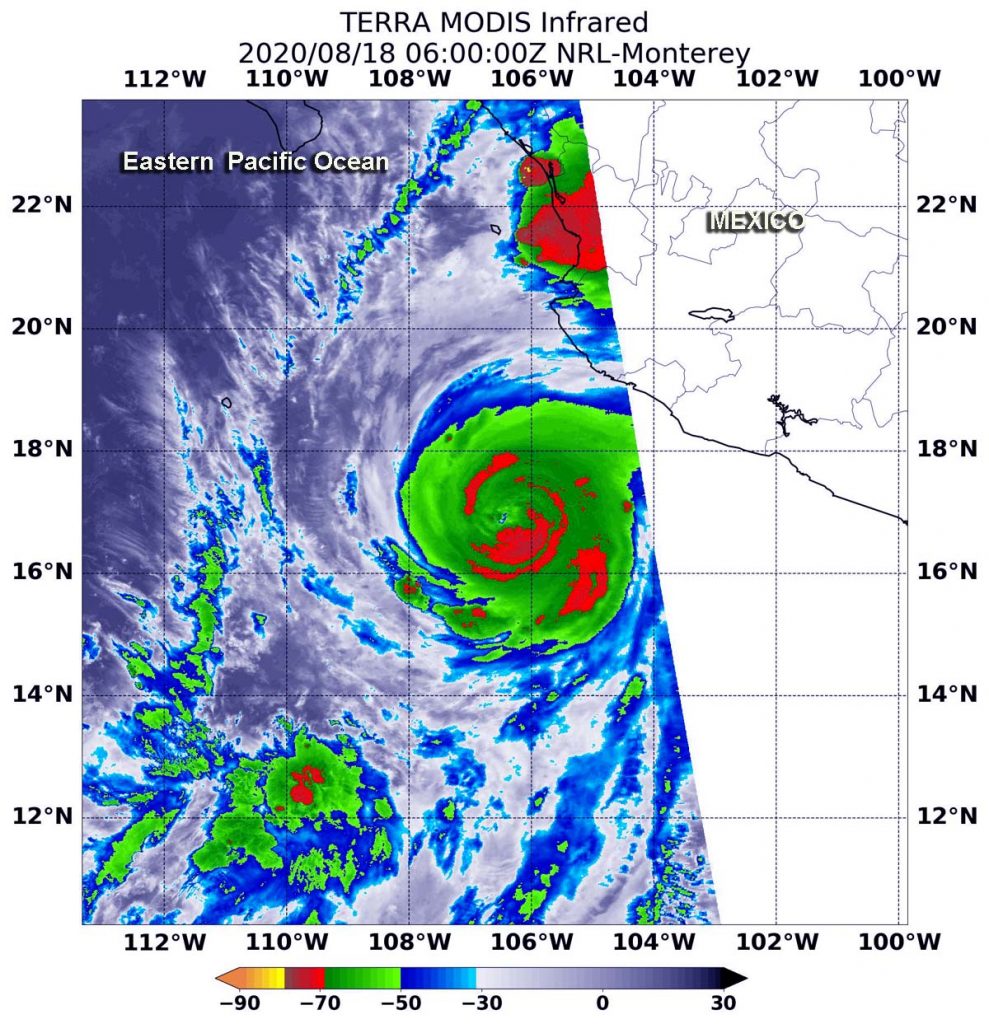 On Aug. 18, NOAA's National Hurricane Center (NHC) noted that Genevieve had intensified into a Category 4 hurricane on the Saffir-Simpson Hurricane Scale. That makes Genevieve a major hurricane, and it is affecting the west coast of Mexico.
Warnings and Watches in Effect for Baja California
On Aug. 18, a Tropical Storm Warning is in effect for the southern Baja California peninsula from Los Barriles to Todos Santos. A Tropical Storm Watch is in effect for the east coast of the Baja California peninsula from Los Barriles to La Paz and for the west coast of the Baja California peninsula from Todos Santos to Santa Fe.
A Tropical Storm Warning means that tropical storm conditions are expected somewhere within the warning area within 36 hours. A Tropical Storm Watch means that tropical storm conditions are possible within the watch area, generally within 48 hours.
NASA's Infrared Data Reveals Heavy Rainmakers
Tropical cyclones are made of up hundreds of thunderstorms, and infrared data can show where the strongest storms are located. That is because infrared data provides temperature information, and the strongest thunderstorms that reach highest into the atmosphere have the coldest cloud top temperatures.
On Aug. 18 at 2 a.m. EDT (0600 UTC), the Moderate Resolution Imaging Spectroradiometer or MODIS instrument that flies aboard NASA's Aqua satellite used infrared light to analyze the strength of storms within Genevieve. MODIS found the most powerful thunderstorms were in the eyewall where cloud top temperatures were as cold as minus 80 degrees Fahrenheit (minus 62.2 Celsius). NASA research has found that cloud top temperatures that cold indicate strong storms with the potential to generate heavy rainfall.
Strong storms with cloud top temperatures as cold as minus 70 degrees Fahrenheit (minus 56.6. degrees Celsius) in the northern and southern quadrants and in bands around Genevieve were also dropping large amounts of rain.
At 5 a.m. EDT, National Hurricane Center forecaster Jack Beven utilized data from another NASA satellite, the Global Precipitation Measurement (GPM)'s Microwave Imager (GMI) instrument. Beven noted, "Genevieve continues to rapidly intensify this morning.  A recent GMI microwave overpass shows a well-defined eye and eyewall present, and the eye is becoming much better defined in conventional infrared imagery."
Genevieve's Status on July 26, 2020
At 8 a.m. EDT (1200 UTC), the eye of Hurricane Genevieve was located near latitude 17.7 degrees north and longitude 107.6 degrees west. Genevieve's eye was about 235 miles (380 km) west-southwest of Manzanillo, Mexico.
Genevieve was moving toward the northwest near 16 mph (26 kph), and this general motion is expected to continue with a decrease in forward speed through early Thursday. The estimated minimum central pressure is 950 millibars. Maximum sustained winds have increased to near 130 mph (210 kph) with higher gusts.  Genevieve is a category 4 hurricane on the Saffir-Simpson Hurricane Wind Scale.  Additional rapid strengthening is possible during the next 12 to 24 hours.
Genevieve's Forecast from NHC
On the forecast track, the center of Genevieve is expected to move parallel to but well offshore the coast of southwestern Mexico during the next day or so. The center of the hurricane is forecast to move to the southwest of the southern portion of the Baja California peninsula on Wednesday night (Aug. 19) and Thursday (Aug. 20). Rapid weakening is forecast to begin by late Wednesday and should continue through the end of the week.
NASA researches these storms to determine how they rapidly intensify, develop and behave.
Typhoons/hurricanes are the most powerful weather events on Earth. NASA's expertise in space and scientific exploration contributes to essential services provided to the American people by other federal agencies, such as hurricane weather forecasting.