Sep. 01, 2019 – Update #2 – 10:35 am EDT – Dorian Intensifying Again With Winds Picking Up Speed
The National Hurricane Center (NHC) put out another update advisory at 9:30 am EDT on Sep. 01, 2019 as Hurricane Dorian intensified again.
Data from an Air Force Reserve Hurricane Hunter aircraft indicate
that Dorian has continued to intensify, and now has maximum
sustained winds near 175 mph (280 km/h) and wind gusts over 200 mph.  Storm surge of 15 to 20 feet above normal tides with higher destructive waves.  There is a minimum central pressure of 922 mb (27.23 inches).
The eyewall of catastrophic Hurricane Dorian is currently reaching
the Abaco Islands. This is a life-threatening situation. Residents
there should take immediate shelter.  The NHC urges: "Do not venture into the eye if it passes over your location. These hazards will cause extreme destruction in the affected areas. and will continue for several hours."
The NOAA-20 satellite observed Dorian's continued intensification in this satellite image which was captured on Sep. 01, 2019 at 2:30 am EDT.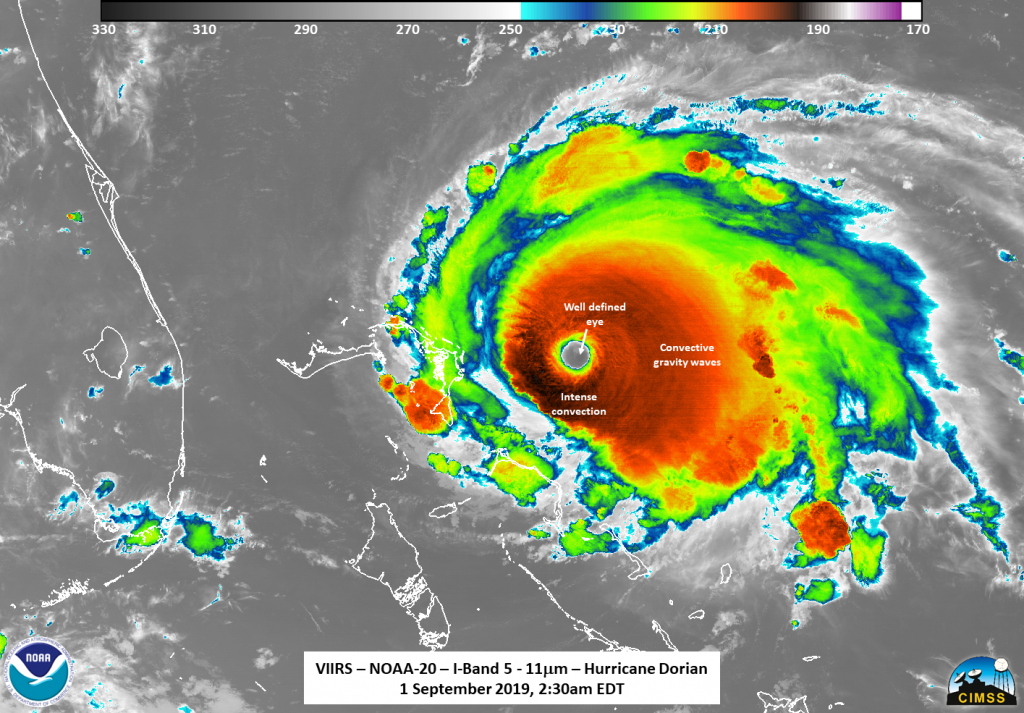 For continuing coverage of the storm visit: https://www.nhc.noaa.gov
By Lynn Jenner
NASA Goddard Space Flight Center