Oct. 05, 2018 -NASA Investigates Tropical Storm Kong-Rey's Rainfall Rates
The Global Precipitation Measurement mission or GPM core satellite passed over Tropical Storm Kong-Rey and analyzed the rates in which rain was falling throughout the storm.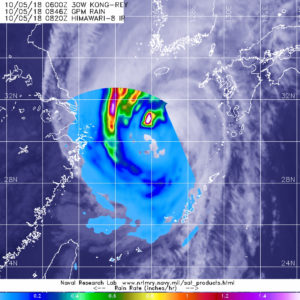 At the time GPM passed overhead, GPM's Microwave Imager (GMI) instruments collected data that revealed moderate convective rainfall northwest of Kong-Rey's center. GPM indicated that rain was falling at over 1.8 inches (45.7 mm) per hour within two areas of storms northwest of Kong-Rey's center.
At 5 a.m. EDT (0900 UTC) on Friday, Oct. 5, the center of Tropical Storm Kong-Rey was located near 29.6 degrees north latitude and 125.9 degrees west longitude. Kong-Rey is about 211 nautical miles north-northwest of Kadena Air Base, Okinawa Island, Japan. Maximum sustained winds are near 63 mph (55 knots/102 kph) with higher gusts.
Kong-Rey is moving toward the north. A turn toward the northeast is expected to take the storm into the Sea of Japan. The storm is now weakening, and will become extra-tropical over northern Japan.