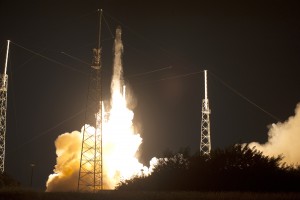 Monday, April 13, is launch day for SpaceX's sixth operational cargo resupply mission to the International Space Station and we will be here at Kennedy to cover all the countdown milestones through liftoff and ascent into orbit as they occur! Launch is slated for 4:33 p.m. EDT from Space Launch Complex 40 at Cape Canaveral Air Force Station.
Our continuous countdown coverage will begin at 3:30 p.m. EDT here on the NASA Launch Blog and on NASA TV. We'll also highlight details of the mission which is taking vital experiments, equipment and payloads for the crew of the station so they can continue their important research off the Earth, for the Earth. NASA TV will also show a series of prelaunch briefings live on Sunday detailing scientific aspects of the cargo being taken to the orbiting laboratory. Here's a quick rundown of the schedule, but you can read a more detailed explanation of coverage and briefing plans here.
Sunday
1:30 p.m. and 3:30 p.m. EDT – Science and research panel discussions
5 p.m. – Prelaunch news conference
Monday
3:30 p.m. – NASA TV and Launch Blog countdown coverage begins
4:33 p.m. – Liftoff of SpaceX Falcon 9/Dragon on CRS-6
See you then!