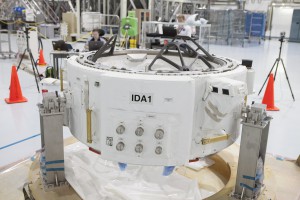 With one day until launch of SpaceX's seventh commercial resupply  mission, U.S. Air Force 45th Weather Squadron forecasters are predicting a 90 percent chance of favorable conditions for lift off. SpaceX's Falcon 9 rocket and Dragon spacecraft are scheduled to launch at 10:21 a.m. EDT, Sunday, June 28, from Space Launch Complex 40 at Cape Canaveral Air Force Station in Florida. Launch coverage on NASA television and the NASA Launch Blog will begin at 9 a.m.
The cargo includes the first of two International Docking Adapters, pictured, that will be connected to the space station to provide a place for Commercial Crew spacecraft carrying astronauts to dock to the orbiting laboratory.
Today NASA will host a panel discussion about the future of the International Space Station at 2 p.m. NASA Television will provide live coverage and streaming Internet coverage at https://www.nasa.gov/nasatv. Participants are:
Heidi Smith and John Weiler, students, Bell Middle School, Golden, Colorado, who have an investigation flying as part of the Center for the Advancement for Science in Space (CASIS) National Design Challenge
Bill Dowdell, International Space Station Program, NASA's Kennedy Space Center
Lisa Colloredo, associate program manager, Commercial Crew Program, NASA's Kennedy Space Center
Chris Ferguson, director of Crew and Mission Systems, Commercial Crew Division, The Boeing Company
Hans Koenigsmann, vice president of Mission Assurance, SpaceX
The Dragon spacecraft will be filled with more than 4,000 pounds of pressurized supplies and payloads, including critical materials for the science and research investigations that will occur during Expeditions 44 and 45. Science payloads will offer new insight to combustion in microgravity, perform the first space-based observations of meteors entering Earth's atmosphere, continue solving potential crew health risks and make new strides toward being able to grow food in space. Research continues to support the twins study and one-year mission investigations with NASA astronaut Scott Kelly.
For a mission overview, full briefing and events schedule, press kit, launch countdown coverage, NASA's launch blog, and more information about the mission, visit: https://www.nasa.gov/spacex