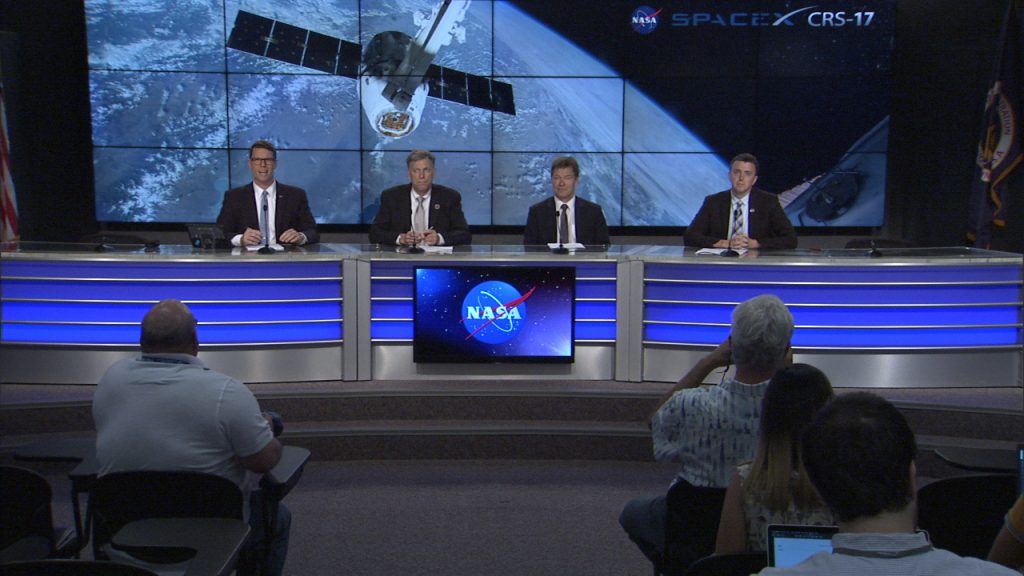 Following this morning's prelaunch news conference at Kennedy Space Center in Florida, SpaceX is continuing to target Friday, May 3, for an instantaneous launch of its 17th Commercial Resupply Services Mission at 3:11 a.m. EDT from Space Launch Complex 40 at Cape Canaveral Air Force Station.
One factor to watch will be the weather.
"Normally I'm not the bearer of bad news but I kind of feel like I am today," said Will Ulrich, a launch weather officer with the U.S. Air Force 45th Space Wing. "We've been monitoring an area of disturbed weather over the Bahamas for the past few days, and that area of disturbed weather is encroaching upon the Space Coast."
The launch day forecast calls for a 40 percent chance of favorable weather for liftoff of the SpaceX Dragon spacecraft aboard the company's Falcon 9 rocket. That prediction includes winds between 15-20 mph. The primary weather concerns are cumulus and thick cloud rule, and flight through precipitation.
The Dragon spacecraft will deliver supplies including critical materials to support dozens of the more than 250 science and research investigations that will occur during Expeditions 59 and 60. The spacecraft's unpressurized trunk will transport NASA's Orbiting Carbon Observatory 3 (OCO-3) and Space Test Program-Houston 6 (STP-H6).
Follow along here on the blog and on NASA Television tomorrow beginning at 2:45 a.m. EDT for updates from the countdown.