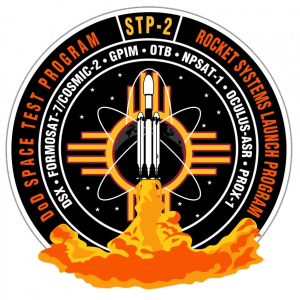 A SpaceX Falcon Heavy rocket stands at Kennedy Space Center's Launch Complex 39A in Florida for tonight's launch of the Department of Defense's (DoD) Space Test Program-2 (STP-2) mission. Lift off is scheduled for 11:30 p.m. EDT, with a four-hour launch window. The mission, managed by the U.S. Air Force Space and Missile Systems Center, will deliver 24 satellites to space, including four NASA payloads.
Meteorologists with the U.S. Air Force 45th Space Wing predict an 80% chance of favorable weather for liftoff. Primary weather concerns are anvil cloud rule and thick cloud layer rule.
Tonight's launch will be among one of the most challenging in SpaceX's history with four separate upper-stage engine burns, three separate deployment orbits and a propulsive passivation maneuver, where the engine continues to run until it empties out the second stage of fuel. SpaceX also plans to recover the rocket's three boosters after launch by landing the two side boosters at the Cape Canaveral landing site and the center core downrange on the drone ship "Of Course I Still Love You."
Join us here on the blog tonight and on NASA Television for live mission coverage and updates beginning at 11 p.m. Learn more about tonight's STP-2 launch by visiting the mission home page at https://www.spacex.com/stp-2.