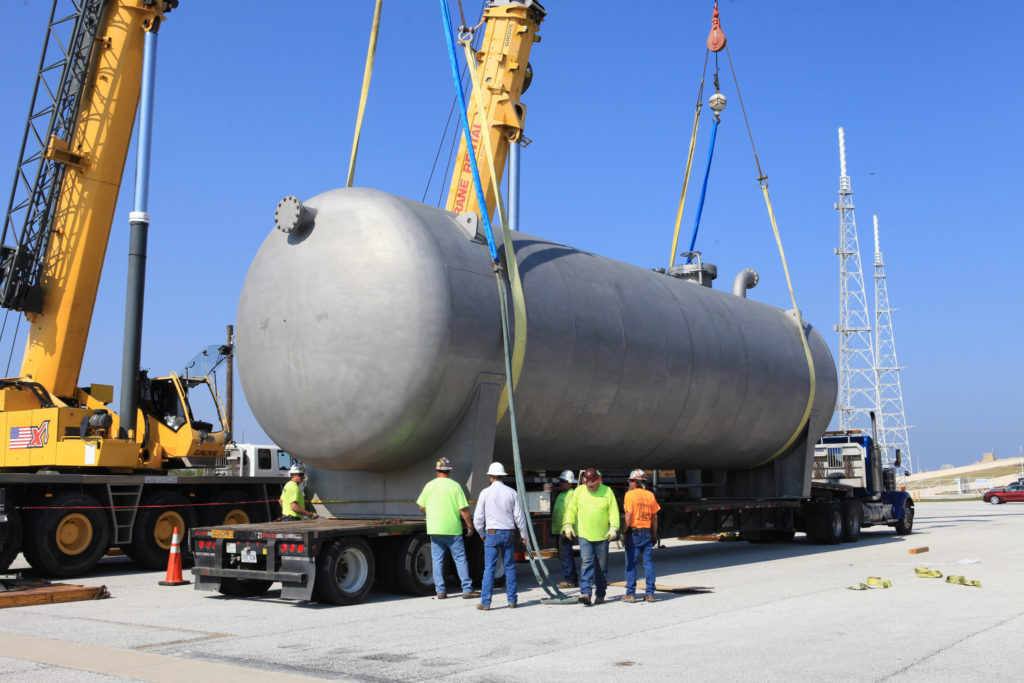 A new liquid hydrogen (LH2) liquid separator tank has arrived at NASA's Kennedy Space Center in Florida. It will be used to support the agency's Space Launch System rocket and all future launches from Launch Pad 39B.
The tank was lifted by crane, rotated, and then lowered on the transporter for the move to the pad.
The existing hydrogen vent system that terminates at a flare stack was designed for gaseous hydrogen. New requirements for Exploration Mission 1 and future launches include the need to address liquid hydrogen in the vent system. The new LH2 separator/storage tank will be added to the existing hydrogen vent system to assure gaseous hydrogen is delivered downstream to the flare stack.
At Pad B, the existing hydrogen vent line and supporting systems will be modified to accommodate the new LH2 liquid separator tank. The Ground Systems Development and Operations Program and the Engineering Directorate at Kennedy are performing the upgrades to Launch Pad 39B to support the agency's premier multi-user spaceport.
The 60,000 gallon tank was built by INOXCVA, in Baytown, Texas, a subcontractor to Precision Mechanical Inc. in Cocoa, Florida. It is about 56 feet long, with a 14-foot diameter.
Photo credit: NASA/Kim Shiflett