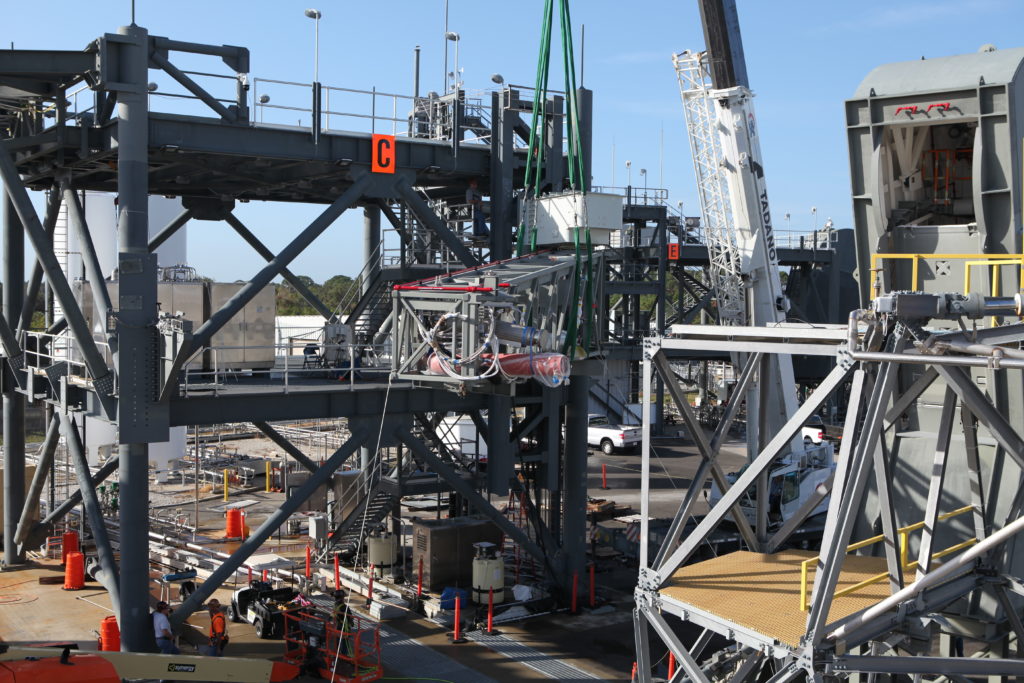 Testing of several of the umbilical lines that will attach to NASA's Space Launch System (SLS) rocket from the tower on the mobile launcher continues at the Launch Equipment Test Facility (LETF) at Kennedy Space Center in Florida.
The Core Stage Inter-tank Umbilical (CSITU) arrived at the LETF and was attached to the "C" tower of the Vehicle Motion Simulator 2 test fixture. Engineers with the Ground Systems Development and Operations Program and the Engineering Directorate will prepare the umbilical for a series of tests to confirm it is functioning properly and ready to support the SLS rocket for launch.
The tests will begin in January 2017 and are scheduled to be completed by the end of February. Testing will include hydraulic system controller tuning, umbilical plate mate and leak checks, primary and secondary disconnect testing at ambient temperatures, and fire suppression system functional checks. Also, a series of primary and secondary disconnect testing at liquid nitrogen and liquid hydrogen temperatures, minus 321 and minus 421 degrees Fahrenheit, respectively, will be performed.
The CSITU is a swing arm umbilical that will connect to the SLS core stage inter-tank. The umbilical's main function is to vent gaseous hydrogen from the core stage. The arm also provides conditioned air, pressurized gases, and power and data connection to the core stage.
The CSITU will be located at about the 140-foot-level on the mobile launcher tower, between the Core Stage liquid hydrogen and liquid oxygen tanks, and will swing away before launch. The umbilical is one of several umbilicals that will be installed on the mobile launcher tower and attach to the SLS rocket and Orion spacecraft.
The Orion spacecraft is scheduled to launch in late 2018 atop the SLS rocket on a three-week mission that will take it thousands of miles beyond the moon and back during Exploration Mission 1.
Photo credit: NASA/Dimitri Gerondidakis