Aug. 22, 2020 – NASA-NOAA Satellite Finds Tropical Storm Marco Organizing Between Cuba and Mexico
Nighttime imagery from NASA-NOAA's Suomi NPP satellite provided forecasters a look at the more organized structure of Tropical Storm Marco as it moved toward the Yucatan Straits on a journey to the Gulf of Mexico.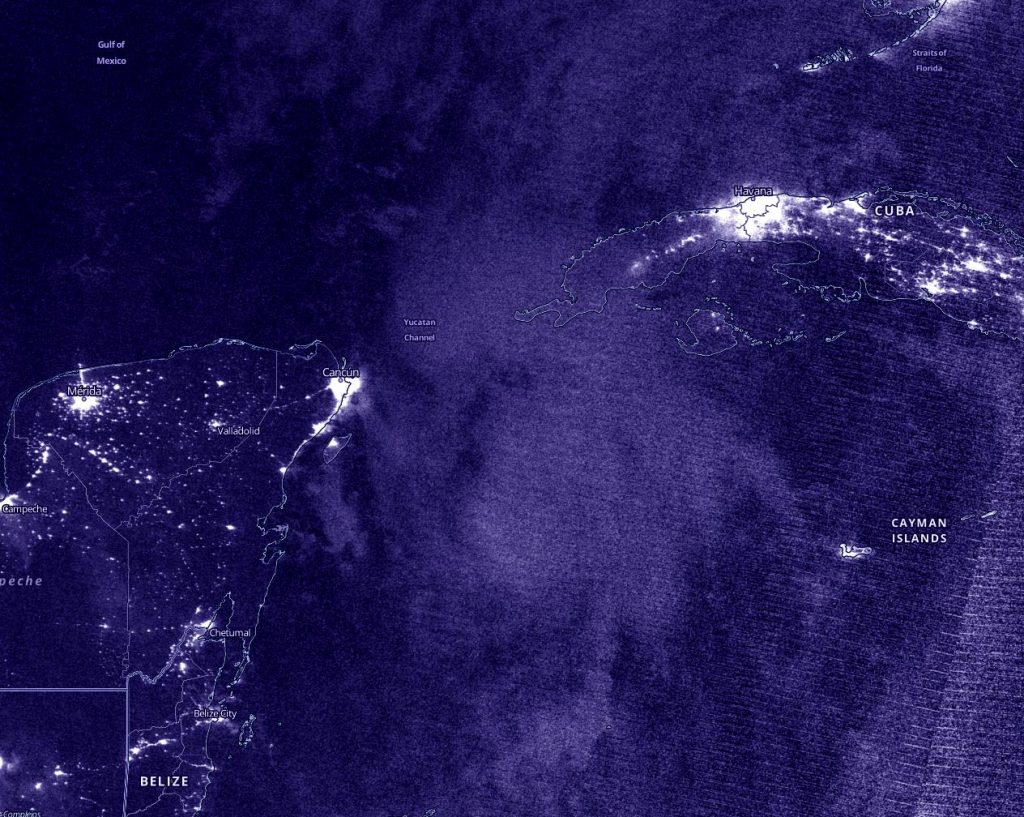 Early on Aug. 21, Tropical Depression 14 was getting organized in the Caribbean Sea. It maintained depression status until the end of the day, when it strengthened.
NOAA's Hurricane Hunter aircraft passed over Tropical Depression 14 at 11 p.m. EDT and reported that deep convection had increased near and to the east of Marco's center during the past few hours. Although there still was not much evidence of inner-core banding of thunderstorms around the center, the data from the plane indicated that the center of Marco had become better defined since the afternoon and that the minimum pressure has dropped. Thus, the depression was categorized as a tropical storm.
Night Imagery Shows Marco Organizing
During the early morning hours of Aug. 22, the Visible Infrared Imaging Radiometer Suite (VIIRS) instrument aboard NASA-NOAA's Suomi NPP satellite provided an infrared image of Tropical Storm Marco. The imagery showed the center of Marco was south of the Yucatan Channel, the body of water between the Yucatan Peninsula and western Cuba. A band of thunderstorms north of the center extended over the channel.
By 5 a.m. EDT, U.S. Navy Hurricane Specialist Dave Roberts noted, "The cloud pattern has improved during the past several hours with deep convection developing near the center and spiral bands forming over the eastern portion of cyclone."
Imagery from NASA-NOAA's Suomi NPP satellite was created using the NASA Worldview application at NASA's Goddard Space Flight Center in Greenbelt, Md.
Watches and Warnings Now in Effect
NOAA's National Hurricane Center (NHC) has posted many watches and warnings for Marco on Aug. 22. A Hurricane Watch is in effect from Punta Herrero to Cancun, Mexico and a Tropical Storm Warning is in effect from Punta Herrero to Dzilam, Mexico.
Tropical Storm Marco's Status on Aug. 22
At 8 a.m. EDT (1200 UTC) on Aug. 22, the center of Tropical Storm Marco was located near latitude 20.2 degrees north and longitude 85.2 degrees west. It was just 110 miles (180 km) east of Cozumel, Mexico.  Marco was moving toward the north-northwest near 12 mph (19 km/h).  A northwestward motion is expected on Sunday, followed by a turn toward the northwest and west-northwest early next week.
Data from an Air Force Reserve Hurricane Hunter aircraft indicated that maximum sustained winds had increased to near 50 mph (85 kph) with higher gusts. The estimated minimum central pressure was 1002 millibars.
Marco's Forecast Track
On the forecast track, the center of Marco will approach the eastern coast of the Yucatan Peninsula of Mexico today.  Additional strengthening is forecast during the next couple of days as the system approaches the Yucatan Peninsula, and Marco could be near hurricane strength when it moves over the central Gulf of Mexico Sunday night and early Monday.
The center will approach the northeastern part of the Yucatan Peninsula by early evening and move over the central Gulf of Mexico toward the northwestern Gulf on Sunday and Monday followed by a track toward the northwestern Gulf coast Tuesday, Aug. 25.
About NASA's EOSDIS Worldview
NASA's Earth Observing System Data and Information System (EOSDIS) Worldview application provides the capability to interactively browse over 700 global, full-resolution satellite imagery layers and then download the underlying data. Many of the available imagery layers are updated within three hours of observation, essentially showing the entire Earth as it looks "right now."
NASA Researches Earth from Space
For more than five decades, NASA has used the vantage point of space to understand and explore our home planet, improve lives and safeguard our future. NASA brings together technology, science, and unique global Earth observations to provide societal benefits and strengthen our nation. Advancing knowledge of our home planet contributes directly to America's leadership in space and scientific exploration.
For updated forecasts, visit: www.nhc.noaa.gov