Aug. 23, 2020 – NASA-NOAA Satellite Finds Marco Nearing Hurricane Strength in the Southern Gulf
NASA-NOAA's Suomi NPP satellite passed over Tropical Storm Marco early on Sunday, Aug. 23 and found the storm was nearing hurricane strength in the southern Gulf of Mexico.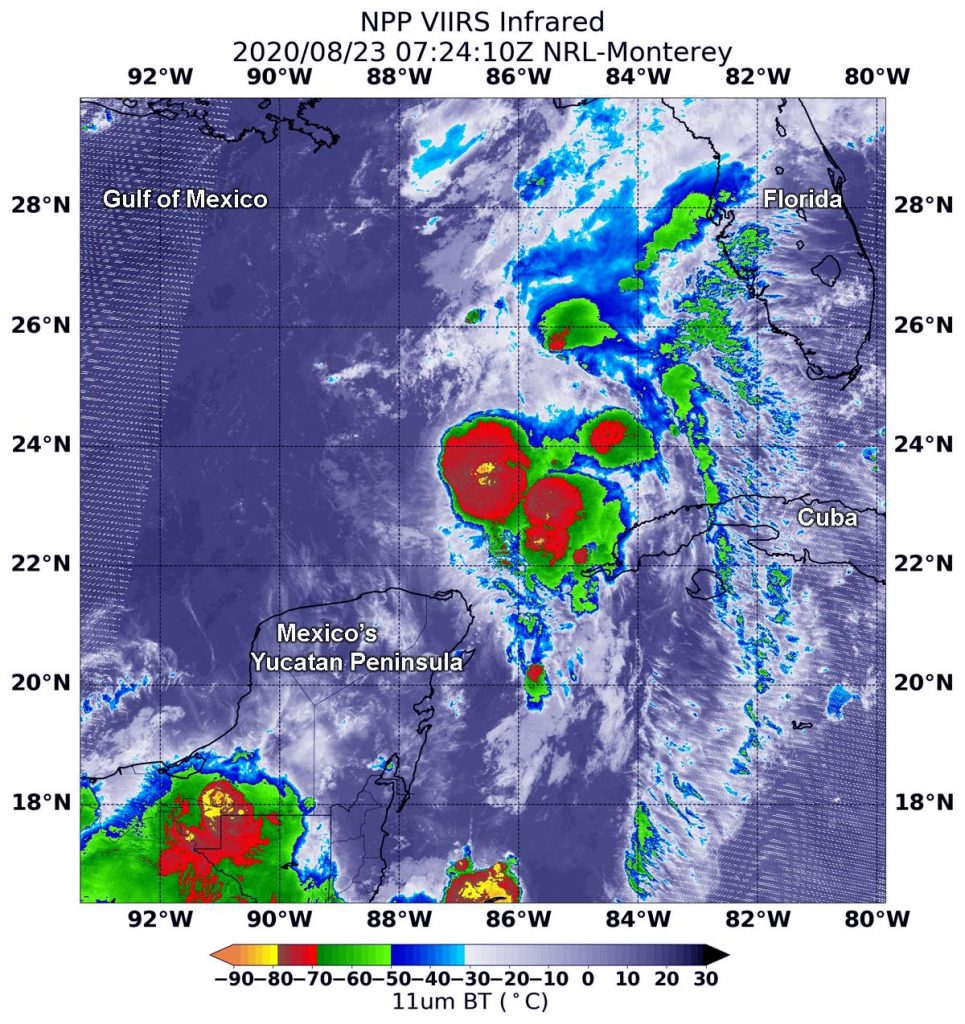 Warnings and Watches in Effect as of Sunday, August 23, 2020
NOAA's National Hurricane Center (NHC) in Miami, Fla. issued numerous watches and warnings along the Gulf Coast of the U.S. as Marco is forecast to move in that direction. A Storm Surge Warning is in effect from Morgan City, Louisiana to Ocean Springs, Mississippi including Lake Borgne. A Hurricane Warning is in effect for Morgan City Louisiana to the mouth of the Pearl River.
A Storm Surge Watch is in effect for Sabine Pass to Morgan City, Louisiana; Ocean Springs to the Alabama/Florida border; Lake Pontchartrain, Lake Maurepas, and Mobile Bay.
A Hurricane Watch is in effect from Intracoastal City, Louisiana to west of Morgan City; Lake Pontchartrain, Lake Maurepas, and Metropolitan New Orleans.
A Tropical Storm Warning is in effect from the mouth of the Pearl River to the Mississippi /Alabama border; Lake Pontchartrain, Lake Maurepas, and Metropolitan New Orleans. A Tropical Storm Watch is in effect from the Mississippi/Alabama border to the Alabama/Florida border.
Taking Marco's Temperature
The Visible Infrared Imaging Radiometer Suite (VIIRS) instrument aboard Suomi NPP provided an infrared image of the storm on Aug. 23 at 3:24 a.m. EDT (0724 UTC). Infrared imagery reveals cloud top temperatures, and the higher the cloud top the colder it is and the stronger the storm.
The VIIRS instrument found several areas within where cloud top temperatures were as cold as minus 80 degrees Fahrenheit (minus 62.2 Celsius), indicating powerful storms. Marco continued to strengthen and consolidate. The most powerful thunderstorms were located around the center of circulation and in a fragmented band of thunderstorms. Storms with cloud tops that cold have been found to generate heavy rainfall.
At 4 a.m. EDT, NOAA's National Hurricane Center noted, "Thunderstorm bursts continue to fire near the center of Marco, and then weaken an hour or two later due to persistent [vertical wind] shear. Overall, the storm's appearance hasn't changed with nearly all of the deep convection very near or northeast of the center."
Marco's Status on Sunday, August 23, 2020
At 8 a.m. EDT (1200 UTC) on Aug. 23, the center of Tropical Storm Marco was located near latitude 24.2 degrees north and longitude 87.1 degrees west. That is 210 miles (340 km) northwest of the western tip of Cuba, and about  360 miles (580 km) south-southeast of the mouth of the Mississippi River.  Marco is moving toward the north-northwest near 13 mph (20 kph). Maximum sustained winds are near 70 mph (110 kph) with higher gusts. The estimated minimum central pressure based on data from the Air Force Reserve Hurricane Hunter aircraft is 994 millibars.
NHC Key Messages on Marco
Hurricane conditions, life-threatening storm surge, and heavy rainfall are expected from Marco along portions of the Gulf Coast beginning on Monday, and Hurricane and Storm Surge Warnings have been issued.
In addition, Tropical Storm Laura could bring additional storm surge, rainfall, and wind impacts to portions of the U.S. Gulf Coast by the middle of next week. This could result in a prolonged period of hazardous weather for areas that may also be affected by Marco.
Marco's Forecast
NHC hurricane forecaster Eric Blake noted, "The intensity forecast remains tricky with Marco due to its small size and marginal environment.  There are some models that briefly relax the shear today, which will likely be enough of a change to allow Marco to reach hurricane strength."
Marco is forecast to continue moving north-northwestward across the central Gulf of Mexico today and will approach southeastern Louisiana on Monday. Some strengthening is anticipated and Marco is forecast to become a hurricane later today and be at hurricane strength when it approaches the northern Gulf Coast on Monday. A gradual turn toward the west with a decrease in forward speed is expected after Marco moves inland on Monday and on Tuesday.
Typhoons/ hurricanes are the most powerful weather events on Earth. NASA's expertise in space and scientific exploration contributes to essential services provided to the American people by other federal agencies, such as hurricane weather forecasting.
For updated forecasts and details about storm surge, rainfall and winds, visit:  www.nhc.noaa.gov