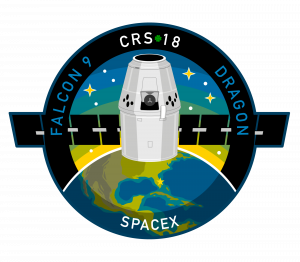 Hello and welcome from NASA's Kennedy Space Center in Florida! A SpaceX Falcon 9 rocket stands ready for liftoff at Cape Canaveral Air Force Station's Space Launch Complex 40 for the company's CRS-18 mission to the International Space Station. Launch is scheduled for 6:24 p.m. EDT tonight, with an instantaneous launch window. Follow along on NASA Television for the live broadcast.
Launch controllers here at Kennedy will be working in conjunction with teams at SpaceX's mission control center in Hawthorne, California, for tonight's launch. The Dragon spacecraft – delivering critical supplies, equipment and material for multiple science and research investigations – will arrive at the space station two days after launch, July 26.
When it arrives, NASA astronaut Nick Hague will robotically capture Dragon, with NASA astronaut Christina Koch serving as his backup. The agency's Andrew Morgan, also at the space station, will monitor telemetry during Dragon's approach. After the spacecraft capture, mission control in Houston will send ground commands for the station's arm to rotate and install it on the bottom of the orbiting laboratory's Harmony module.