NASA and SpaceX are targeting Saturday, Dec. 5, for SpaceX's 21st Commercial Resupply Services (CRS-21) mission to the International Space Station. Weather officials with the U.S. Air Force 45th Space Wing are predicting a 40% chance of favorable weather conditions for liftoff of the SpaceX Falcon 9 rocket and Cargo Dragon spacecraft from Kennedy Space Center's Launch Complex 39A in Florida.
Primary weather concerns are the cumulus cloud rule, thick cloud layer rule, and flight through precipitation.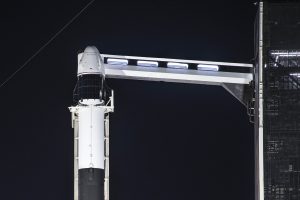 CRS-21 is the first mission under the company's second Commercial Resupply Services contract with NASA and the first flight of the upgraded cargo version of Dragon 2. The mission will deliver supplies, equipment, and critical materials to support dozens of the more than 250 science and research investigations that will occur aboard the orbiting laboratory during Expeditions 64 and 65.
Liftoff of the Falcon 9 is scheduled for 11:39 a.m. EST, and Dragon is slated to autonomously dock at the space station at approximately 11:30 a.m. EST on Sunday, Dec. 6. NASA astronauts and Expedition 64 Flight Engineers Kate Rubins and Victor Glover will monitor docking operations.
Follow live coverage of the CRS-21 mission and prelaunch events here on the blog, NASA TV, and the agency's website:
1 p.m. EST Friday, Dec. 4 – Virtual #NASASocial Science and Station Q&A
TBD Friday, Dec. 4 – Prelaunch news conference from Kennedy with representatives from the International Space Station Program Office, SpaceX, and the U.S. Air Force 45th Space Wing
11:15 a.m. EST Saturday, Dec. 5 – Live launch countdown coverage begins
Learn more about station activities by following @space_station and @ISS_Research on Twitter, as well as the ISS Facebook and ISS Instagram accounts.