By Christy Hansen, IceBridge Project Manager, NASA Goddard Space Flight Center
For just a brief moment, I find myself finally able to pause and reflect on just how far we, Operation IceBridge, have come as a team and a project. It was roughly one-and-a-half years ago when we were first tasked by NASA Headquarters to bring the P-3, a four-engine turboprop aircraft, to McMurdo Station for new Antarctic operations.
At that time, I didn't even remotely comprehend the task that lay ahead for me. It would take an infinite supply of persistence and tenacity, as it would be, to overcome new challenges, hurdles, processes, logistics, requirements and doubt, with a government shut-down thrown in the mix. As I write these words, I am sitting in the Crary Science Building, at McMurdo Station, on Ross Island, glancing out of the third floor panoramic window. Many of my team members sit across from me as we wait in anticipation for a storm to blow in. McMurdo Sound, Mt. Discovery, the Royal Society Range and Black Island look back at me, reminding me that I am in Antarctica with my entire team of 31 people.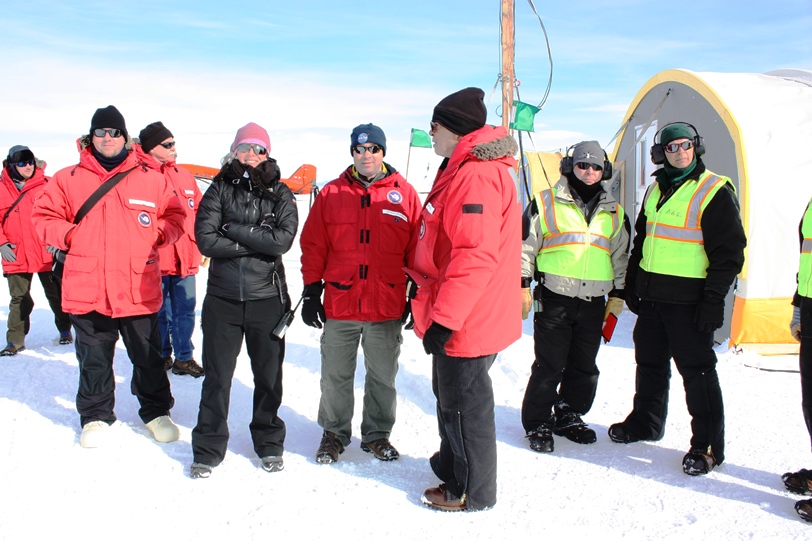 In just three weeks, our entire team has arrived safely, taken multiple training classes, established and constructed four GPS ground stations and unpacked several thousand pounds of cargo. We've also conducted two GPS ground truth surveys (one via helicopter operations to the infamously harsh and windy Black Island), landed the NASA P-3 in Antarctica for the very first time, performed a safe and successful check flight and completed five full science missions. Our U.S. Antarctic Program contacts have told us that we've accomplished more in these three weeks than many science projects do over a whole multi-month season in McMurdo. I am so proud to be a part of this amazing team, and watch in awe how each of our instrument teams and flight crew stop at nothing to excel at what they do, and to project professionalism and respect for others around them. I work with a team of super stars. I love it when a plan comes together.
But how does one get a team of 31 people to the ice, land a NASA scientific airplane in Antarctica for the very first time, and conduct daily scientific airborne surveys based from a runway made of sea ice? Yes, I said sea ice. How does one meet the needs of both the IceBridge instrument teams and aircraft office, while also establishing credibility, trust and respect with the National Science Foundation (NSF), the federal agency responsible for managing and leading the U.S. Antarctic Program (USAP)? And let's talk about cargo. How do you get 35,000 pounds of cargo to the most remote and harsh continent on the planet? Not quickly. How do you take care of a complex aircraft on an airfield made of ice in extremely cold temperatures without a hangar while following strict environmental protection regulations and the rules of the airfield outlined by the airfield manager? What order do you do all of this in, when does the planning start and what are the milestones and decision points?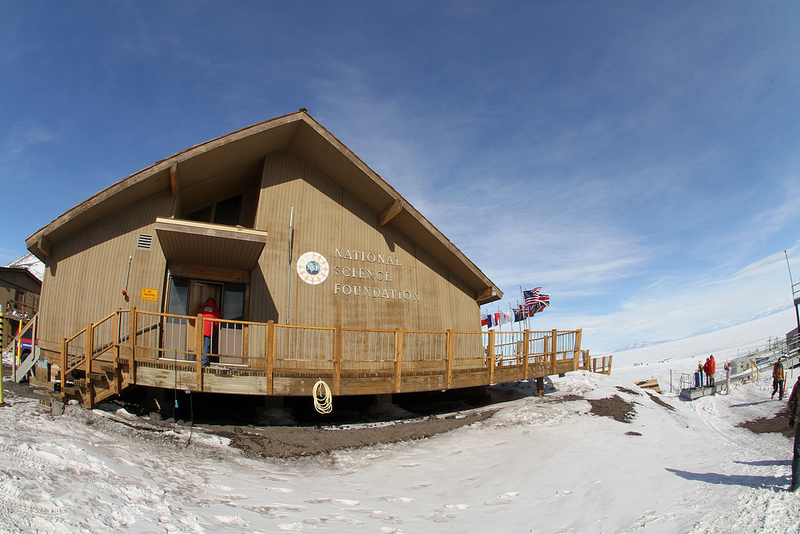 How do you go from initial concept to actual flight operations in Antarctica?
A year-and-a-half ago, we met with NSF's Office of Polar Programs to first discuss our interest in deploying to McMurdo in 2013's austral summer season. We described our scientific and mission objectives, which included bringing our own aircraft to the ice with us. To request approval to bring a large team of people and a large aircraft to the ice demands building credibility with multiple organizations, showing strong scientific value, financial responsibility, safety, realistic success criteria, and an understanding of resource limitations and management.
Bringing one's own aircraft to the ice, especially without skis, demands a thorough understanding of risk and risk mitigation, and strict adherence to the unique operations protocols of operating an aircraft on the ice. The unique environment and quickly-changing weather required us to establish a relationship with SPAWAR (Navy weather experts) and the 109th Airlift Wing of the Air National Guard who helped us understand the weather, manage communications protocols and build our flight operations safety criteria.
Once the big picture plan, milestones and risk mitigation strategies were established with NSF, we were introduced to their logistics and operations team, the Antarctic Support Contract (ASC). Approximately one year out from our current deployment, we began planning the details that would help better define our IceBridge team footprint on the ice, and the resources we would need from ASC and NSF to ensure our science teams and flight crew could be supported.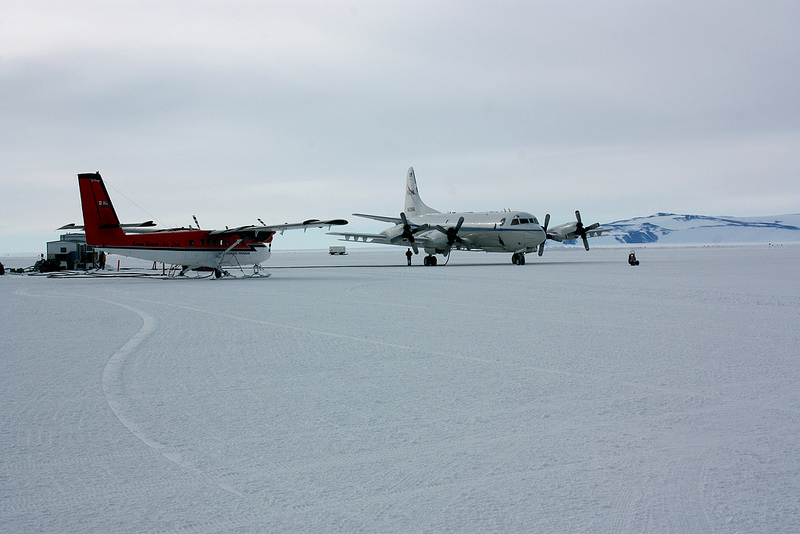 It took many phone calls, teleconferences, and emails to make all of this happen. In fact, so much time was spent with my ASC planning team, I felt as though we were all old good friends from years past. We worked out details ranging from deploying personnel to the ice and ensuring all of their needs were met, to routing our 35,000 lbs of cargo halfway around the world via ship and plane and expecting everything to arrive in McMurdo, intact, a few days before we did.
Even more complex was establishing an operations plan that would support our NASA P-3 and its flight crew on the ice, allowing them to service and maintain the aircraft in harsh conditions. To give an idea of how to make this work, the air crew's day began at 4 a.m. to support a 9 a.m. takeoff – reflecting the time needed to get to the runway, set up the aircraft ground support equipment used to warm the plane slowly, preserving the condition of the runway and allow time for the instrument operators to power up their equipment.
These five hours were followed by an eight hour science flight, which was followed by a two hour post flight routine. And this would start all over again the next day. To build confidence in this plan prior to our team arrival this season, three of us conducted a site survey last year to research and understand the operational environment of an airfield built on sea ice. We established a solid relationship with the airfield manager and were able to build and plan based on input he had given us.
To be proud
Seeing this plan come to fruition has been one of the most rewarding aspects of my career. Our instrument teams have years of experience operating in polar environments, and they met new challenges, which made for extremely long days, and new hurdles to overcome, which they did with grace. When our P-3 aircraft landed on McMurdo's sea ice runway on Nov. 16 , all of us who had deployed up to a week earlier watched in awe, full of emotion, as this historic moment was captured in time. The P-3 on final approach is a beautiful sight to watch, and I can't remember ever having felt as honored and proud as I did greeting this crew who flew her and took care of her on her long journey across the globe, and onto NZIR, the sea ice runway, Ross Island, Antarctica.
This entry originally appeared on the NASA Earth Observatory blog Notes from the Field.
http://earthobservatory.nasa.gov/blogs/fromthefield/2013/11/28/icebridge-antarctic-2013-a-year-and-a-half-in-the-making