From: Kathryn Hansen, NASA's Earth Science News Team / Cryosphere Outreach
May 16, 2011
Last month, IceBridge surveyed Sukkertoppen Ice Cap — a mass of ice southwest of the mission's base in Kangerlussuaq, Greenland. I didn't know what to expect from an ice cap. Would it resemble the vast, white expanse of the Greenland Ice Sheet next door?
At the surface, Sukkertoppen looked remarkably like an ice sheet. After all, both form from the accumulation of snow compacted over thousands of years. Before long we reached the rugged mountains and blue-green fjord that separates the cap from the main ice sheet, and we turned back for another pass.
On April 8, 2011, IceBridge flew a mission to coastal areas in southwest Greenland. Mountains and an open-water fjord surround one of the mission's targets, a small ice cap called Sukkertoppen Isflade. Credit: NASA/Michael Studinger
Ice caps are simply small versions of ice sheets, measuring in at a maximum area of 50,000 square kilometers (about 19,000 square miles). Anything larger is considered an ice sheet. They're also thinner. It's their small stature that makes ice caps more prone to melt in a warming Arctic.
Charles Webb of NASA's Goddard Space Flight Center in Greenbelt, Md., explains the importance of monitoring ice caps in the Canadian Arctic. Credit: NASA/Jefferson Beck
South of Sukkertoppen lies the Canadian Arctic – home to the largest amount of ice outside of Greenland and Antarctica and contributing significantly to sea level rise.
IceBridge is adding to the long-term record of changes to the ice caps. On May 5, IceBridge surveyed the Devon Ice Cap – among the Canadian Arctic's top ten largest caps. Then on May 10, the P-3 surveyed several glaciers and small ice caps on Ellesmere Island, Axel Heiberg Island and Meighen Island, including the Prince of Whales Ice Field and the Agassiz Ice Cap.
Finally on May 12, IceBridge surveyed the Barnes Ice Cap. Barnes is a curiosity because it is considered a significant remnant of the vast Laurentide Ice Sheet the covered most of Northeast America and Canada during the last glacial. NASA previously used the ATM laser altimeter to map the ice cap in 1995, 2000 and 2005, showing a slight acceleration in thinning of the ice cap.
"It's our hope that by combining these data sets we'll have a long term time series about whats happening there so we can better understand the dynamic of the ice caps as well as use them as early warning indicators of what is happening in our climate," said Charles Webb of NASA's Goddard Space Flight Center in Greenbelt, Md.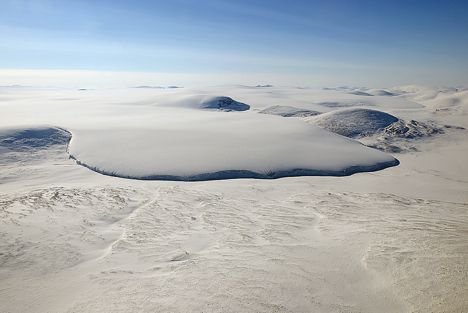 On May 12, IceBridge surveyed Barnes Ice Cap on Baffin Island. In addition to mapping its surface elevation, instruments also measured the bedrock topography, which will allow scientists to better model ice dynamics and estimate when the Barnes Ice Cap will be completely melted. Credit: NASA/Michael Studinger